Sometimes Handy Backup users might meet an alert:

The most common reason for the error message is using a Handy Backup version that does not correspond to the OS architecture. If you see this, then you are most likely using 32-bit version of Handy Backup under 64-bit version of Windows.
Version 8.5.0 , built on September 19, 2023. 116 MB
30-day full-featured trial period
While most functionality works correctly under any system, several important features rely on compatibility with the operating system. These features include live disk imaging, hot MS SQL and MS Exchange backup, open file backup, and much more.
That′s why it is important to use 64-bit version of Handy Backup under 64-bit version of Windows.
To check your Windows version, follow these steps:
Under Windows Start menu, open Control Panel.
In the Control Panel window, click System and Security, and then click System
Find your Windows version in the System type property.
See the screenshot below for more details: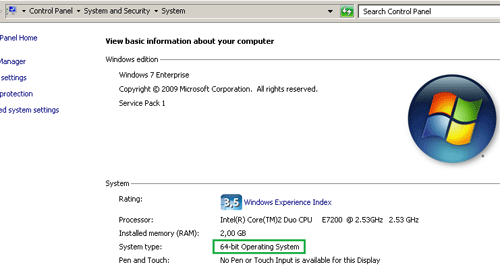 When you need to install a 32- or a 64-bit version on your machine, select an appropriate version in the settings window, as shown here.
Start the Handy Backup setup procedure.
On the welcome screen, click onto "Change recommended parameters".
The new window will appear. Here, select a version (32-bit or 64-bit) of Handy Backup that you want to install.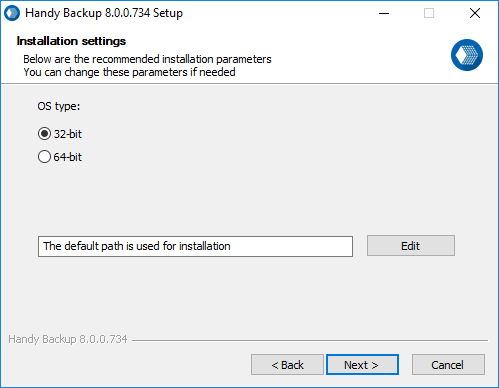 Continue the program installation process.
Version incompatibility is the most common, but not the only possible reason why VSS might fail to run for backup needs. To make sure the product provides the most efficient performance regarding VSS, please check the following things:
Make sure that Handy Backup has administrative privileges.
For MS SQL Backup, make sure that the SQL Server VSS Writer is running.
For MS Exchange Backup, make sure that the Exchange Server VSS Writer is running.
To see Windows services, open Control panel, click Administrative tools, and then click Services. The system will show the list of running services.
It is highly recommended to enable the VSS service and let Handy Backup use it. Volume Shadow Copy is a core component for copying of data that can′t be "copy-pasted" in a common way. It provides the following features:
If you have questions, don′t hesitate to contact us at support@handybackup.net. We respond quickly!
Enjoy the smooth job of Handy Backup with a VSS running!
See also: FAQ | Backup Errors:
⇒ Recovering Damaged File kernelbase.dll
⇒ "Access denied" error in the process of backup
⇒ What is the "Not enough Storage to process the command" error?