Microsoft Exchange Server Backup Software
Exchange backup software provides an Exchange database backup, as well as recovery for these data from online or local backup storage to an original place. Handy Backup serves as Microsoft Exchange 2016 backup software, as well as for any early Exchange edition, with its "MS Exchange" plug-in.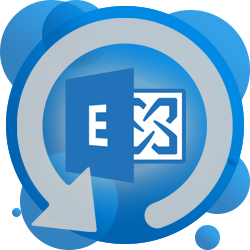 Microsoft Exchange Server Backup: Best Practices
Exchange Online Backup Storages
A user may have a constant need for most Exchange 2016 backup data, as Microsoft Exchange server is often a backbone of company-level business emails and other communications. Things like cloud backup are making Exchange server backups readily available from everywhere, can greatly help with it!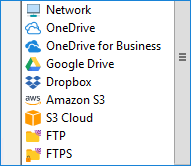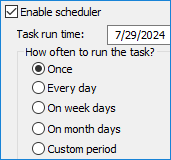 Scheduled Microsoft Exchange Backup
At almost any time, you will need to made regular snapshots of MS Exchange server, as manual running of these tasks can greatly increase a risk of a human error. To achieve automation, you will need a scheduled job to make, for example, Exchange server online backup on a regular basis.
Joint Server-level Data Protection
A good Microsoft Exchange server backup solution can back up not only Exchange server data but also every other server-level and user-level data type (such as shared projects and databases), to make consistent Windows server 2016 backups for restoring, cloning or even moving entire servers.

Other Crucial Benefits of Handy Backup as Exchange Backup Software
In addition to requirements for Exchange backup software listed above, Handy Backup provides many other functions, options and advantages for a user, making it one of best Exchange server backup software solutions ever possible. These options include:
Making reports of Exchange mail backup task, with a possibility to send reports by email;
Running tasks missed by some cause, as well as starting task by some system events;
Calling for other programs before and/or after a backup task, e.g. to stop and restart Exchange;
Hot Microsoft Exchange 2016 backup, allowing saving data without stopping other applications;
Encrypting and compressing data backups, making partial and versioned backups for a dataset.
Compatibility note: Handy Backup supports MS Exchange 2019 and 2016 backup, as well as MS Exchange 2013, 2010, 2007 and earlier, all with one plug-in and no version-depended settings required!
Review About Exchange Server Backup Solution by Handy Backup
Recommended Solution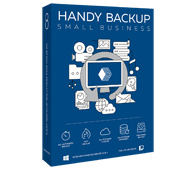 Version 8.4.6, built on April 25, 2023. 116 MB
Backup Software from Novosoft LLC. 249 USD per license.
The ultimate single-machine solution with a capability to make Exchange 2016 database backup, and works well with all earlier versions of MS Exchange, just out-of-the-box. It also contains different options for Exchange online backup.
How to Backup Exchange Email Base with Handy Backup?
To make a Microsoft Exchange server backup task, e.g., for Exchange Server 2016 backup, please follow the next instruction.
Start Handy Backup and create a new task (by a button on the panel or by pressing Ctrl+N keys).
On Step 1, select a backup task. Go to the Step 2 and open the E-mail group.
Click onto the MS Exchange backup plug-in.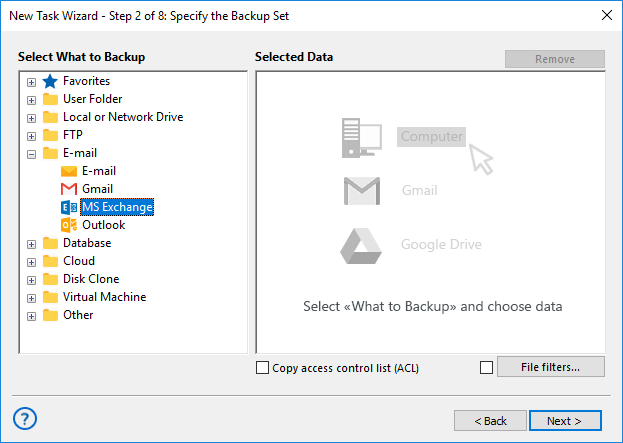 Note:For the Server Network edition of Handy Backup, an extra drop-down list of available network machines will appear in the upper left section of the Step 2 window. Select an appropriate machine containing an information for MS Exchange online backup, and then continue as described.
You will see the Microsoft Exchange server backup dialog for selecting your data to copy.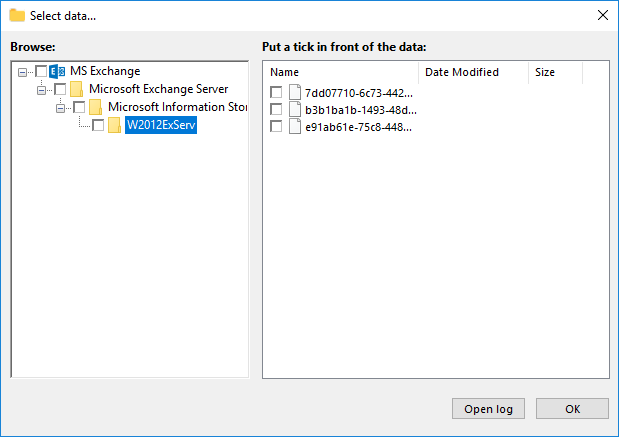 Mark the databases and mailboxes that you plan to back up with appropriate checkboxes.
When finishing, click OK and return to Step 2, where you can add other data.
Continue creating your task of Microsoft Exchange backup, as described in the User Manual.
FAQ about Exchange Backup Plug-in
Question: Does the program support brick-level backup of MS Exchange?
Answer: At present, Handy Backup doesn't support brick-level backup of Microsoft Exchange Server data, and backs up Exchange Stores as a whole.
Use Handy Backup as your Exchange backup software!
Try it by downloading now a full edition for a 30-day free trial!
Capterra's Rating:



"Great product, very simple and effective backup program"
Who uses our backup software?