To make a Microsoft Exchange server backup task, e.g., for Exchange Server 2016 backup, please follow the next instruction.
Start Handy Backup and create a new task (by a button on the panel or by pressing Ctrl+N keys).
On Step 1, select a backup task. Go to the Step 2 and open the E-mail group.
Click onto the MS Exchange backup plug-in.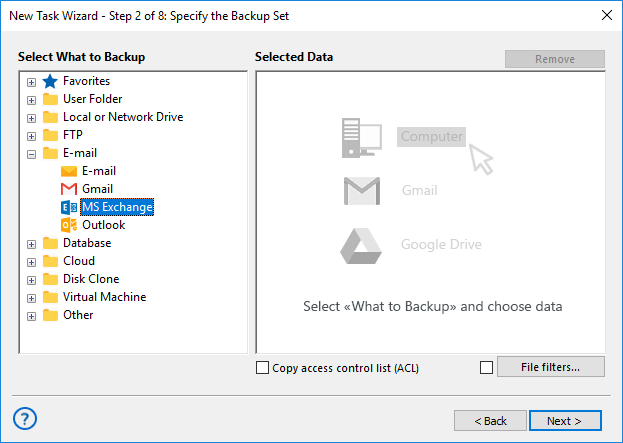 Note:For the Server Network edition of Handy Backup, an extra drop-down list of available network machines will appear in the upper left section of the Step 2 window. Select an appropriate machine containing an information for MS Exchange online backup, and then continue as described.
You will see the Microsoft Exchange server backup dialog for selecting your data to copy.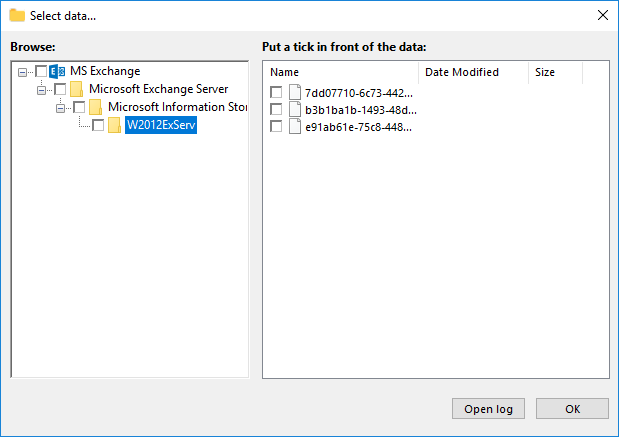 Mark the databases and mailboxes that you plan to back up with appropriate checkboxes.
When finishing, click OK and return to Step 2, where you can add other data.
Continue creating your task of Microsoft Exchange backup, as described in the User Manual.
Question: Does the program support brick-level backup of MS Exchange?
Answer: At present, Handy Backup doesn't support brick-level backup of Microsoft Exchange Server data, and backs up Exchange Stores as a whole.
Version 8.5.0 , built on September 19, 2023. 116 MB
30-day full-featured trial period
Use Handy Backup as your Exchange backup software!
Try it by downloading now a full edition for a 30-day free trial!
Capterra's Rating:



"Great product, very simple and effective backup program"