To backup Firefox settings, history, bookmarks and other data, you must save a copy of a local Firefox folder. Handy Backup utilizes a standard "Computer" plug-in (which is available in any solution) to perform a Firefox backup.
Start Handy Backup and open the new task wizard by clicking on a "New task" button/menu.
Select a backup task on the Step 1, and proceed to the Step 2.
Click on the "Computer" plug-in in the group "Local or Network Drives" on the left panel.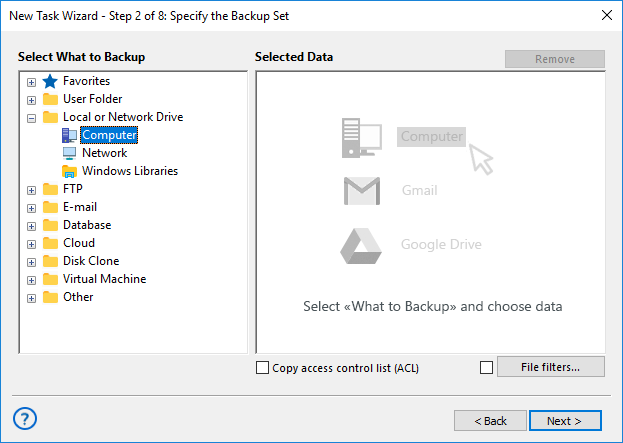 Note: You can use the "Network" plug-in instead, or select a machine from the drop-down list of available computers (for network editions only), to perform Firefox online backup.
In a new window appearing, find and mark a Firefox folder with a checkbox.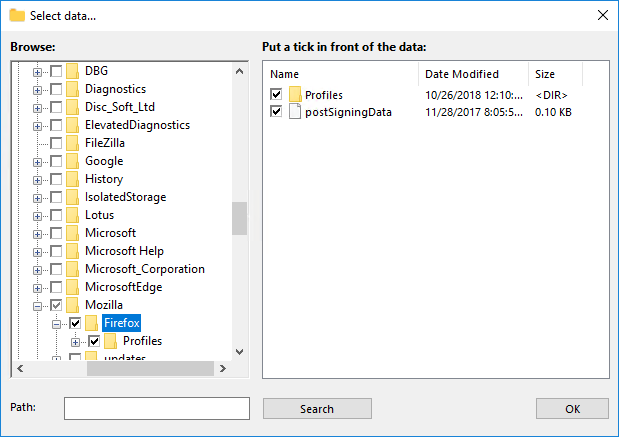 An advice: For Linux versions, this folder is often has a location at ~/.firefox.
Click OK to return to the Step 2, and proceed to create a backup task as described in the User Manual. No any other step is specific to Firefox backup.
An obsolete Mozbackup tool has no scheduling, and different other Firefox backup addons often have such problems. In addition, there are almost no tools for Firefox backup containing a storage option other than a local drive and/or some dedicated cloud. Handy Backup is free from these problems!
Version 8.5.0 , built on September 19, 2023. 116 MB
30-day full-featured trial period
Try Handy Backup as your trusted Mozilla Firefox backup software by downloading a 30-day free trial version of the program
with a full set of features, options and settings available!
See also: Google Chrome Backup