How to Backup and Restore Bitcoin Wallet
How to backup Bitcoin core wallet is , a matter of crypto backup, allows saving a copy for your cryptocurrency transactions somewhere, protecting your Bitcoin wallet against typical digital perils. To do this, Handy Backup allows backup Bitcoin with the standard "Computer" plug-in.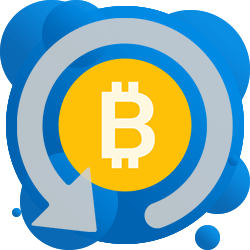 What Is Bitcoin Backup Wallet

How does Bitcoin backup work? It operates with a wallet as with a common file, giving no regards of its content. Therefore, Handy Backup just copies a Bitcoin backup wallet.dat file to another place, requiring or allowing no access to its data.
Advantages of Automatic Bitcoin Wallet Backup
Regularity
You can schedule your Bitcoin backup task to both some prescribed interval and a precise time of action, making a regular automatic backup from every minute to one time per a couple of months, according to your preferences. Handy Backup contains a built-in scheduling module.


Security
To backup and restore Bitcoin wallet, you can use many security options provided by Handy Backup, including selecting a well-defended storage (e.g., the Wasabi S3 or some USB-connected SSD unit), using built-in encryption and compression, and making a SSL encryption for data transferring.
Availability
Every edition of Handy Backup can provide an effective Bitcoin wallet backup. Due to a big amount of local and network storages available for crypto backup, you can backup Bitcoin wallet to network storage, to a compact USB pen or to a private cloud, and then restore it when at where you need it!

Recommended Solution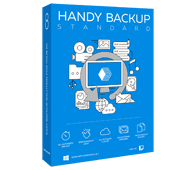 Version 8.5.0, built on September 19, 2023. 116 MB
Backup Software from Novosoft LLC. 39 USD per license.
Even the Standard edition, dedicated for home users, allows all necessary functions and a big amount of secured storage options for crypto backup and restore!
How to Backup Bitcoin Core Wallet with Handy Backup?
This is a very easy action. Let us tell you how to make a well-protected, automated Bitcoin backup wallet task using a USB pen drive by standard Handy Backup plug-ins and tools. It is a completely secure action, requiring no access to internal Bitcoin wallet backup file. Please follow the instruction below.
Note: Both Windows and Linux editions of Handy Backup support this operation fully! We will tell you about differences between versions for these OS types when describing appropriate steps.
Before starting, make sure that you are already plugged in a USB flash drive you plan to use.
Open Handy Backup. Create a new task using the button on the control panel or a menu.
On Step 1, select a backup task and check the advanced mode option. Use advanced mode here for some efficient tricks when planning how to backup Bitcoin core wallet.
On Step 2, select the Computer plug-in from the Local or Network drive group.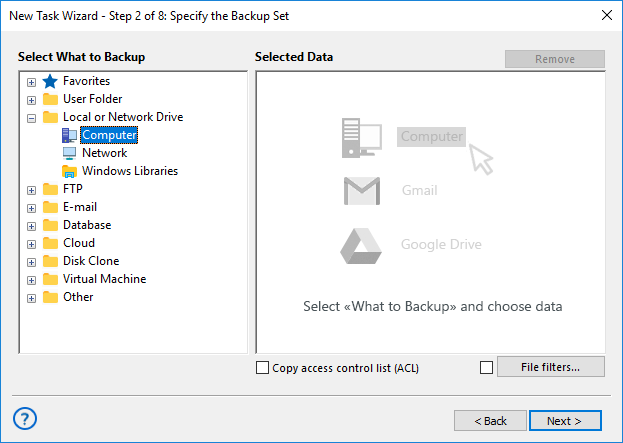 In a new window appearing, browse for a location where Bitcoin software stores its wallet file.
For Windows, browse to %APPDATA%\Bitcoin
For Linux, browse to ~/.bitcoin/
Choose a file named wallet or wallet.dat. Alternatively, you can select a whole wallet folder.
Click OK and return to Step 2. Click "Next" to proceed to Step 3.
On this step, again, select "Computer" as a destination. Browse for a selected USB drive.
After selecting a USB pen to store your Bitcoin backup wallet, click "Next" to continue.
On Step 4 (in the advanced mode only), mark the "Store versioned backups" option and click "Versions rotation settings".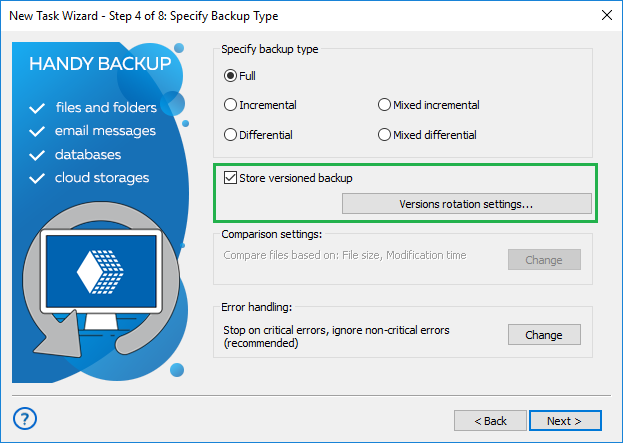 In the next dialog window, set up how many versions of your Bitcoin wallet backup file you want to keep simultaneously.
Also, select a time stamp to make any backup in a unique folder with a date and time of its creation, to quickly select which Bitcoin wallet backup you will want to restore later.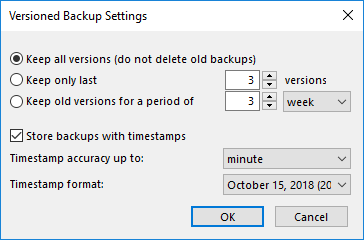 On Step 5, select encryption for your Bitcoin backup wallet. You will need it for extra security.
Give a password for your cryptocurrency backup copy.
Caveat! Do not forget this Bitcoin backup private key! There is no practical ways to break it if you lose it!
Proceed to Step 6 by clicking "Next". Here, select the "Launch by USB insertion" option.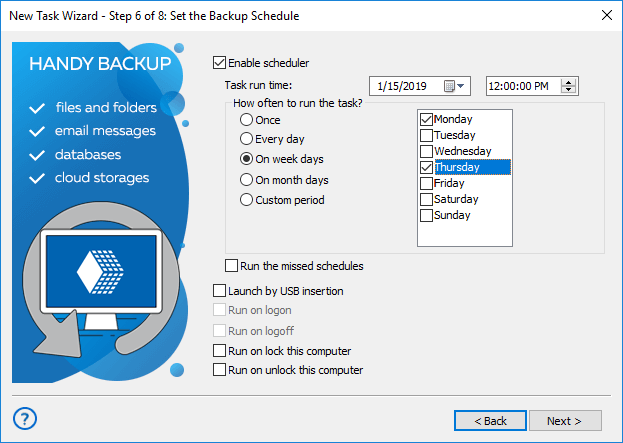 Note: This option is also available only in advanced mode. Now you will get an automatic Bitcoin backup every time when you will insert this USB pen into your PC!/p>
Skip Step 7, and on the final step, give a name for your task. Finish a task creation wizard.
Well done! Now you have a fully automated Bitcoin backup task, and all that you need is a dedicated task to restore your crypto backup! Note that you can do any other cryptocurrency backup by this way (such as saving a copy of your Ethereum wallet backup), just by selecting another file (e.g., backup.json).
How to Restore Bitcoin Wallet
You cannot restore Bitcoin data manually after encryption made by Handy Backup task. To restore Bitcoin wallet from a backup storage, make an appropriate task.
Insert a USB pen with your Bitcoin wallet backup.
Note: It will make an automatic Bitcoin backup wallet copy and mark it as current date!
Create a new task as described above. Select a recovery task, and go to Step 2. If you plan to change a restore location from an original place to another, please turn on the advanced mode on Step 1!
On Step 2, select the "Computer" as storage, and find your USB drive in the list.
Browse for a folder time-stamped for your wanted Bitcoin backup to restore it.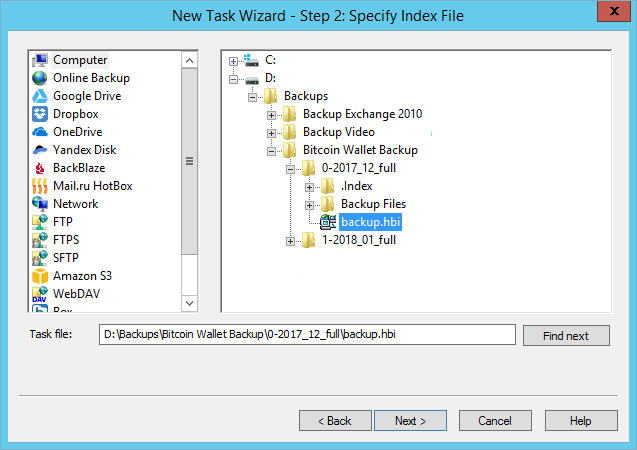 Open this folder. Select the backup.hbi file (which contains all data about backup).
Click "Next" to continue. On Step 2*, enter a decryption password!
On the next step, also click "Next", unless you want to restore your Bitcoin wallet backup to another place (in latter case, click "Change location" in advanced task wizard mode).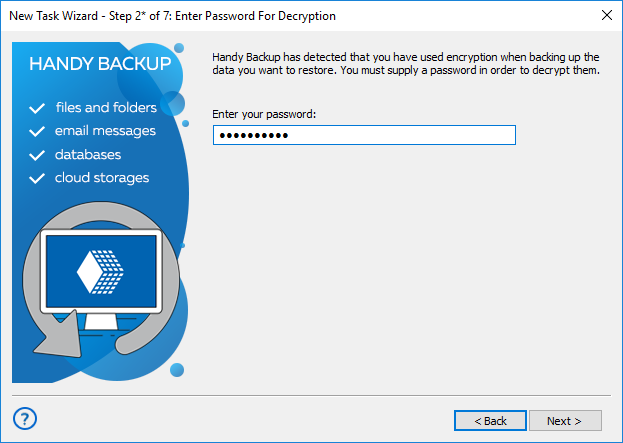 Click "Next" until the final step. Give a name for your task. Well done!
How to Backup Bitcoin Wallet (Android edition)

Use a phone or tablet as a USB drive (with data transfer mode turned on from a device). Search a Bitcoin backup wallet file on that device during Step 2, and then select these data and proceed, creating a task as described before.
Caution! We are strongly recommending using no scheduling or automation for such action as restoring your Bitcoin wallet! Due to the complexity of auto restoring, each act of Bitcoin wallet recovery must be allowed and guided by a user!
Handy Backup shows how backup Bitcoin wallet can be simple and convenient! Try it just now, by downloading and installing a full edition of Handy Backup for a 30-day free trial!
Who uses our backup software?