Automation of Lotus backup
Handy Backup provides a powerful scheduler, which allows automating backup and all related procedures, such as compression, encryption, transferring backup to FTP server or to clouds, etc. Once you set a schedule, the program will backup Lotus data automatically.
To back up Lotus Notes/Domino with Handy Backup, you only need to select the respective item in the menu, and the program will automatically locate all necessary data and add it to the task. It is important to activate Lotus Notes database firstly, to see its plug-in available for operations.
Preparing Lotus Domino for Backup
You can select to back up the whole Lotus database or any of its components, e.g. email messages, calendars, notes, etc. Save space on storage media by backing up what you really need!
On the Windows Control Panel , open the "System" section.
Click to the "Advanced settings" option in the "Settings" section.
Select and view the list of environment variables in the environment dialog window.
If the PATH has no way for Lotus folders, add the paths to these folders to the list.
After finishing, click ОК and restart Windows.
Caveat! You will not see a Lotus Notes/Domino plug-in in a list of active plug-ins until you complete a sequence described above!
Using the Lotus Domino Backup Software Plug-in
To make a backup, do the following:
Create a new task and select a backup task on Step 1.
Click onto the Lotus Notes option in the Database group on Step 2.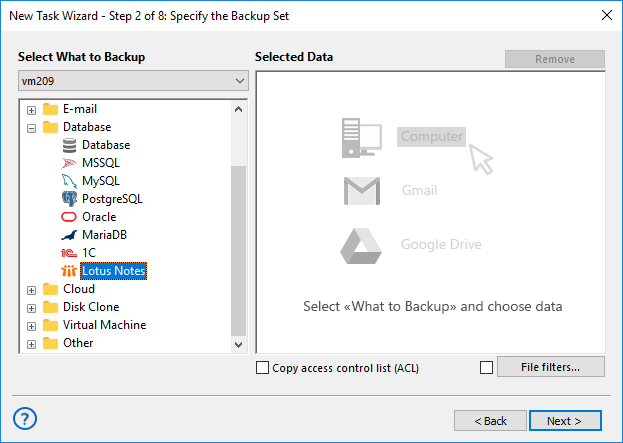 Choose the folders for Lotus Notes or IBM Domino backup. You can select all folders or choose some subfolders as a backup dataset. Click OK after finishing.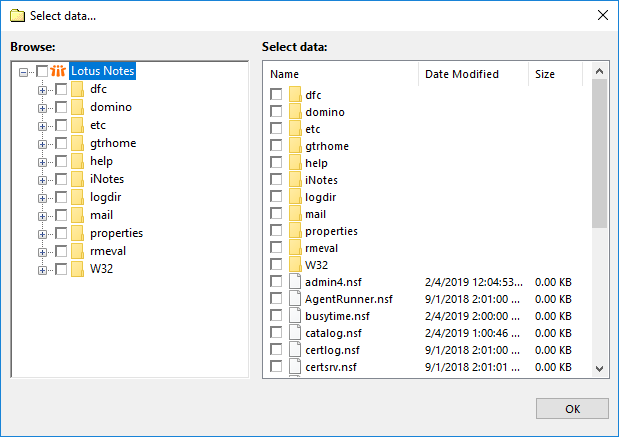 Continue making your backup task as usual, according to the User Manual.
Note! By default, Handy Backup utilizes Domino VSS backup technique, allowing hot backup of opened databases. To make cold backup, you can either stop the Domino server manually or use an advanced task wizard mode, and on Step 7, add commands to stop and restart a server before and after a task.
Version 8.5.0 , built on September 19, 2023. 116 MB
30-day full-featured trial period
Back up Lotus Notes regularly with Handy Backup and avoid loss of important data!