Lotus Notes | IBM Domino Backup and Recovery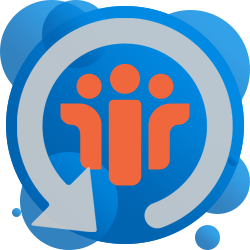 Making regular Lotus Notes backups is a necessity if your company uses IBM Lotus products for messaging, browsing, collaboration, etc.
Lotus software provides a schema less, document-based, partially structured database. It supports rich content, powerful indexing facilities and pre-built applications (email, calendar, etc.), incorporates a cross-platform distributed database/messaging framework and application development environment.
IBM Lotus and Domino Backup: Best Practices

Due to highly complicated software design of Lotus and Domino, you cannot take backups of Lotus Notes/Domino data through a regular files-based method. To back up Lotus Domino server and Lotus Notes data you need a special software, such as Handy Backup.
Lotus Notes Backup Software
Compared to other types of data, databases and email clients present the most challenge in terms of backup and recovery due to the fact that they contain great amounts of important data.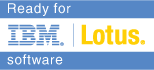 Lotus Notes works with different types of data (e-mails, calendars, shared documents, etc.), and IBM Notes backup may include an entire database or specific items, for example e-mail only.
Note! Handy Backup allows complete backup of Lotus databases, as well as more focused backup of Lotus Notes mail, calendars, or other components. Our utility has a certification for Ready for IBM Lotus Software logo, which guarantees error-free Lotus backups.
Recommended Solution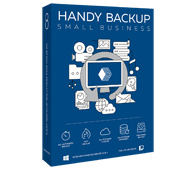 Version 8.4.6, built on April 25, 2023. 116 MB
Backup Software from Novosoft LLC. 249 USD per license.
For Lotus database backup, try the Small Business software edition featuring the backup database consistency and a full set of storage plug-ins for IBM Domino backup.
Advantages for Backup Lotus Domino Server or Lotus Notes with Handy Backup

Automation of Lotus backup
Handy Backup provides a powerful scheduler, which allows automating backup and all related procedures, such as compression, encryption, transferring backup to FTP server or to clouds, etc. Once you set a schedule, the program will backup Lotus data automatically.

Reliable backup of Lotus Domino and IBM Notes data
You can select to back up the whole Lotus database or any of its components, e.g. email messages, calendars, notes, etc. Save space on storage media by backing up what you really need!

Easy restoration
Handy Backup allows you to restore entire Lotus database with just a couple of mouse clicks. The application′s user-friendly interface provides a smooth and comprehensible way to restore backed up data, providing 24*7 stability and continuity of your business.
Backup Lotus Notes and Domino with Handy Backup
To back up Lotus Notes/Domino with Handy Backup, you only need to select the respective item in the menu, and the program will automatically locate all necessary data and add it to the task. It is important to activate Lotus Notes database firstly, to see its plug-in available for operations.
Preparing Lotus Domino for Backup
You can select to back up the whole Lotus database or any of its components, e.g. email messages, calendars, notes, etc. Save space on storage media by backing up what you really need!
On the Windows Control Panel , open the "System" section.
Click to the "Advanced settings" option in the "Settings" section.
Select and view the list of environment variables in the environment dialog window.
If the PATH has no way for Lotus folders, add the paths to these folders to the list.
After finishing, click ОК and restart Windows.
Caveat! You will not see a Lotus Notes/Domino plug-in in a list of active plug-ins until you complete a sequence described above!
Using the Lotus Domino Backup Software Plug-in
To make a backup, do the following:
Create a new task and select a backup task on Step 1.
Click onto the Lotus Notes option in the Database group on Step 2.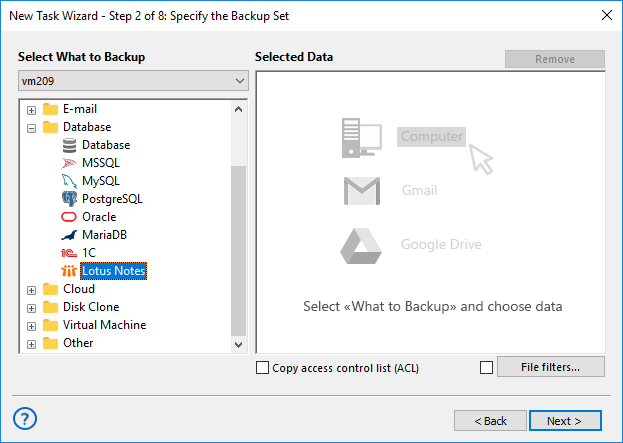 Choose the folders for Lotus Notes or IBM Domino backup. You can select all folders or choose some subfolders as a backup dataset. Click OK after finishing.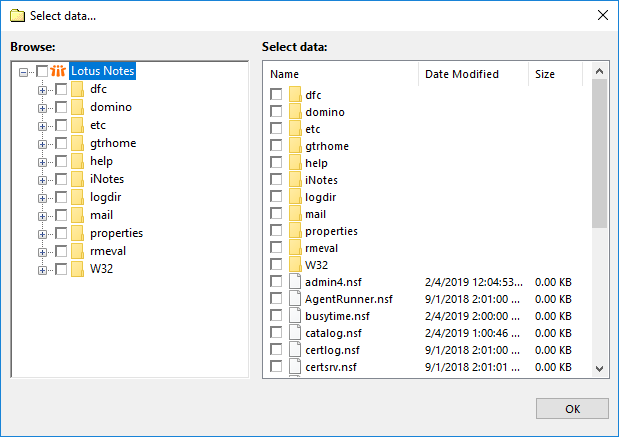 Continue making your backup task as usual, according to the User Manual.
Note! By default, Handy Backup utilizes Domino VSS backup technique, allowing hot backup of opened databases. To make cold backup, you can either stop the Domino server manually or use an advanced task wizard mode, and on Step 7, add commands to stop and restart a server before and after a task.
Back up Lotus Notes regularly with Handy Backup and avoid loss of important data!
Who uses our backup software?