December 29, 2012
We are delighted to release the new version of our software. Handy Backup 7.3.2 features several new features, improved remote backup capabilities, a number of optimizations for Windows 8 and much more!
The new Windows Libraries Backup plug-in lets you back up and restore Libraries in Windows 7 and Windows 8 operating systems.
This plug-in is included into the Home Standard edition and doesn't require any additional registration activities – simply update to the new version.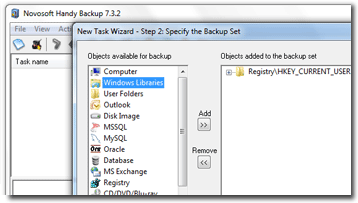 Version 8.5.0 , built on September 19, 2023. 116 MB

Back in December 2011, when we planned a major update from version 6, we asked our users if they would accept the new version 7 faster, but without several features. The Registry Backup plug-in was one of the low priority items, and eventually the version was released without it. Now we are glad to announce that version 7.3.2 brings back registry backup and recovery – and this time it can be used not only on local computers, but also on remote workstations.
Just like the new Windows Libraries Backup plug-in, the new plug-in is available in Home Standard edition.
Some users have reported problems using FTP backup under 64-bit version of Windows 7. We have carefully reviewed all factors on which this could depend and made some enhancements – now all FTP, SFTP and FTPS features should work well under any operating system.
The WebDAV Backup plug-in is now fully compliant with both HTTP/1.0 and HTTP/1.1 specifications. This means that it is compatible with virtually any WebDAV server that you can find.
We've optimized the Disk Image plug-in, so that it can now be used to create "live" backups of a running Windows 8 system.
Besides that, there are some minor improvements to the program's stability and performance. We welcome you to download and try the new version right now!