How to Restore S3 Deleted Files from Backup
S3 restore allows returning previous backups to an S3 bucket or another original location from AWS storage, as well as cloning or mirroring backup data to a new location. Handy Backup allows doing it easily, making automated AWS restore tasks with either "Amazon S3" or "S3 Cloud" plug-in.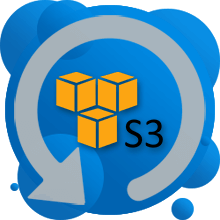 How to Restore S3 from Backup
For the next brief instruction, let us presume that you already have an S3 backup copy to recover. Please do the next things:
Create a new task. Select a restore task on Step 1.
Note: Turn advanced mode on if you plan to move backup data to another place than its origin.
On Step 2, find a backup copy for AWS S3 restore, and find a file backup.hbi inside. Continue.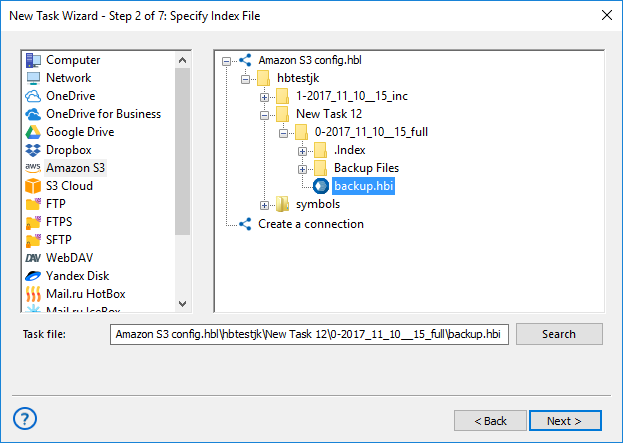 On Step 3, choose particular data for Amazon S3 restore task. By default, you will recover all backup data.
Note: The next steps are actual only for advanced mode, where you want to copy an S3 restore version to another place than original.
Click onto the "Change Location…" button (invisible in a simple mode).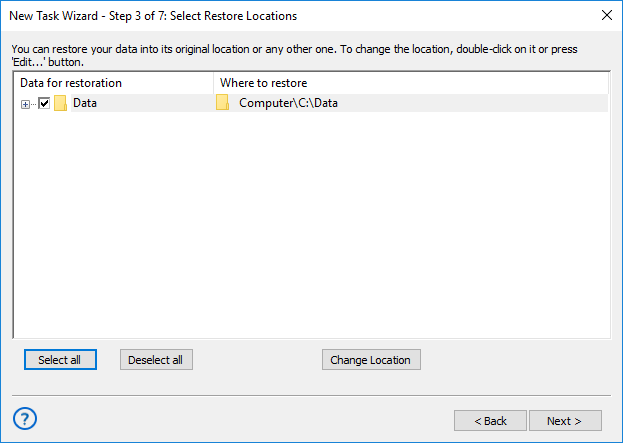 Select a new location for your S3 restore object. Click OK.
Continue creating a restore task as described in the User Manual. The job of S3 restore has no principal differences from a typical recovery task.
Recommended Solution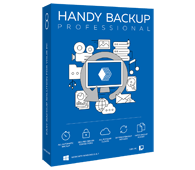 Version 8.5.0, built on September 19, 2023 . 116 MB
Backup Software from Novosoft LLC. 89 USD per license.
A solution for advanced users and IT professionals, the Professional edition provides Amazon S3 restore capabilities out of the box! Try it now, with a 30-day free trial version!
How to Make Amazon S3 Restore Deleted Files and Folders in Handy Backup

It is an indirect task. No convenient external tool allows S3 restore previous version of a folder or a file directly. Instead, Handy Backup presumes and encourages using complex backup strategies, such as 3-2-1 backup, to simplify finding and using an appropriate S3 restore version.
With a backup strategy and a bunch of automated tasks to realize it, you never lose any single piece of data! We recommend such strategies as 3-2-1, Grandfather-Father-Son and Hanoi Tower; on our website, you can learn about backup strategies and their implementation.
How to Recover Deleted S3 Bucket Content
If you need to perform AWS S3 restore of such big thing as an entire bucket, not only a specific file or folder, do not worry. Handy Backup allows saving and recovering content from an entire bucket, when you provide an adequate storage space for it. Just recover a bucket and then make an S3 restore to it!
Advantages of S3 Restore with Handy Backup
Versioned and Incremental S3 Restore
Due to well-developed feature of partial backup (incremental, differential and mixed), you can recover any S3 restore version that you need, picking it by time stamp, by version number or by other criteria. For S3, restore previous version of a folder or a bucket can be just necessary, due to importance of data!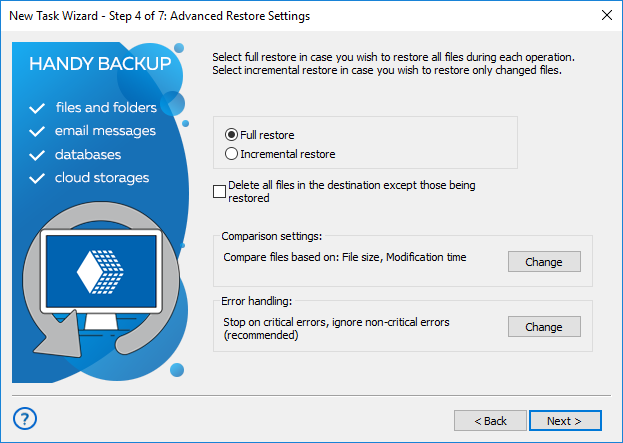 Efficient Decompression and Decryption
S3 Glacier restore pricing or similar fee can be very uncomfortable for users, and a built-in compression tool reduces these costs greatly. Compress a backup dataset with Handy Backup, and you will feel a relief when making a task for AWS S3 restore folder from Glacier, it will cost you much less!
Handy Backup allows you making S3 backup and restore for Amazon services quickly and easily. Try it now by downloading a 30-day free trial!
Who uses our backup software?