Automatic FTP Sync for Windows Files and Folders
FTP sync allows making two folders on some FTP servers identical. This can be a correction for one folder according to another (the "master-slave" relations), or just copying actual versions of files and subfolders between FTP sync folders (mirroring). Handy Backup can do it automatically!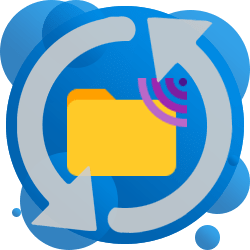 Crucial Features of FTP File Synchronization

Automatic FTP Sync by Time or Events
By using Handy Backup, you can schedule automated tasks for FTP sync to an exact time and exactly defined repeating period, from several months to a single minute. You can also trigger an FTP synchronizer task by some system event such as user logon or unlocking a computer.

Controlling Synchronization by GUI or Remotely
Besides a convenient, modern-looking graphical user interface (GUI) to create and control any file sync task, Handy Backup allows notifying and reporting about any task by email, starting in a command-line mode for batch jobб or running "silently" as Windows service to make no distraction during FTP sync.

Cross-platform Solution
Handy Backup allows not only FTP sync Windows folders but can serve under any other OS for this purpose. Actually, it makes no differences between FTP servers, regardless of basic OS. Moreover, it supports both Windows and Linux as a software solution, and you can run it under Linux natively!

Supporting Protected FTP Protocols
Along with standard FTP, Handy Backup supports SFTP and FTPS protocols, with internal engines of traffic encryption. For practical purposes, it has no matter that an FTP sync folder is actually an SFTP or FTPS folder. Handy Backup will transfer files between all these servers with no restriction!
Recommended Solution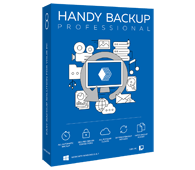 Version 8.5.0, built on September 19, 2023 . 116 MB
Backup Software from Novosoft LLC. 89 USD per license.
The Professional edition allows FTP sync between any types of file servers out of the box, with all features and functions of Handy Backup!
How to Make Automatic FTP Sync Task in Handy Backup?
To create a task for FTP file synchronization between two sources, please follow next steps.
Open Handy Backup. Run a New Task Wizard by clicking the "Create" button on the main control panel.
On Step 1, select Sync. Do not mark the "Use Advanced Wizard" checkbox for now; we are creating a simple task.
On the left panel, click onto a plug-in name to select a first folder, to choose a local folder, click FTP, SFTP or FTPS.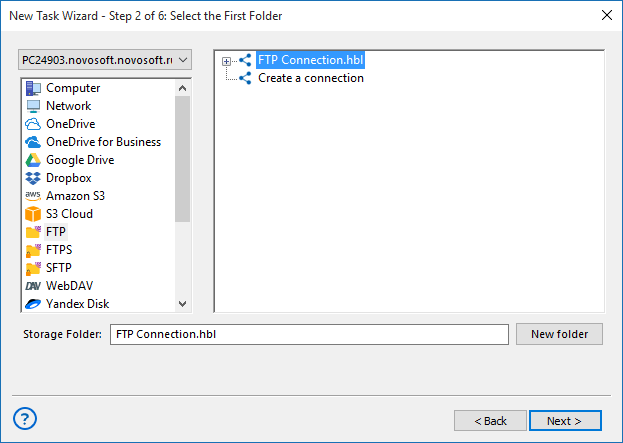 On the right pane, click "Create a connection…" to enter the connection setup dialog.
Enter your FTP server connection parameters, give a name for your connection, and then click OK.
Caveat! Connection setup is slightly different for FTP, SFTP and FTPS servers! Please learn more about FTP configuration, SFTP configuration or FTPS configuration.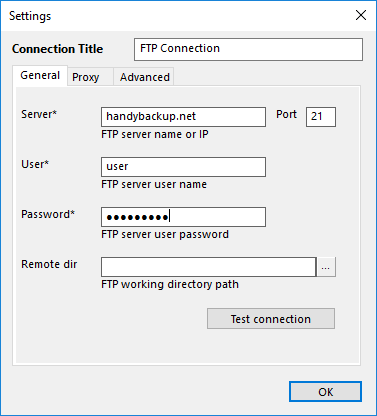 On the right panel, click onto your new connection name. Choose an FTP sync folder, and then click OK, followed by clicking Next.
On Step 3, select a second folder by repeating pp. 3-6 for a second FTP sync folder.
Go to Step 4 and select the direction (i.e. the method of governing FTP sync files). You can copy a first folder to a second folder, or second to first, or mirror the two folders content together.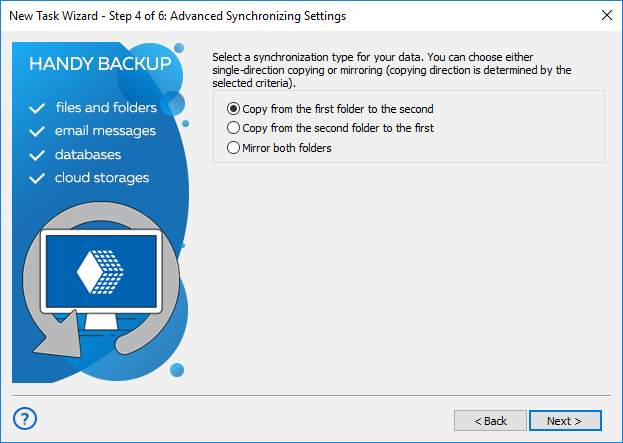 On this step, you can also select what to do with identical filenames in the two folders: copy or skip.
The next step allows scheduling your task. If you want to start a task repeatedly, mark the "Enable scheduler" checkbox.
Now you can select starting time and a repeating period for a task. Set up these parameters and click Next.
This is a final step of the Task Creation Wizard. Give a name to your task.
Some Interesting Facts about FTP Sync
Automatic FTP sync is a perfect method of kiosking (sending by subscription) some files and folders to remote users.
Also, using FTP sync files is a good choice for making mirrors of static website data (such as photos, codes or documents), as well as for keeping websites in actual state.
Because Handy Backup preserves native formats of any files during working as an FTP synchronizer, you can use file synchronization just for uploading and downloading workfiles.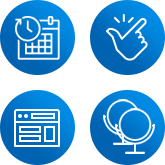 Try FTP file synchronization with Handy Backup just now! Download a 30-day free trial version!
Who uses our backup software?