Backup from FTP
Backup from FTP is an operation of saving crucial data from an FTP server to some other storage, located either offline (local) or offsite backup (remote).
Handy Backup allows making any backup using FTP as a source or storage for data of any type. Encrypt and compress FTP backups on the fly, automate your FTP backup task with Handy Backup, and more.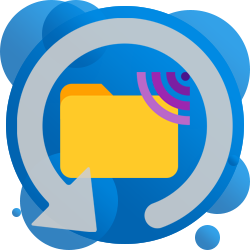 Advantages of Backup from FTP Server with Handy Backup

Internal FTP Client
Due to built-in FTP Backup plug-in (as well as advanced SFTP, FTPS plug-ins in higher editions of Handy Backup), you can make backup from FTP without using external connection utilities such as FileZilla.

Built-in Scheduler
Make your task for backup using FTP automatic, by setting up starting time and a repeating period from a minute to a couple of months. Alternatively, trigger your task by system events in advanced mode!

Overall Security
Encrypt and compress your backup from FTP on the fly, protecting both data consistency and storage space if you need it. Use versioned backups, time stamps and secure data storage where you want!
Where to Backup from FTP?
Handy Backup supports many storage types for backup using FTP as a source, including:
Local, external (USB) and mapped network drives;
Shared network storage folders, data servers and NAS units;
Other FTP, SFTP and FTPS servers;
Commercial and private networks supporting S3 and WebDAV data protocols;
Popular clouds such as Dropbox, Amazon S3, Box, OneDrive and Google Drive.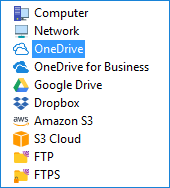 Review About FTP Backup by Handy Backup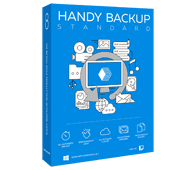 Version 8.5.0, built on September 19, 2023. 116 MB
Backup Software from Novosoft LLC. 39 USD per license.
Even the simplest and most affordable Standard edition allows backup from FTP to most typical modern storage. Save your data with minimal efforts!
How to Backup from FTP Server with Handy Backup?
This is a quite simple task due to both an internal FTP backup plug-in and a comprehensible GUI. Open Handy Backup, create a new task and select "Backup" on Step 1. Then follow the next instruction.
On Step 2, click on "FTP" plug-in name in the "FTP" group on the left panel.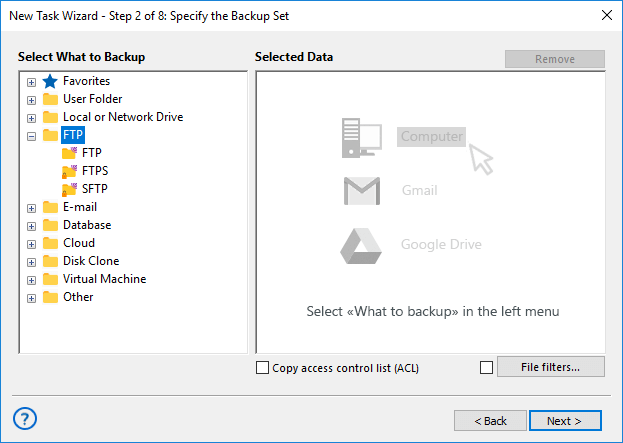 Click onto "Create a connection". You will see a new FTP configuration dialog.
Enter a configuration name that you want, and all necessary FTP parameters.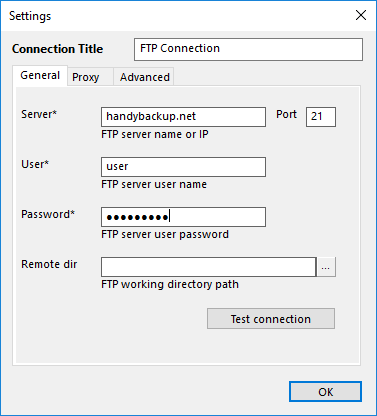 Note: These are many parameters to establish a typical FTP connection. To set up these parameters correctly, please get this information somehow and then fill it in the connection dialog, according to User Manual references.
When entering all connection parameters, click OK.
Select a name of your new FTP connection and enter onto a server.
Here, mark all data to backup with checkboxes. Click OK.
Continue creating a task as described in the User Manual.
That is all! After you complete task creation, this task will backup from FTP automatically, according to your settings and scheduling sequence.
Data Types to Backup Using FTP
FTP servers are common data storage, which can keep any data types processed by Handy Backup, from disk image backups to database to some uncommon file types such as Windows registry. Examples of these features include:
Email backups, including Gmail and MS Exchange backup;
User folders and Windows libraries, e.g., My Documents backup;
Different desktop backup data: projects, photos, music libraries etc.
Server-level backup data, including databases, virtual machines and website content.
You can learn much more about Handy Backup features.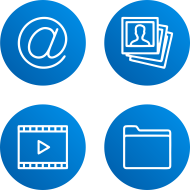 Handy Backup is an excellent and easy-to-use data backup solution! Try to backup from FTP server with any edition of Handy Backup! 30-day free trial with all functions!
Who uses our backup software?