Gmail Backup Tool | How to Backup, Restore and Migrate Gmail
Gmail backup software allows backup Gmail to Google Drive, to local disk, an external USB unit or to any other storage that you want to use. Handy Backup accesses Gmail via IMAP with the common E-mail plug-in or the dedicated Gmail tool, and stores emails in a common, readable EML format.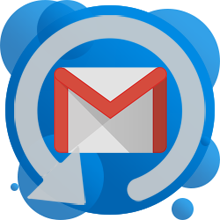 How to Make Gmail Online Backup via E-mail Plug-in
Nowadays, the basic way to use Gmail backup is to utilize the generic E-mail plug-in. To use it, please follow the next instruction:
Open Handy Backup and create a new task with the "Create" button or by pressing Ctrl+N.
Choose a backup task on Step 1. (You can select either simple or advanced task wizard mode.)
Then go to Step 2 and click on the E-mail plug-in in the E-mail group.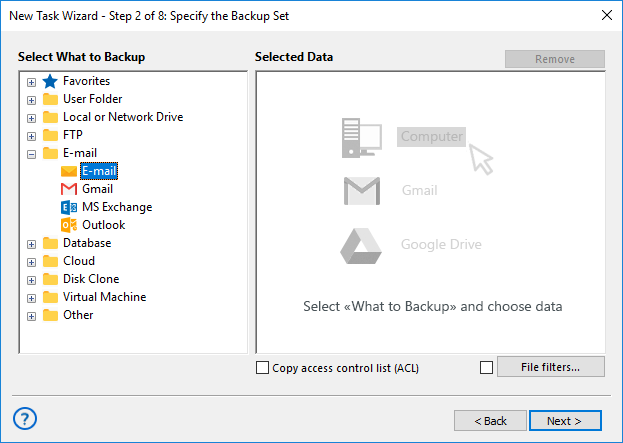 Click onto "Create a connection". On the next dialog, please enter the Gmail backup connection parameters*:
Server name: imap.gmail.com
Port: 993
User: Your account name
Password: Your password provided by Google (for the two-factor authentication) or a mailbox account password
Connection type: TLS or StartTLS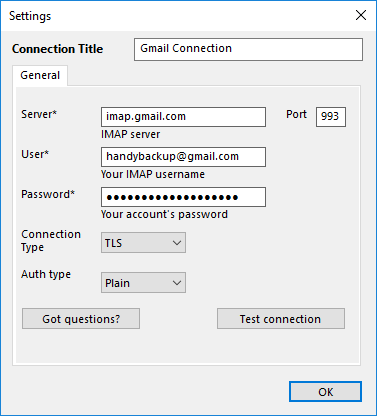 * Note: You must allow using less-secure apps with your Gmail account (in the account control page, allow "Security" → "Less secure apps access". for this technique. In addition, if you are using two-factor authentication, please create a password for Handy Backup in Google Security center.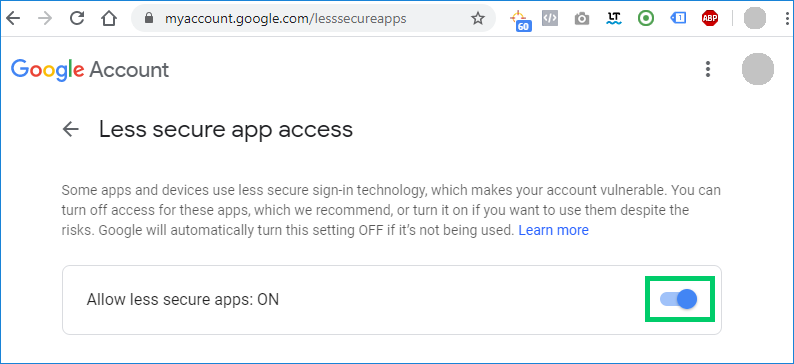 Gmail Backup with Handy Backup Software via E-mail Plug-in
In this video, we will show how to save and restore your emails from Google Mail, using Handy Backup as automated Gmail online backup via E-mail Plug-in. It is can take only a few minutes. Please see how to make Gmail online backup via E-mail plug-in!
How to Make Gmail Online Backup with Handy Backup
Note! As Google constantly changes its security policy, now Handy Backup awaits certification by Google. The process can take some time, during that the Gmail plugin may not work correctly. Still, you can always backup Gmail with Email plugin. We apologize for inconvenience!
Here we demonstrate how the dedicated Gmail plug-in works. Please follow the next instruction to create an automatic task for Gmail backup.
Create a new backup task as described above.
On Step 2, click on the Gmail plug-in in the E-mail group .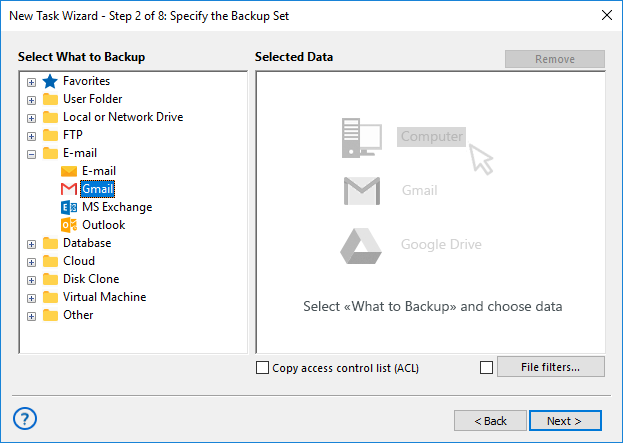 Create a connection to your Gmail account by clicking the "Connect to Gmail" button.
In a new browser window, enter your Gmail account name and password.
Grant permission for Handy Backup to use Gmail account. This will close a browser window.
Click OK and go to your Gmail account folders list. Here you can check/uncheck your messages.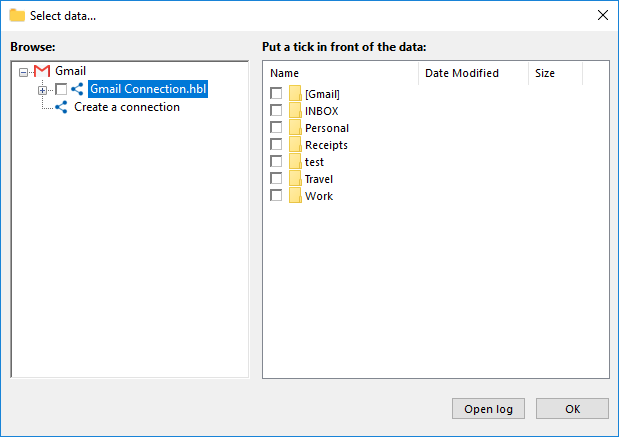 To back up the messages you checked, click OK again and return to the Step 2 window.
Continue creating a backup task as described in the User Manual.
You can create either Gmail online backup or save emails locally on Step 3, schedule your task to run repeatedly at an exact time, and use all other advantages and functions of Handy Backup!
Gmail Backup and Migration: Video Tutorial
In this video, we will show how to migrate your emails from Google Mail to Yahoo!Mail, using Handy Backup as automated Gmail backup tool. It is a straightforward, convenient process, which can take only a few minutes to set up and run. Please see how to make Gmail backup tasks and flexible recovery!
Principal Advantages and Approaches of Gmail Backup Software

Native Format for Backup Messages
Handy Backup saves unencrypted messages as EML files that are clearly readable for many local email clients. As a result, you can browse, view or even restore separate messages from your Gmail copies (for example, in Gmail FTP backup) manually, without a need for complete account recovery.

Scheduling Backup Operations
You can schedule your Gmail backup tool to strictly defined local time, with possible repeating at an interval from a minute to some months. You can also schedule your task to run when some system event occurs, such as user logon to a system or plugging a task-related USB unit into a PC.

Different Methods of Backup Control
To reduce time and space usage for backup Gmail emails, you can save your account messages, contacts etc. from a server with incremental, differential or mixed backup methods instead of simple full backup. Additionally, you compress and/or encrypt your messages to provide greater data security.

Backup Notification via Email
You can set up the program to send notifications and reports to some email that you provide. After setting up notifications, you will receive emails reports about all task activities on a regular basis. You can set up a notification and reporting frequency in program settings.
Recommended Solution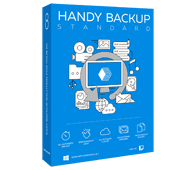 Version 8.5.0, built on September 19, 2023. 116 MB
Backup Software from Novosoft LLC. 39 USD per license.
The Standard edition is a quick, functional solution for home users, allowing backing up and restoring messages from your Gmail account. Free 30-days trial version!
Other Functions and Possibilities of Handy Backup as a Gmail Backup Tool
In addition to crucial advantages, here are many other functions allowing backing up Gmail messages in a most convenient and effective way:
A good choice of data storages, providing both Gmail online backup and local storage;
The time stamping technique, allowing marking backup versions for auto processing;
Many control options, such as running as Windows service or notifying users by email;
Linking your Gmail backup task into some workflow by auto-running other programs;
Logging and reporting all tasks and events, as well as running missed tasks if you need it.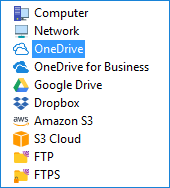 Restoration Options: How to Restore Gmail Deleted Emails
Backup Gmail emails to somewhere be only a part of a job; a next part is to restore these messages from backups. To restore data on an account on the Gmail server, Handy Backup uses the same "Email" plug-in. If you want to learn how to restore Gmail backup, please follow the next short instruction.
Create a restoration task, either in simple or advanced mode.
On Step 2, select the file backup.hbi from your storage.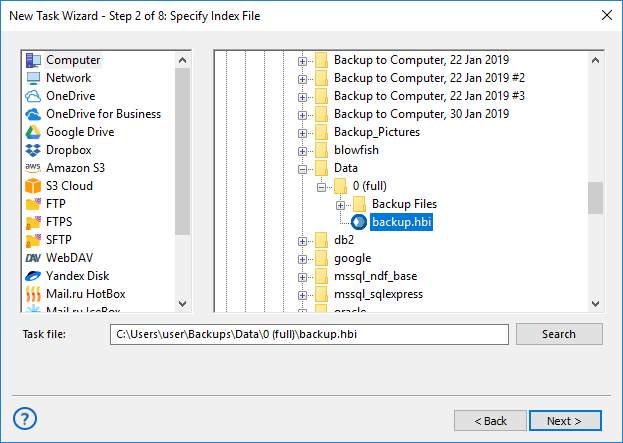 On Step 3, select and restore all messages, or some components of an original dataset!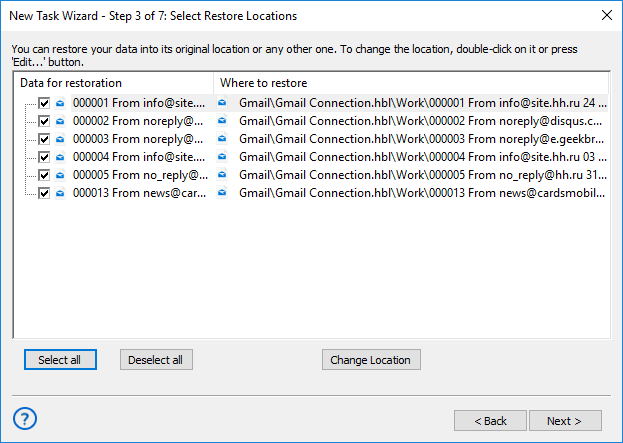 Migrating and Transferring
Besides doing a simple Gmail backup and restore, you can use Handy Backup for transferring messages to a different account, or even for migrating emails to different mail server (assuming that server supports IMAP). Just change a restore location and select a new mail server configuration to copy data.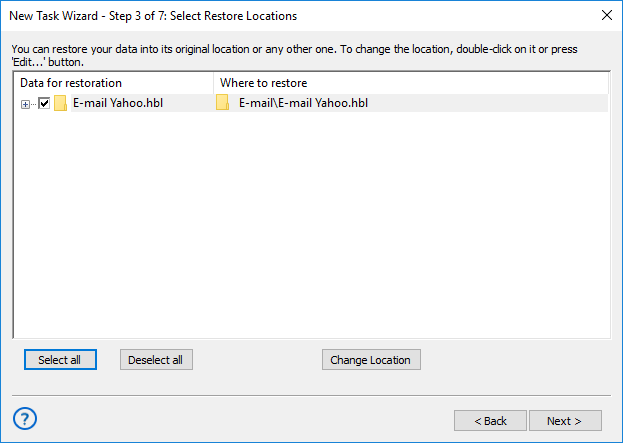 Note: The "Change Location" button is available only in the advanced task wizard mode!
To try Handy Backup as Gmail backup software, download and install the newest full version for a 30-days free trial.
Get a personal experience with your new, hot Gmail backup tool!
Who uses our backup software?