To create a task backing up FTP to Dropbox account, please follow the action sequence listed below:
Create a new task by pressing Ctrl+N or clicking the button on the control panel;
Select "Backup" on Step 1. Also, you can choose between simple and advanced modes;
To go to each next step, click "Next". On Step 2, select "FTP" in the "FTP" group as data source;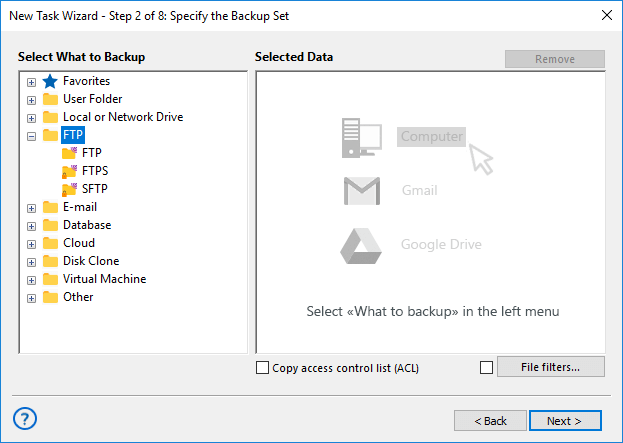 Click onto the "Create a connection…" option;
Enter your FTP connection settings in a setup dialog;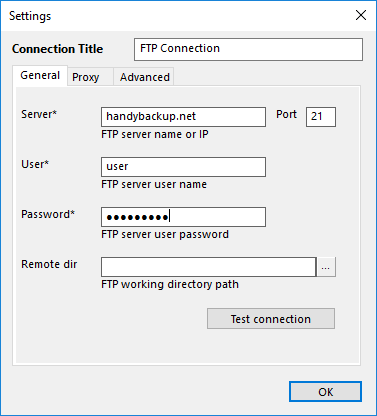 Test your connection. If successful, press "OK" to return to task wizard;
On Step 3, select the "Dropbox" option as the destination;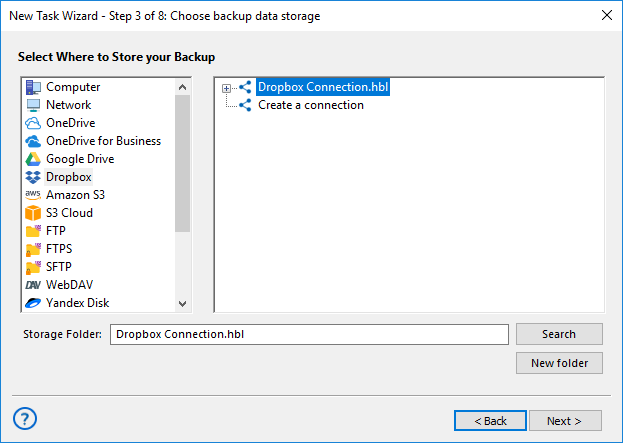 Again, click "Create a connection…" and set up your Dropbox account parameters.
Select a destination folder in your new connection, then click "Next" to proceed.
Continue with all other task options like scheduling and data encryption as usual.
Following this sequence, you will create an effective Dropbox backup task using FTP as the data source. Each time the task will start manually or by scheduling, it will make Dropbox-FTP download without any need for further interference by user.
Note: You can use a protected FTP server connection (SFTP or FTPS) instead of FTP by selecting an appropriate plug-in. These plug-ins have slightly different configuration dialogs than a plain FTP. In all other cases, all things are just the same as for FTP to Dropbox backup!

It is no difficulty to copy any file to Dropbox folder, although it may be a tricky process to grab this file from FTP. Specialized client software, like FileZilla, or a browser-level FTP access, must be implemented to take some FTP files or folders without automation.

Performing FTP to Dropbox backup actions manually or by script is principally possible, but saves up to no efforts when compared with automatic actions, and have much more risks of human failures or operational insecurity.
Version 8.5.0 , built on September 19, 2023. 116 MB
30-day full-featured trial period
Experience Handy Backup as a mighty tool for Dropbox-FTP connections!Try it personally by downloading a 30-day free trial version!