Windows image backup allows you restoring an exact copy of your system at any time when you want it. A proper Windows image backup solution will create a logical copy of your drive or partition that contains an OS, to recover it with all its internal data and structure.
Handy Backup can do it!
Version 8.5.0 , built on September 19, 2023. 116 MB
30-day full-featured trial period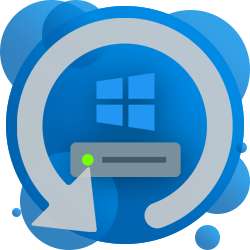 For Windows system image backup, Handy Backup provides the two options: Disk Image and System Recovery plug-ins, as well as a separate utility for "bare metal" called Disaster Recovery.
Disk Image creates a full, consistent Windows image backup for a disk or a separate partition in internal binary format that users cannot modify – only restore

*

.
System Recovery saves only entire drives, making an image in a readable, comprehensible VHD format, which allows using, say, an image of Windows 8 in a virtual machine.
Disaster Recovery is a standalone utility, available for free with most Handy Backup editions. It creates a bootable Windows restore disk image on a USB drive.
* You can use a file created by this plug-in for restoring it from scratch with a Disaster Recovery utility.
Windows 10 Image Backup
Windows 10 is a "roll-up" version, which changes itself constantly. A perfect Windows 10 backup utility, such as Handy Backup, can help avoiding many great problems emerging due to unstable updates.
Windows 8 Image Backup
For Windows 8 and 8.1, Handy Backup can fully automate creating a system image backup, replacing a built-in utility. It also automates Windows 8 restore disk image actions, which is useful for cloning an OS..
Windows 7 Image Backup
Used as system image backup Windows 7 software, Handy Backup provides a protection for many users and companies still utilizing that OS. In addition, it can create a Windows 7 image for a virtual machine.
Two Plug-ins and One Utility
You can select between a whole, consistent binary Windows disk image created by Disk Image plug-in and a readable, usable VHD image file that the System Recovery plug-in can make from an entire drive. In addition, you can rely upon the Disaster Recovery standalone utility, based on a spare USB drive.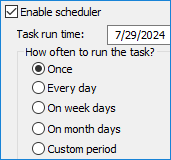 Regular System Image Backup
When using an internal plug-in, you can schedule your Windows image backup task to run on a regular base, with an interval from a minute to some months. In addition, you can trigger a task to start when some system event will occur (e.g., when you will trigger a USB drive related to a task into a PC).
Backup for a Disk in Use
Handy Backup utilizes the VSS (Volume Shadow Copying service) to create Windows image backup files without stopping a system. This "hot" mode allows you making regular backups of an entire Windows disk image without any trouble or inconvenience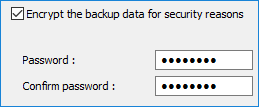 Security and Protection for Windows Image Copies
You can protect your Windows disk image file by encrypting it, as well as saving it to some secure storage (including SFTP or FTPS servers, S3-driven business-level clouds or other protected storage). To ensure the utmost security and protection for your Windows image copies, Handy Backup, a reliable file backup software, always utilizes dedicated data exchange protocols where it is possible to secure data!
To create a Windows image backup, you can use a "System Recovery" feature, which can write a VHD file of your entire Windows system drive image. Please follow the simple instruction below, or read the User Manual for some complex details about making backup tasks.
Open Handy Backup and call for a new task wizard through a menu item or by pressing Ctrl+N.
Create a backup task on Step 1. Go to Step 2 by clicking "Next".
Select the "System Recovery" plug-in in the "Disk Clone" group on a left panel of Step 2.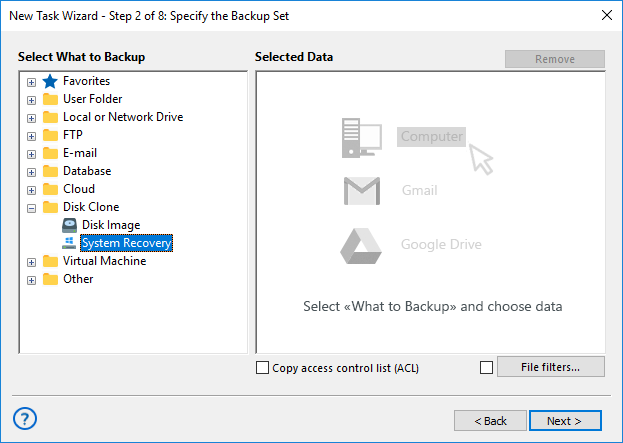 In a new window, select a physical drive to copy as a Windows image backup.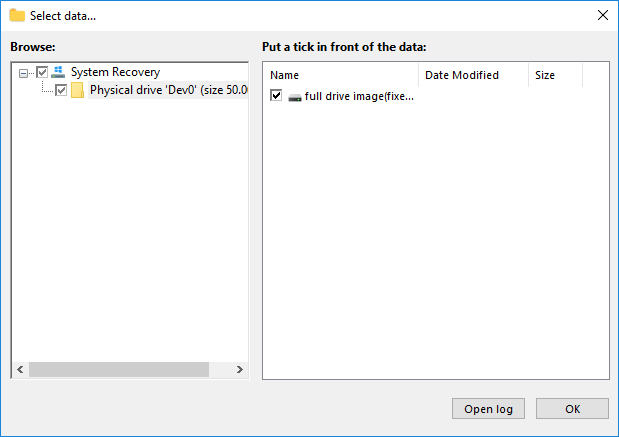 Click OK and proceed creating a task as usual.
Please read the Disaster Recovery user manual section to make a bootable USB pen or HDD drive, from which you can always restore a system image created by Handy Backup. The Disaster Recovery utility has its own OS, independent from a current OS installed on any machine, which allows making a "cold" Windows restore for a disk image.
In the next video, we will show how to make a Windows 10 image backup, but you can also use this technique for system image backup of Windows 7, 8 or 11.
Firstly, in this video we show how to take a Windows image backup by using a plug-in for Handy Backup.
Note: You have no need to save a backup file on a USB drive from that you later will download and install a copy to your hard drive! In this video, we save our Windows 10 image backup to a non-system drive connected to a PC, and we will have a capability to use it later when we need it.
Version 8.5.0 , built on September 19, 2023. 116 MB
30-day full-featured trial period
Download a 30 day free trial version of Handy Backup now,
and experience all its features and functions to create a Windows image backup!