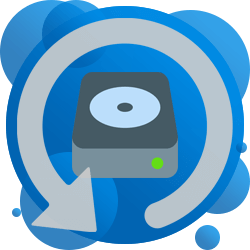 Block copying allows saving a logical structure of a hard drive (either HDD or SSD), instead of file-level copying. Handy Backup utilizes this technology for making drive images, providing the Disk Image and System Recovery plug-ins that are copying block patterns from a drive or a partition.
Version 8.5.0 , built on September 19, 2023. 116 MB
30-day full-featured trial period
For block copying, Handy Backup always saves only the blocks used by file system on a hard drive. It allows saving both backup time and storage space, preventing from keeping empty or scratch blocks as common data.

Block-level copying works with data as not consistent, complete structures allocated here and there as named and attributed files. Instead, the technology of block copying views a drive as a sequence of logical blocks, each has the same size as others. These blocks may or may not contain the information.
Block-level file copying saves a sequence of these blocks as a file. This file is, literally, a logical image of a hard drive or partition. It is much simpler to copy blocks instead of files, but it also denies some actions, such as file compression or selecting files by attributes.
Handy Backup provides the two plug-ins for data block copying: System Recovery and Disk Image. The purpose of both plug-ins is to copy an image of a hard drive (including SSD, USB and memory cards) on a logical level, instead of file structure.

The Disk Image plug-in allowing copying block patterns from a drive or making a block-based partition backup into a binary file that a user can recover later using the Disaster Recovery utility or Handy Backup itself.

System Recovery plug-in provides block copying only for entire physical drives, making a readable, mountable VHD virtual disk file. A user can either recover this image, or mount it as a drive for a virtual machine or to an existing OS, accessing all its content as for a common disk.
Both plug-ins allowing user to clone hard drive, recover a system on bare metal after crash, or just to save a copy of a drive to use it later by some way. Block-level file copying saves not only files but also an entire file structure, links between data, system settings on a disk, etc.