Exchange Recovery Database Software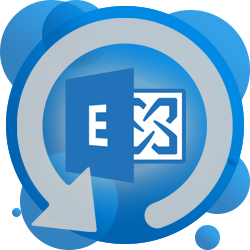 Exchange recovery is a necessary action of restoring Exchange server backup. Handy Backup provides all tools for quick and simple Exchange server backup and restore, making it one of best Exchange recovery software solutions available on market.
Advantages of Exchange Recovery Database with Handy Backup

Automation
Handy Backup provides the dedicated Exchange plug-in, allowing both saving Exchange content and then transferring copied emails to Exchange recovery mailbox when you need it. You need no extra efforts for these operations, regardless of particular configuration of Exchange recovery database.

Unification
With this plug-in, you can restore deleted mailbox from Exchange 2016, Exchange 2013 and Exchange 2010 or from any other version of Microsoft Exchange Server, with no need for extra settings or tuning up a backup task for a particular version. It is a unified Exchange mailbox recovery tool.

Versatility
Besides a big bunch of available storage types, including ones for Exchange online backup and restore, Handy Backup provides a set of additional recovery tools, including a built-in scheduler and encryption/decryption utility, ZIP compressor, incremental recovery, version control etc.
Storage Types for Exchange Recovery Database
To make Exchange recovery most efficient, we are recommending using either a fast USB external drive or SSD for keeping an Exchange Server copy, or some fast and secure cloud, such as Amazon S3. It is also a good idea to make a dedicated Exchange recovery server for the Server Network edition.
Available Storage Types for Exchange Recovery Software
Handy Backup supports many storage solutions, including:
Local and external USB drives;
Shared folders and NAS/SAN units, FTP, SFTP and FTPS servers;
Private and commercial clouds via S3 and WebDAV protocols;
Popular clouds including OneDrive/OneDrive for Business, Google Drive and Box.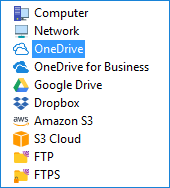 Review About Exchange Recovery Tool by Handy Backup
Recommended Solution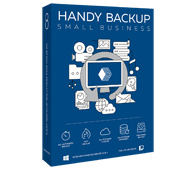 Version 8.4.6, built on April 25, 2023. 116 MB
Backup Software from Novosoft LLC. 249 USD per license.
The Small Business edition allows complete backup and recovery of a single server, including all options for Exchange Server backup and restore out of the box!
Utilizing Handy Backup as Exchange Mailbox Recovery Software
This is a sample task allowing Exchange 2016 restore deleted mailbox. You can use it for any version of Exchange instead, e.g., for automating Exchange 2013 restore database from backup.
Preparing Exchange Recovery Software
The current version allows only returning a content of Exchange recovery server copy to its original place. Before executing an Exchange Server disaster recovery plan, please make all necessary operations to prepare a server for accepting recovered data. (This is not a part of Handy Backup software).

Open an administrative panel of MS Windows Server and find an Exchange settings group.
Expand all databases for Exchange recovery and set up options for unmounting and overriding these databases.
Note: When you run restoration, a task will stops Exchange Store Service and all Windows services that depend on it. Then it transfer an Exchange recovery mailbox to its original location by using the VSS Windows service, and, finally, re-launch all stopped services.
How to Restore Exchange Mailbox with Handy Backup
Open Handy Backup and create a new task. Select recovery on Step 1.
Click "Next" and go to Step 2. Here, open a USB drive with Exchange backup content.
Find a backup folder with an Exchange copy, and select a file backup.hbi here. Click "Next".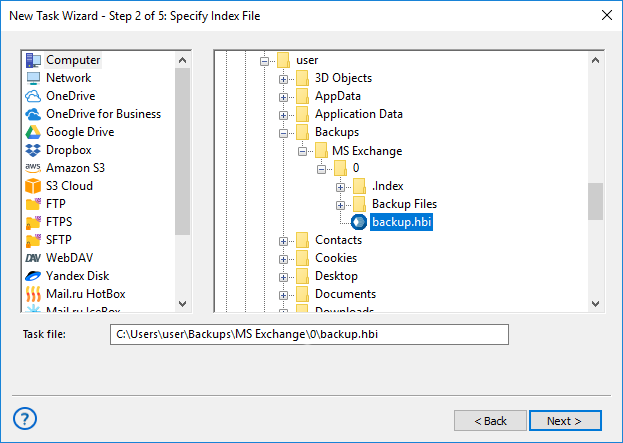 Note: For encrypted backups, here will appear an extra step, where you can only enter a password for encryption and click "Next" to continue.
Skip Step 3, as you can only place an Exchange recovery mailbox to its original location.
On Step 4, select either full recovery or incremental restore (which will recover only those Exchange components that contain some changes since previous restoration).
On the final Step 5, give a name for your task, e.g. "Exchange 2016 Restore Mailbox".
Well done! The task will work every time when you start it. Now you see how to restore Exchange mailbox with Handy Backup — this is easy and convenient.
Use Handy Backup as your trusted Exchange recovery software! Try it just now, for a free 30-day trial!
Who uses our backup software?