Copy Entire Website with Database
How to copy complete website with database content along with other website static and dynamic data? The best solution is to use some dedicated software allowing doing it automatically. Handy Backup is a good example of such entire website backup solution.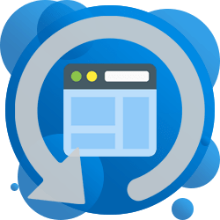 How to Copy Website with Database: Trivia
You can copy complete website with database only with internal website backup, when you have access to the site's contents, e.g. via an FTP protocol. Website backup includes the two steps:
1
At first, make a backup copy of the entire site with all its content, graphics and other data. You can do it just by copying files from a corresponding web server via FTP.
2
Secondly, create a database backup to your hard drive. Here, simply copying database component files is not enough; to perform it, you need special database backup software (for example, Handy Backup).
Advantages of Handy Backup for Copying Complete Website with Database

Copy Complete Website Database of Any Type
Regardless of what DBMS you have running for your website (for example, PostgreSQL, MySQL or MS SQL Server), Handy Backup always have a plug-in to copy the entire website with database. It is also true for static data, as program allows SFTP and FTPS connections as well as direct network links.

Auto Running by Schedule
You can set up a starting time for making website database and static data backups, as well as an interval from minutes to months to repeat backup actions. In addition, you can use an advanced option of triggering a task by some system event (for example, when plugging USB storage into a server).

Big Selection of Storage Types
With Handy Backup, you can use either local or online backup storage, including local and network drives, FTP servers, S3- and WebDAV-connected clouds, commercial cloud services such as Amazon S3, Dropbox, OneDrive (OneDrive for Business) or Box, or even other network machines!
Professional Software for Backup to Clouds & Other Storages
+ External and Local HDD, WebDAV, USB, Network
Customer Testimonials
Recommended Solution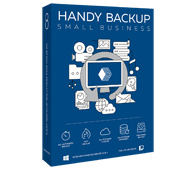 Version 8.5.0, built on September 19, 2023. 116 MB
Backup Software from Novosoft LLC. 249 USD per license.
The ultimate solution for one server, the Small Business edition allows you to copy complete website with database just out of the box!
How to Copy Complete Website with Database Using Handy Backup?
To download website database, create a new backup task. Then select a static data plug-in (FTP or other) to connect to website server, and add static data to a backup list. To copy complete website database, select an appropriate database plug-in and select website dynamic data to backup.

To learn more about using Handy Backup as website backup software, please read the dedicated article, which explains how to download database from website servers and other DBMS instances. You can always find additional information about making automatic backups in the User Manual.
CMS Automatic Backup Software Solutions
The Video Example: How to Copy the Entire Website
The next short video will teach you how to copy the entire websites using Handy Backup. Here you can see how easy is to create a task for copying both static and dynamic website content to selected storage. Note that the video demonstrates Handy Backup 7 but all works equally well in Handy Backup 8!
Caveat! Please note that this video assumes that you have already installed Handy Backup on your local machine. If you still have not done so, do not hesitate to download a copy of it.
Experience how easy is to copy entire website with database by using Handy Backup!
Download and install a free copy for a 30-day trial period!
Who uses our backup software?