Disk Recovery Software: Utility to Recover Hard Disk Data
Hard disk recovery software allows to recover or to clone a hard disk on a "physical" or "logical" level, as a disk image, instead of copying file content. Handy Backup is a perfect utility to make hard disk restore, allowing automating and optimizing this operation either itself or by an external utility.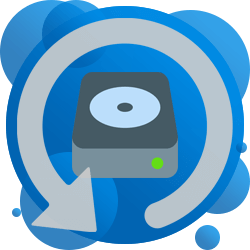 Advantages of Hard Drive Data Recovery Tools in Handy Backup

Multi-Platform Hard Disk Recovery
The Disaster Recovery utility, a part of Handy Backup software, is a platform-independent solution for restoring images of any OS, including Windows, Linux, FreeBSD and Mac OS X. It is USB-based, external hard disk recovery software, allowing booting from a rescue drive and restoring a disk image.

Recover Snapshots Locally or by a Network
Users can either recover non-primary drives (i.e. not a drive from which a copy of OS currently running loaded) locally for any edition of Handy Backup except the simplest Standard, or make disk recovery by a network (for network editions only) directly from a program, without a need for a disk recovery utility.

Scheduled Backup for Correct Version Recovery
Handy Backup allows scheduling disk image snapshots, as well as marking backups with version numbers and time stamps. Therefore, you can take a particular version (e.g., the last stable backup) for data recovery of hard disk content, relying to version data in backup folder names.
How to Recover Hard Disk Data Using Handy Backup?
This short instruction will teach you how to make complete image recovery. You can use either a disk cloning plug-in (Disk Image or System Recovery), or the Disaster Recovery utility to make hard disk recovery from scratch.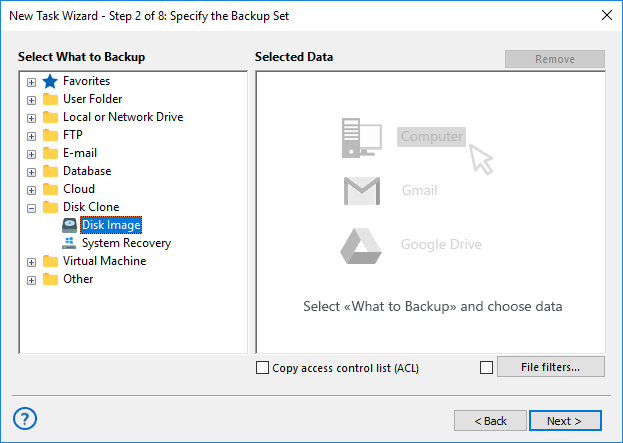 The Disk Image plug-in will make a binary image of hard disk recovery drive.
The System Recovery plug-in will create a usable, readable VHD disk recovery image.
The Disaster Recovery utility will recover a hard drive from an image made either by Disk Image and System Recovery, or take an image by itself to work as a disk recovery utility.
Recommended Solution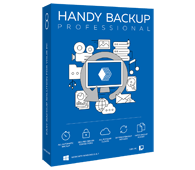 Version 8.5.0, built on September 19, 2023 . 116 MB
Backup Software from Novosoft LLC. 89 USD per license.
The Professional edition is a choice of IT experts, making hard disk restore from the program itself and also allowing using the Disaster Recovery utility as your trusted hard disk restore tool.
How to Make Hard Disk Recovery with Disk Image or System Recovery Plug-in?
Use one of these plug-ins to create a recovery image. Then you need to make a new recovery task and use the same plug-in to restore disk image to its original or new location (except tasks requiring hard disk recovery for a main system drive).
Note: The System Recovery plug-in creates an image of a whole drive, with all partitions, in a comprehensible, readable and usable VHD format. Therefore, it is a preferable plug-in for hard disk backup and subsequent recovery, unless you want to make just a system partition backup.
To imply hard disk recovery for any secondary drive (i.e., not for a system drive containing a copy of Windows running now), please follow the next instruction:
Make a hard disk backup by some way (prefer System Recovery over Disk Image).
Create a new recovery task, as described in the User Manual.
Mark also the advanced mode trigger on Step 1, for accessing to all recovery options.
Select a hard disk recovery image file on Step 2.
Select a physical drive to recover its data on Step 3.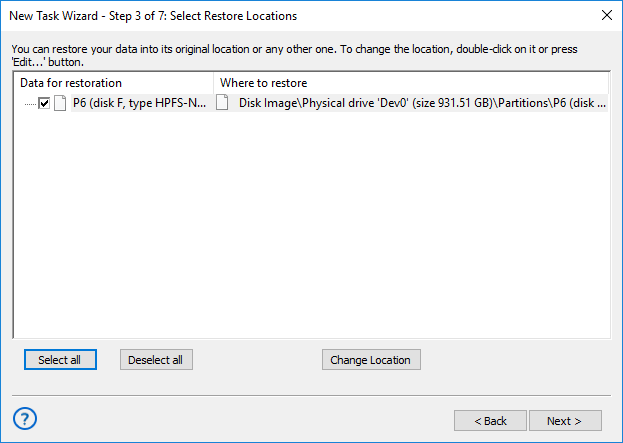 Note: Use the "Change Location" dialog when you need hard disk recovery software to clone or to move an original image to another place.
Continue creating a recovery task step by step, as described in the User Manual.
Backup hard drive that you will use as a target, and then start a newly created task.
Video Tutorial: How to Use a Disk Recovery Utility
The next video will teach you how to use the Disaster Recovery. The Disaster Recovery software tool is completely free for all users of Professional, Small Business and Server Network editions of Handy Backup! It is a part of a whole solution, requiring no additional purchasing or downloading.
Experience the might of Handy Backup as disk recovery software free: take a 30-day trial version with a full set of options!
Who uses our backup software?