How to Backup Sony Vaio Laptop for Windows 10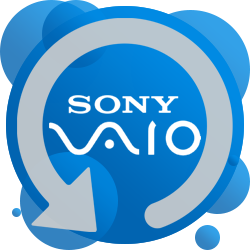 Sony Vaio backup allows either saving data from your Sony laptop or to make Sony backup disc download to some storage, restoring it when a need will emerge. Handy Backup do both these tasks perfectly, allowing convenient Sony Vaio backup and restore without much efforts.
Features of Sony Vaio Laptop Backup with Handy Backup

Combined Sony Backup and Restore Software
Handy Backup allows making a drive image for complete backup and restore, or saving only those data that you need, from user libraries to system folders to apps to some complex data such as databases or FTP directories. You can save all you need, and restore only what and when you need, perfectly!

Many Storage Types for Sony Vaio Backup Tasks
With handy Backup, you can save all your data to a local or external drive, or make Sony cloud backup to some popular cloud such as Dropbox or OneDrive (or even use a popular cloud protocol, either WebDAV or S3, to access another cloud), or choose an FTP or network storage for your Sony Vaio laptop backup.

Regular Backup Actions
Make your Sony Vaio laptop backup regular by setting a starting time and a repeating period from minutes to months for any backup task! You can also start Sony Vaio backup by a system event, such as plugging a USB device into your laptop, and even move backup data to another location automatically!
Recommended Solution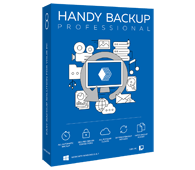 Version 8.4.0, built on June 30, 2022 . 113 MB
Backup Software from Novosoft LLC. 89 USD per license.
The Professional edition allows automatic Sony Vaio backup and restore, from a drive image to any particular data type, up to a single file or folder!
How to Backup Sony Vaio Laptop
With Handy Backup as Google Drive backup software, this cloud service turns into a powerful, versatile storage for data backups. To create a Google Drive backup task, please follow the next instruction:
Install Handy Backup of some edition (we are recommending the Professional and greater).
Run the program and call for a new task wizard by clicking "New" or by pressing Ctrl+N.
Create a backup task on Step 1, and choose simple mode for quick Sony Vaio laptop backup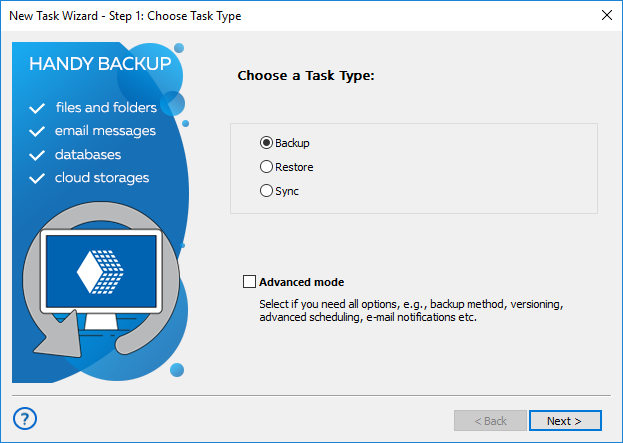 On Step 2, select what data to include in this particular Sony Vaio backup.
On Step 3, choose storage for these data with a sufficient free space.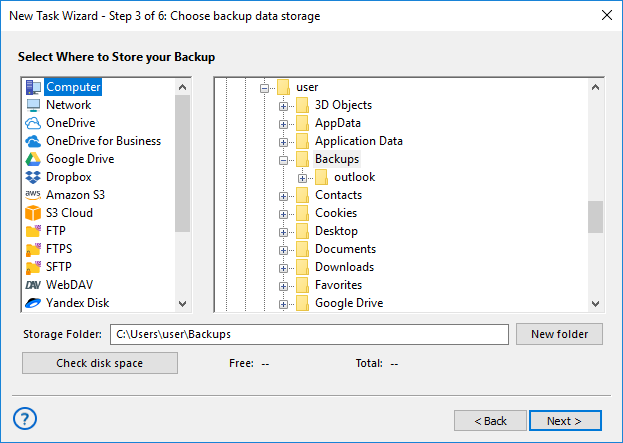 On all other steps, select other backup parameters according to the User Manual.
Note: Alternatively, in advanced mode, you can call for all options and functions of Handy Backup!
Recovering from Sony Vaio Backup
Now you can choose how to restore your Sony Vaio laptop backup. A quickest way is to create a recovery task by just the same way as for backup action. Now go to Step 2, open your backup storage and select the file backup.hbi with all data describing your backup. Continue creating a recovery task.
The Disaster Recovery
The Disaster Recovery utility allows you creating and restoring a drive image with Sony Vaio backup from a hard disk. Moreover, by using Disaster Recovery, you can move your Sony Vaio backup disc download image to another place and recover data from that place on "bare metal" laptop!

Try Handy Backup as perfect Sony Vaio backup and restore software: download a 30-day free trial edition with all functions and plug-ins!
See after Best Sony Laptop Backup:
Who uses our backup software?