Endpoint Backup Solution: Protect Devices outside Corporate Firewall
Handy Backup is the perfect endpoint backup solution, allowing centralized collection of end-user data from any devices and storages outside the local corporate network and securely storing these data to a selected vault.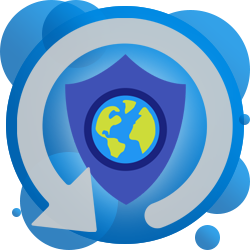 Principles of Enterprise Endpoint Backup
Endpoint Backup Capabilities of Handy Backup
Handy Backup meets all criteria of endpoint backup definition. It is capable to take data from any devices and storage units (including Google Drive, Amazon S3, Microsoft OneDrive, Box, NAS and FTP units etc.) and save it to any vault approved for corporate centralized backup.
Endpoints
Any type of device can serve as "endpoint". Primary endpoint targets for Handy Backup are:
User laptops and terminals running with Windows 10, 8, 7 or Server 2019, 2016, 2012;
Any devices synchronized with the servers and terminals described above via any methods;
FTP, SFTP and FTPS data servers, connected via the Internet or through a local network;
External (mapped) drives, NAS units, data servers, private cloud services of any type;
Commercial clouds, e.g. Google Drive, Amazon S3, Box, OneDrive, 4shared and other.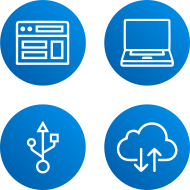 Typical Use Cases
You can describe most use cases for particular endpoint backup solutions as modifications of some simple backup architectures described below as examples:
From laptops of company employees – to a private cloud inside the corporate network;
From some Dropbox shared endpoint accounts – to a single Amazon S3 company account;
From workstations of the staff – to an FTP (SFTP or FTPS) corporate server;
From endpoint servers of external departments – to a single central server of a company;
From computers of employees engaged in some project – to some trusted cloud account.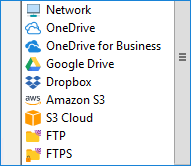 You can quickly modify any of these existing endpoint backup schemes to change the endpoint device set, the destination or both parameters; it can be effective to use two or more schemes simultaneously, or to invent and add a new schedme.
Recommended Solution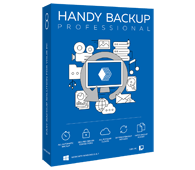 Version 8.5.0, built on September 19, 2023 . 116 MB
Backup Software from Novosoft LLC. 89 USD per license.
The Professional edition provides an excellent endpoint data protection for an unlimited quantity of end-user devices. Free 30-days trial version!
Accessing Endpoint Backup Data
The task of accessing and restoring enterprise endpoint backup is as important as the task of taking snapshots of these data. Any end user must have an option to find and restore (or just view) the data needed as quickly as possible, perhaps, without total restoration of a dataset.
Native Backup Format

If a backup task forces no endpoint encryption or ZIP compression for data transferred to a backup cloud, all information copied by Handy Backup retains its original data formats. Therefore, any user can open the backup folder and directly view or copy any file or folder needed from a backup.
Note: To do it, a user must have permissions for accessing a backup data storage and/or a particular folder inside it. Therefore, an IT department and data administrators always have a final decision about allowing end users viewing and modifying their backups!
Integrating Enterprise Endpoint Backup into a Unified Data Workflow
Good endpoint backup software is just a part of a general security strategy for an enterprise. The best endpoint backup software is a program allowing integrating it into a complex, scheduled and pre-planned chain of different data-protecting actions.
Possibilities and Capabilities of Handy Backup
To make itself a part of a general security strategy, Handy Backup allows some possible actions, e.g.:
Running it as a command-line application, allowing batching its run.
Starting other applications or batch files (command lines) before or after each task.
Notifying selected users about its activity through email messages.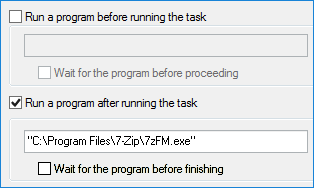 Other Endpoint Backup Features
In addition to key features and advantages described earlier, Handy Backup provides some other options turning it into a best endpoint backup solution for many different cases: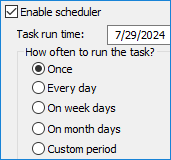 Automatic backup of any data: databases, VMs, websites, drive images etc.;
Selecting end user files and folders by the mask of a name and/or file attributes;
Supporting all modern data storages, including clouds, FTP, NAS, SAN and USB;
Full, incremental, differential and mixed (full/differential) backup modes;
Creating versioned backups and marking backup data with time stamps.
Economic Issues
Compared to many other endpoint backup vendors, Handy Backup provides much more functionality-to-price ratio. It uses a simple payment model without extra fees or annual charges, and its licensing is permanent for a major version, including free updates.
System Requirements
Handy Backup provides endpoint protection backup for devices running under any modern version of Windows, including Windows 10, 8.1/8, 7 and Vista, as well as Windows Server 2019, 2016, 2012(r2) and 2008(r2). It supports domain, non-domain and mixed network architectures.






Who uses our backup software?