IncrediMail Backup Tool for Accounts, Emails, Contacts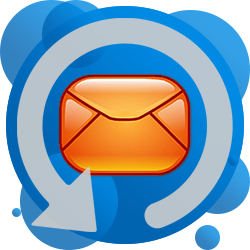 IncrediMail backup and restore allows saving and cloning IncrediMail emails. Instead of manually backup IncrediMail data, such as emails, contacts and other mailbox content, you can use Handy Backup with its "Email" plug-in for accessing IMAP IncrediMail server directly.
Features of Dedicated IncrediMail Backup Tool
IncrediMail Automatic Backup and Restoration
Handy Backup fully automates all operations with IncrediMail backup, including connecting to a particular account, finding data, processing the information before saving it and then storing the data copy to a chosen vault. The program schedules all operations and applies all necessary algorithms.
Built-in Data Security
A user can encrypt and/or compress an IncrediMail backup with an internal set of instruments allowing these operations. Additionally, when performing backup mail IncrediMail, the program can use such security methods as SSL encrypting (for example, in an FTPS connection).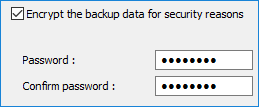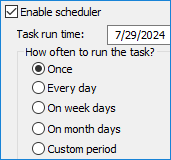 Scheduling and Controlling
Besides backup IncrediMail manually by just running a task, Handy Backup allows scheduling tasks to start at an exact time and date, to repeat for some period, to run by a system event, or just to complete IncrediMail backup account operations missed by somehow.
Other Options of Handy Backup for IncrediMail Backup
Along with features described before as parts of using IMAP IncrediMail backup software for Windows, Handy Backup has some other crucial features and advantages, allowing linking IncrediMail backup operations with other backup and restore activities taken by the program:
Different backup features, such as incremental, differential, mixed and versioned backup;
Running other programs along with an IncrediMail backup task;
Keeping all unencrypted backup data in readable formats (EML for IncrediMail, for example);
Granular restoration and genuine modification of backup content through common utilities;
Notifying users about task results by email, as well as reporting and logging task activities.
Recommended Solution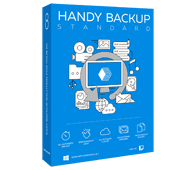 Version 8.5.0, built on September 19, 2023. 116 MB
Backup Software from Novosoft LLC. 39 USD per license.
The Standard edition contains E-mail IncrediMail backup tool, as well as a good set of available storage plug-ins and a complete bunch of different backup features! Free 30-days trial!
How to Backup Incredimail via Handy Backup?
To save Incredimail emails from a local folder, please use this instruction. For additional information about creating backup tasks and "Computer" plug-in settings, please read the User Manual.
Start Handy Backup as administrator (it is principal to access the VSS hot backup service!).
Call a New Task Wizard by pressing Ctrl+N or by clicking the "Create" button.
Select a backup task type on Step 1. (You can also select an advanced task wizard mode).
Go to Step 2 and find the Computer plug-in in the "Local or network drive" group on the left.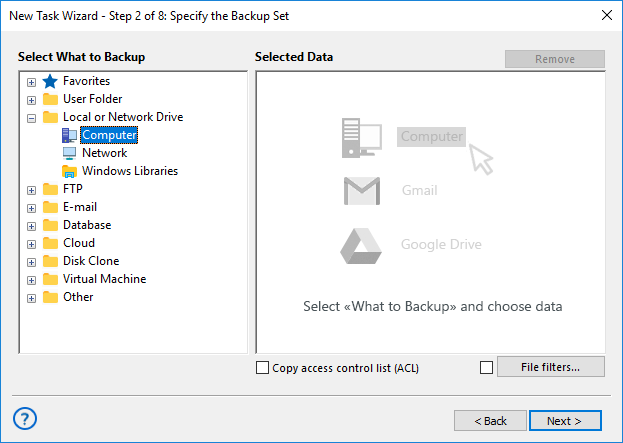 Add "Computer" to task data sources by clicking on it. You will see a list of local folders and files. Browse this list to find the Incredimail account folder.
Note: You can grab the way to this folder from app settings (in the application menu, go to "Tools" → "Options" → "Data folder settings…", and copy a folder path).
Mark the checkbox against the Incredimail data folder name.
Click OK and return to the Step 2. Continue making your task as described in the User Manual.
Restoring and Cloning IncrediMail Backup Emails
You can create a restoration task for IncrediMail, using the roughly same procedure as for using an IncrediMail backup tool.
Open Handy Backup, create a new task and select a restore task type.
Find the file backup.hbi in your backup storage.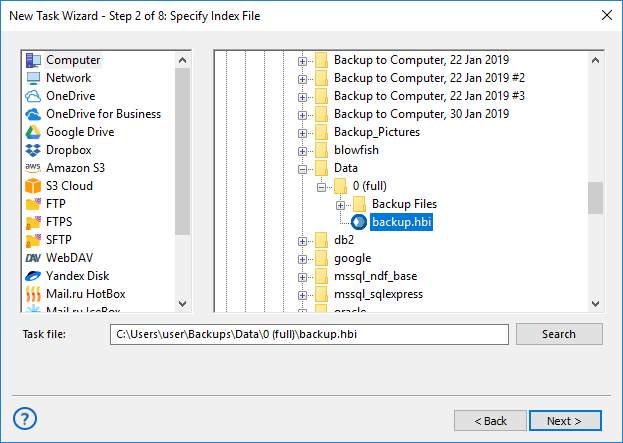 If you plan to restore your IncrediMail backup to its original location, just continue.
Otherwise, click "Change location". You will see a dialog for selecting a new destination.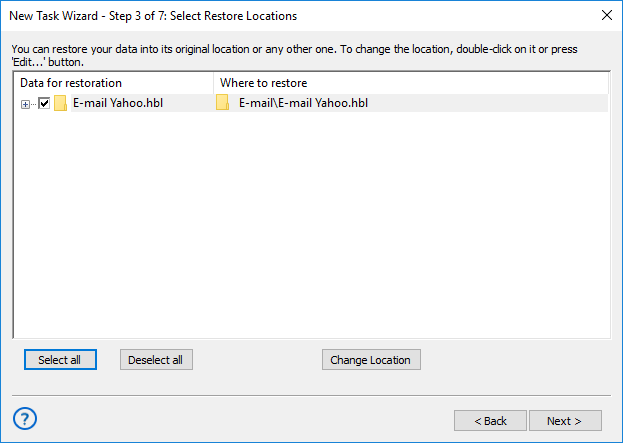 Yahoo is used as an example
Select the new place for restoring an IncrediMail backup account, and then click OK.
Note: We are strongly recommending you always using a new folder to restore IncrediMail backup to some new place!
Continue creating a restoration task as usual.
Partial and Granular Restoration
As mentioned before, you have your IncrediMail backup data in readable EML format, allowing you browsing, modifying or even restoring up to a single message where you have planned using a common file manager, like Windows Explorer.
Note: You can even manually backup IncrediMail data by this way, assuming these data previously picked from an IncrediMail IMAP server using the Handy Backup tool! Move the EML files you want from a common backup to a completely separate place from a main dataset.
Use Handy Backup as your IncrediMail backup software! Try manual and automatic IncrediMail backup just now,
downloading a fresh version of Handy Backup by a 30-days free trial period!
Who uses our backup software?