This simple instruction assumes that you are creating a backup task in Handy Backup. It works with most plug-ins, including Computer, Network, User Folders, FTP/SFTP/FTPS, Registry, almost all database plug-ins (excluding Lotus Notes), allowing VMware granular backup and recovery, works with all clouds etc.
On Step 2, select and configure a data backup plug-in from an appropriate group.
In the "Select data..." dialog, mark those data that you set for granular backup.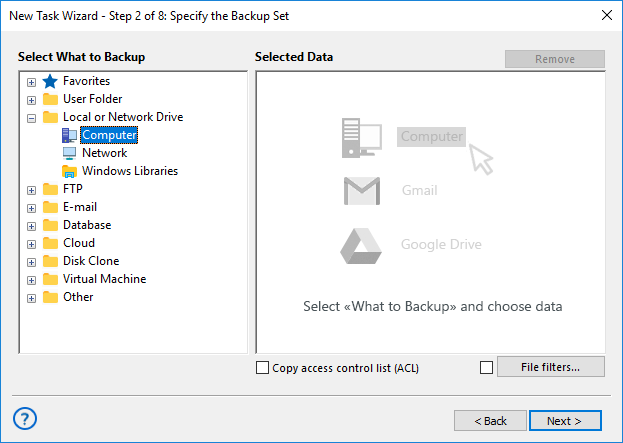 Click OK and return to the Step 2 window. That is all. You just have make a selective backup!
Granular Recovery Options
Symantec Backup Exec granular recovery technology (GRT) has a base in typical Backup Exec methods, which users can implement to pick backup data and then perform granular recovery. However, this technology is somewhat linked to tape backup, which is now redundant or obsolete for most tasks.
On Step 3 of a new recovery task wizard, click onto a dataset.
Select data for backup granular restore by marking data names. Click "Next" when finished.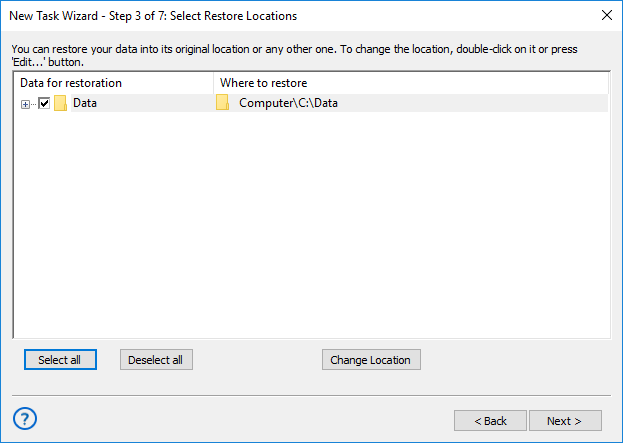 Continue creating a task. That is all!
A Note about Granular Restore for Microsoft Exchange
Due to protective measures by Microsoft, updates and patches can limit the possibilities of granular recovery for Exchange. After some updates of Exchange Server, you can restore only an entire dataset with Handy Backup. This is a problem of compatibility, which the Handy Backup Support team solves.
The main advantages of granular recovery are the economy of time to restore only the objects needed, and a greater protection from mishaps and undesired data changes that can occur with a full restoration. Therefore, a good granular restore software saves your efforts and your data!