Yahoo Backup Software: Backup Yahoo Email to Hard Drive, Cloud, FTP, Mail Box
Yahoo mail backup software allows creating copies of mailbox content stored on Yahoo!Mail server. Handy Backup provides the "Email" plug-in for automating such tasks, allowing easy Yahoo mail folder backup as well as saving your messages to a local PC drive, an FTP server, a cloud or to an external USB drive.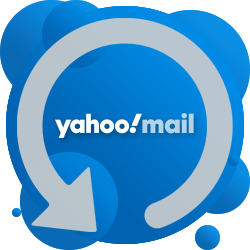 Why Backup Yahoo Mail Folders via Handy Backup Is Cool?
Automating All Actions
Do not worry about making regular snapshots of your mailboxes! Handy Backup is a completely automatic Yahoo email backup software solution, and it allows scheduling your backups on a regular basis, on some system event, or just running a prepared task manually at any time you need it!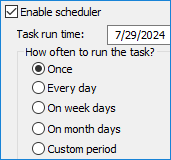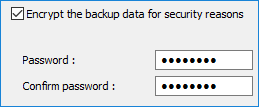 Controlling Content Copying
There are many control functions to backup Yahoo email, including full, incremental and differential backup, storing several backup versions of the same dataset, time-stamping copies, encrypting and compressing backup files, as well as running other software (e.g. antivirus) before and/or after a task.
Managing Many Moments
Handy Backup provides a lot of managing functions, including creating tasks with a comprehensible GUI, running prepared tasks as Windows service to minimize user distractions, informing a user about all activities via email, reporting task results (briefly or in extended mode) and much more.
How Yahoo Backup Tool Works in Handy Backup?
Note: Before making Yahoo backup, please open the Yahoo Mail in the Web interface, and in the account settings menu, give a permission to use your Yahoo account with external clients.

To make an automatic Yahoo backup task, use the following sequence of actions.
Start Handy Backup. Create a new task by Ctrl+N keys or by the control button on the panel.
On the Step 2, select the "Email" plug-in from "E-mail" group on the left panel.
Double-click onto the "Create a connection" string. You will see the setup dialog.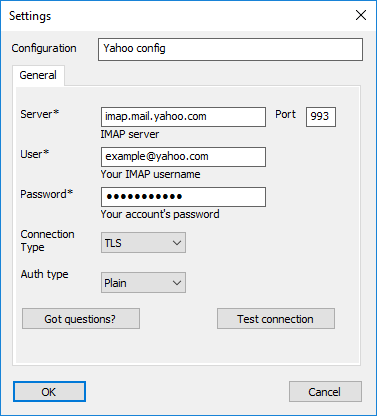 Enter your Yahoo mail server name: imap.mail.yahoo.com.
In the port number field, let intact the default value: 993.
In the drop-down list of authorization types, select the "Plain" authorization method.
In the drop-down list of connection types, select "TLS" (not "StartTLS"!).
Test your connection. If it is OK, return to the plug-in window
On the plug-in window, you will see your particular account folders.
Check/uncheck the folders and messages you will plan to back up or to exclude from backup.
On the Step 3, select storage for your Yahoo mail backup (for example, save copy of your messages locally to hard drive).
Finally, click OK and return to the task wizard. Continue creating your backup task.
Recommended Solution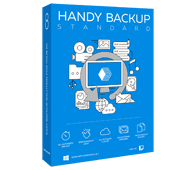 Version 8.5.0, built on September 19, 2023. 116 MB
Backup Software from Novosoft LLC. 39 USD per license.
Backup Yahoo email accounts with the Standard edition, the cheapest backup solution for home users allowing storing Yahoo email backup on most popular devices and online vaults!
What It Can Save
This Yahoo backup tool saves account content up from all mailboxes and down to any single message. The program keep the messages in the native EML format, which you can read by many local email clients. Moreover, you can modify, move or even restore separate messages with a file manager tool!
Where You Can Store Your Yahoo Backup
You can backup Yahoo email to hard drive, an external USB drive, an FTP server (with SFTP and FTPS in advanced editions), a network drive or a NAS units. You can also organize Yahoo online backup to Google Drive, OneDrive, Dropbox, and Amazon S3 or other cloud storage.
Restoring and Cloning Yahoo Email Backup
You can restore as few as just one message from Yahoo to any email services when using Handy Backup as your Yahoo backup tool. Another option is to work with a particular email locally, by opening, browsing or modifying it via any local mail client or even a text editor!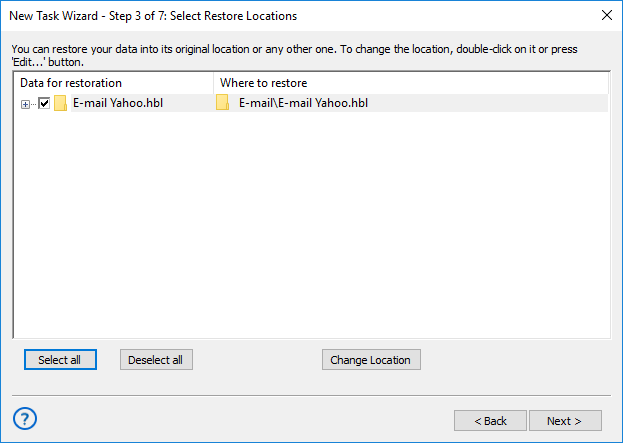 A Video Lesson: Yahoo Email Backup
See how to migrate from Yahoo!Mail to Outlook.com with Handy Backup. The procedure of Yahoo email backup is easy to use and very quick to execute, with a possibility of automatic scheduling. Learn how to backup Yahoo mail folders, with some tricks and advantages available in Handy Backup!
Use Handy Backup as your personal Yahoo! email backup software just now, downloading and installing a newest version for a 30-days free trial!
Customers about Handy Backup
Who uses our backup software?