4shared File and Storage Backup
4shared backup is a procedure that allows to make data copy from (or to) a 4shared account. Trusted 4shared desktop backup software, like Handy Backup, allows automatic saving data for any 4shared data through the dedicated plug-in. For Handy Backup, this action is fully automated and convenient.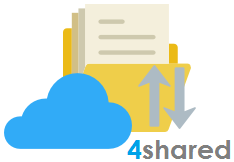 Advantages of Handy Backup as 4shared App for PC

Automated 4shared Backup Plug-in
The dedicated "4shared" plug-in allows backing up the information to and from 4shared accounts directly via the cloud API. This adds an extra level of protection, as well as enhances convenience.

Controlled and Scheduled Tasks
A user can schedule any action related to 4shared backup to an exact starting time and an exact repeating period from a minute to some months, or even trigger it to a system event like logon.

Advanced 4shared Backup Options
Handy backup contains a plenty of useful options and tools, including partial (incremental, differential or mixed) backup, creating time stamps over backups, ZIP compression and calling for external software.
Testimonials About 4shared Backup by Handy Backup
Mixing 4shared File and Storage with Other Data Storage Types
For keeping 4shared data, Handy Backup provides all its standard and extended data storage plug-ins, including local and offsite backup options. Among these tools are the plug-ins for making 4shared backup to such media as:
Local and external USB drives (with possible auto-triggering a task by connecting a USB);
Network shared folders, mapped drives and (for the server backup solution) other computers;
FTP, SFTP and FTPS services, NAS units, private and commercial clouds via WebDAV;
S3-based commercial bucket storage, including separate plug-ins for S3 and Box clouds;
Popular cloud services, such as OneDrive, Google Drive, Dropbox and another 4shared accounts.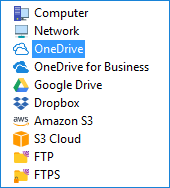 Is 4shared Safe for Backup?
The correct answer is "no". The 4shared file and storage solution is not quite safe or well-protected storage. However, you can always add to 4shared backup security by implementing the Handy Backup built-in encryption backup tool, which provides enough security for up to most sensitive data.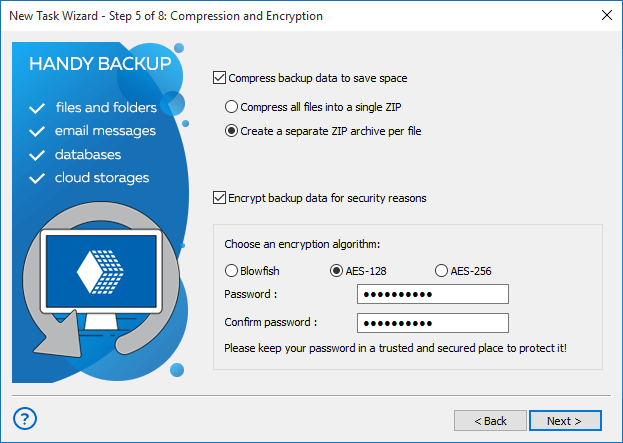 Caution! When encrypting your backups, keep a password well! This is no method to retrieve a password for a particular encrypted backup file!
Recommended Solution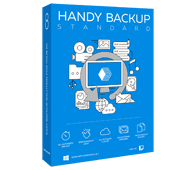 Version 8.5.0, built on September 19, 2023. 116 MB
Backup Software from Novosoft LLC. 39 USD per license.
The lightest 4shared app for PC backup, the Standard edition allows making and automating all 4shared backup, recovery and synchronization operations.
How to Make 4shared Backup with Handy Backup
Here is a simplest instruction that allows you creating a task that will use a 4shared account as backup storage. Please follow the next instruction:
Create a new Handy Backup task by clicking the "Create" button or pressing Ctrl+N key combo.
Select a backup task on Step 1. You can use either simple or advanced mode, as you want.
Attention: An advanced mode adds few extra steps to new task configuring, but allows making extra settings such as partial (incremental and differential) backup, controlling backup versions, running external software along with a task, and making notifications by email. Use it for full access to Handy Backup!
On Step 2, select any data that you plan to back up, according to the User Manual.
Go to Step 3, and here, click on 4shared option on the left panel.
Click onto "Create a connection…" string. A new dialog window will appear.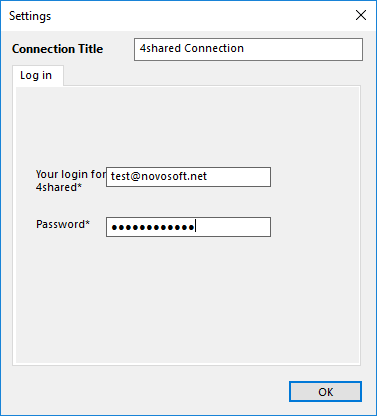 Enter data of your 4shared login into appropriate fields. Also, give a name to this connection.
Click OK and return to Step 3. Click on a new connection name.
Select a folder to copy backup files into this 4shared account. Click "Next" to continue.
Create a backup task as usual. 4shared backup has no special requirements or restrictions.
Using 4Shared as Backup Source
Despite 4shared is a cloud service by type, you can find the 4shared plug-in on Step 2 as a backup data source in the Other section, not in Cloud. This is because the primary 4shared intention is to be a file exchanger, not a typical storage cloud. Click on its name on Step 2, connect and select data as usual.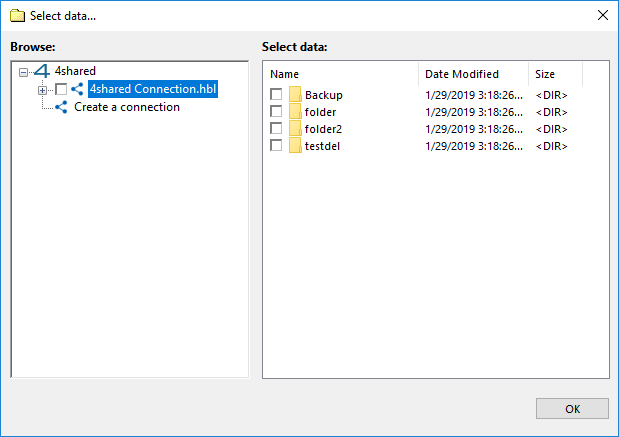 Handy Backup is a perfect, functional and easy-to-use 4shared desktop backup application. Try it just now; download a free 30-day trial version with all functions!
Who uses our backup software?