Alfresco Backup and Restore Step by Step
Alfresco backup is a crucial component of website data security for any provider or user who utilizes the Alfresco CMS. Handy Backup provides tools and plug-ins for Alfresco hot backup with all components including database, Solr4 indexes and content folders, as well as secured content storage options.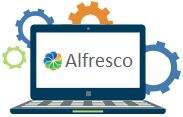 Advantages of Handy Backup as Alfresco Backup and Recovery Tool

Creating Smart Alfresco Backup Tasks
Set up your Alfresco backup and restore step by step with a convenient New Task Wizard, allowing you selecting any data you need, choose a storage for these data, tune up the backup operations such as incremental and differential backup, encrypt and compress stored data, schedule a task and so on.
Flexible Automating and Scheduling Policy
You can set up an Alfresco backup task to run at an exact time, with a repeating period from minutes to months, or force it to start when some crucial event happens (e.g. user logoff or USB drive insertion). In addition, you can keep many versions of the same dataset simultaneously, marked with time stamps.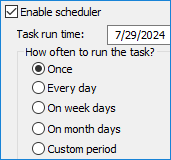 The Cross-Platform Solution
You can made Alfresco backup from Windows or Linux machine by network, using either shared network resources or (preferably) a network backup solution as an Alfresco backup and recovery tool. Handy Backup supports native operations under Windows and Debian-based Linux.
Alfresco Backup Storages
With Handy Backup, you can feel free about selecting appropriate backup storage for your Alfresco content. You can utilize such local or online storage as:
Local and external drives: USB, eSATA drives, local drives and mapped disks.
FTP, SFTP and FTPS: any protocol for FTP exchanging with a data server and SSL/TLS.
Clouds: Google Drive, Amazon S3, Dropbox, Backblaze and any WebDAV cloud.
Remote Machines (for Server Network edition): local storage connected to online computers.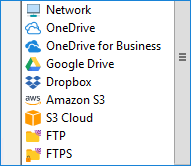 Recommended Solution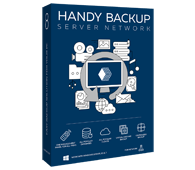 Version 8.5.0, built on September 19, 2023. 116 MB
Backup Software from Novosoft LLC. 299 USD per license.
The Server Network edition allows Alfresco backup and restore under the guidance of any modern Windows or Ubuntu-based Linux solution from a machine in a local network! Free 30-days trial version!
How to Create a Task for Alfresco Backup and Restore Step by Step
Here is a short instruction that shows a process of making an Alfresco backup task. We use the simple mode for a task wizard, but you can turn an advanced mode on and utilize all functions of Handy Backup with a little longer task creation process.
Create a new Handy Backup task by the "Create" button or by pressing Ctrl+N.
Make a backup task on Step 1. Turn on advanced mode if you need. Go to Step 2.
On Step 2, select an appropriate database from the Database group.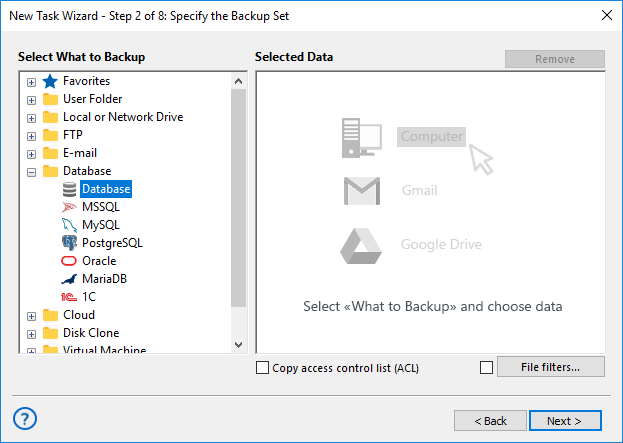 Create a connection to this database. Click onto a connection name.
Mark Alfresco database tables to copy. Click OK and return to Step 2.
Select the Computer plug-in. Find and mark Solr4 configuration files. Click OK.
Now choose FTP, SFTP or FTPS plug-in for connecting to Alfresco static data storage.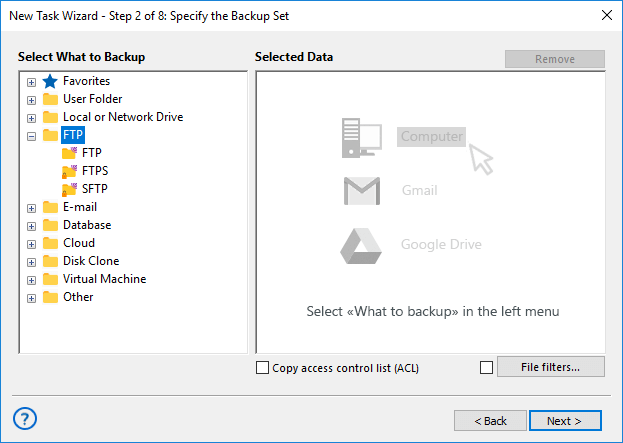 Create a connection, then enter into an FTP directory and select static data to copy.
Click "Next" and go to Step 3, where you can choose an appropriate media for Alfresco backup.
Continue creating a task as described in the User Manual. Schedule a task if you want.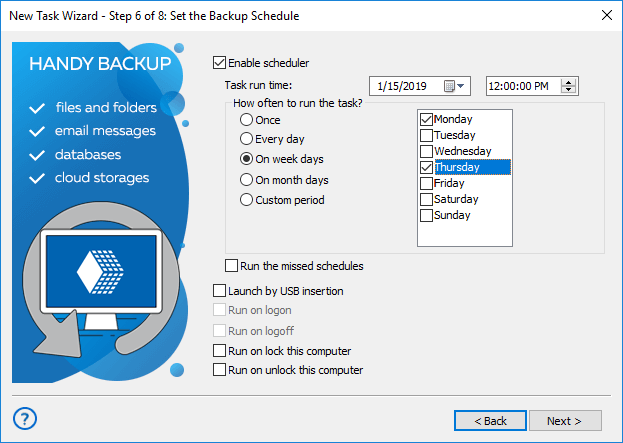 You can get a detailed information about each step of creating a new task and using any of plug-ins mentioned above by studying the User Manual. Please take an account that, for Handy Backup, Alfresco backup operations have no principal differences among with any other backup activity.
Alfresco Restore from Backup
You can create Alfresco backup and restore tasks by just the same algorithm as described above. Make a new task, select recovery and on Step 2, find a file backup.hbi in your storage. Now you can click "Next" until the final step, to create a simplest task for Alfresco restore from backup.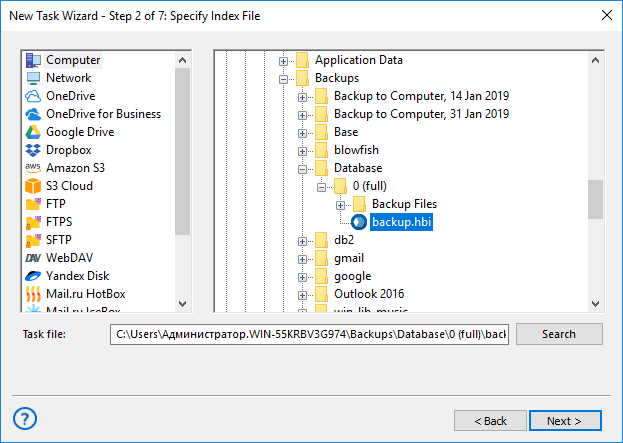 Note: We strongly recommend not scheduling Alfresco backup restore operations (except planned cloning of Alfresco backup to another server!). You can fully automate all internal aspects of an Alfresco recovery task, although you must always run it in a manual mode and be careful for consequences!
To recover Solr 4 indexes, firstly stop the Solr 4 server, then copy indexes and restart Solr 4.
The same is true to a database server (DBMS) utilized by Alfresco.
An advice: You can made the stop and restart actions automatic, by using the appropriate commands as the pre- and post-action at the Step 6 in the advanced mode of the New Task Wizard!
For static content, you do not need for stopping and restarting. The main risk is to spoil current content by replacing it with older files from backup with the same names.
As for Alfresco backup, the most convenient way to restore the CMS content is to create the three separate restoration tasks, each for one backup component, and run these tasks in a strict sequence described earlier to ensure the synchronization of restored information parts.
Other Alfresco Backup and Restore Software
Alfresco has no internal backup and recovery tool. The user reference guide instructs to use an appropriate database backup tool to perform Alfresco backup. The Alfresco community develops some versions of a common backup script utilizing tools such as cron for scheduling and sh for making actions.
Caveat: A typical Alfresco backup script can be at least inconvenient and require significant skills to use properly, as well as lack an internal automation!
Handy Backup provides local and online storage, as well as a complete set of tools for making Alfresco backup and restore smooth and quick. Try the might of this solution by downloading the freshest version of Handy Backup with all functions and plug-ins available for a 30-day free trial period!
Who uses our backup software?