Magento System Backup and Restore
Magento backup allows saving data from websites controlled by Magento CMS. With an assistance of Handy Backup, you can save both static-type FTP content and dynamic data kept by a database engine. This technique is quick and reliable, requiring up to no tuning for different Magento versions.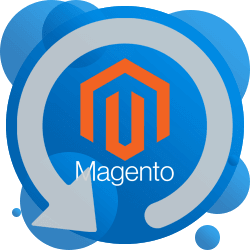 Advantages of Magento Backup and Restore with Handy Backup

No Need for Scripts and Extension Tools
With Handy Backup, you will have no more need for Magento backup extension tools or handwritten scripts running through a command-line mode. Take all actions by using an automated, modern-looking and intuitive interface with extended functions of data control.

Direct Cloning and Mirroring
Using Handy Backup, you can create not only a Magento backup archive but also a full clone of your website or even an automated mirror. Just create a chain of a backup task and a related recovery task that will restore Magento content to another place, and set up appropriate running time for both tasks!
How to Backup Magento
Firstly, we will describe how to backup Magento website using Handy Backup, for you can compare this technique with other methods presented in common IT practice. Let us speak about some crucial advantages for users of Handy Backup planning backing up Magento:
The universal backup approach that can be used with any server or Magento version;
A vast choice of storage media, from local and external drives to big cloud services;
Native format backup, allowing working directly with backups;
Full automation with scheduling, versioning and task chaining according to backup plans;
Strong data protection, allowing encryption as well as using SFTP or FTPS protocols.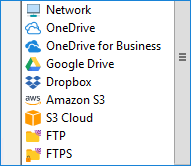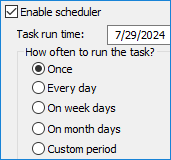 How Frequently You Need Backing up Magento?
This is a matter of your personal backup strategy, although we recommend to backup Magento every day (at least, every workday), as well as to create a separate Magento scheduled backup to a different data storage at least once or twice a week.
Recommended Solution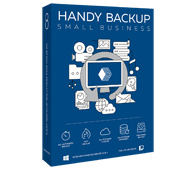 Version 8.5.0, built on September 19, 2023. 116 MB
Backup Software from Novosoft LLC. 249 USD per license.
The Handy Backup Small Business contains all tools for Magento system backup to any destination just out of the box!
Creating the Magento Backup Task
Please follow the next steps to create a task for Magento system backup.
Open Handy Backup and create a new task by clicking a button on a management panel or by selecting a "New task…" item from the main or context menu.
Select a backup task on Step 1, and also choose "Advanced mode" to use all features and functions of Handy Backup.
Click on FTP, SFTP or FTPS option, according to your website connection type. Click onto the "Create a connection…" string.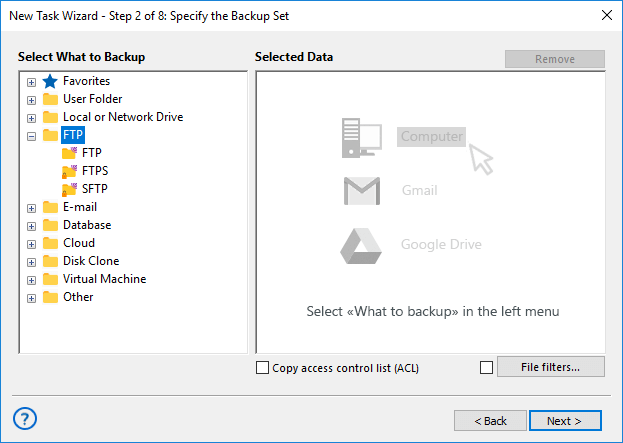 In a new connection dialog, enter all connection parameters for Magento website FTP server. Test the connection and press "OK".
Click onto a connection name, and then select these static data you want to save. You can mark or unmark checkboxes before each data item to select or deselect these particular data.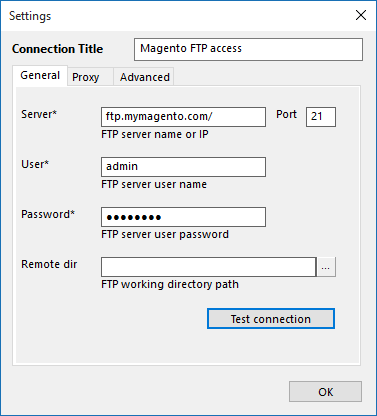 When you finish, click OK and return to the data sources window.
If you are also planning to perform Magento database backup, select the particular database type on Step 2 and create a connection to it as described before.
Note: This step is described in details for each database type, including generic ODBC-based connections, in corresponding sections of the User Manual.
Now select data storage where you will keep your Magento backup archive. If this is an online storage, please ensure firstly than you can connect with this storage without problems.
Continue creating a backup task as described in the User Manual.
Video Example
To save all your Magento website information, please do the sequence of actions according to the following video.
Note: Instructions in this video suggest that you already have Handy Backup installed on your computer. If you still haven't done so, don't hesitate to download it.
Restoration for Magento Site
You can create a restoration task using the same sequence as for backup task described before. Naturally, for a recovery task you must firstly select backup storage containing your Magento backup, and then choose destination for each restored component.
Note: These destinations may be changed from original, allowing you replicating and mirroring your Magento sites at will. Just select the different destination for your data and configure the access rules to this new destination if the need for it will emerge.
Try Magento backup with a latest version of Handy Backup, downloading a 30-days trial without any restrictions just now!
Who uses our backup software?