Email Backup Services: Mail.com, ProtonMail, Zoho Mail, GMX, excite.com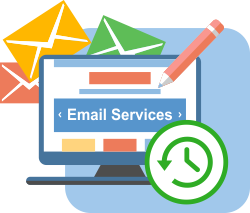 Email backup services for Web mail solutions that were popular but now in decline, as well as for prosperous but unpopular services (e.g. regional email providers) are at high demand: some users want to migrate, when other just want to save their emails. The answer is Handy Backup!
Advantages of Email Backup Services by Handy Backup
Universal Approach: All Email Backup Services in Same Format!
Regardless of an email service provider that you will use, you are utilizing the same E-Mail plug-in that stores separate messages in the unified EML format and uses the IMAP protocol for accessing any Web mail server. Thus, you can freely migrate from one service to another, or automatically process backups.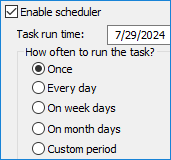 Scheduled Jobs and Complete Automation!
You can schedule your email backup actions to run at an exact time, as well as to repeat by an exact interval from a single minute to a couple of months. You may also link the email backup service job to some system event. In any case, all actions (with pre-defined connection settings) will be automatic.
Uncompromised Data Security and Advanced Backup Control!
You can compress or encrypt your mails backup with internal algorithms, or use any external utilities (grabbers, encryption managers etc.) for any purposes before or after email backup. In addition, you can use partial (incremental, different or mixed) backup to save time and storage space.

Other Features of Handy Backup
In addition to the crucial feature list above, Handy Backup provides some other advantages and features for users of its email backup services, such as:
Making time stamps for backup folders to find of a particular data copy;
Sending notes and reports to an email, informing users about current tasks;
A possibility to run as Windows service, to make no distractions for a user;
Saving any other data types along with email backups.
Learn more Backup Features.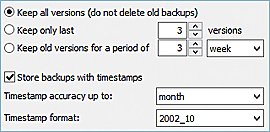 Tuning the E-Mail Plug-in to Different Services for Backup
This plug-in is available with all editions of Handy Backup, and locates in the E-Mail data source group on the Step 2 of backup task wizard. Please read an article about email backup to learn the principles of using this plug-in. In any case, to get an access to some email backup service, you must configure it.

Zoho Mail Backup
To set up a connection for Zoho mail backup, use the next settings:
Server: imappro.zoho.eu
Port: 993
Connection type: TLS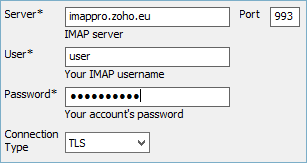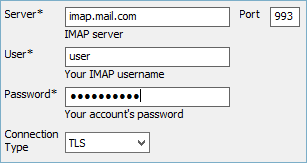 Mail.com Backup
To set up a connection with the Mail.com service, use the next settings:
Server: imap.mail.com
Port: 993 (protected) or 143 (unprotected)
Connection type: TLS (for port 993)
GMX Backup
To connect with GMX mail account, please use the next settings:
Server: imap.gmx.com
Port: 993
Connection type: SSL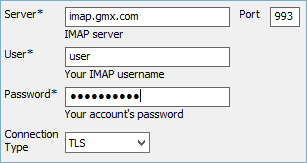 Excite.com Backup and Migration
Excite.com is almost abandoned nowadays; therefore, you may want to migrate from Excite.com instead of just use its email backup services. In any case, you cannot connect it via IMAP. Instead, use some local client backup (such as Thunderbird backup) to download Excite.com content via POP3, and then use it.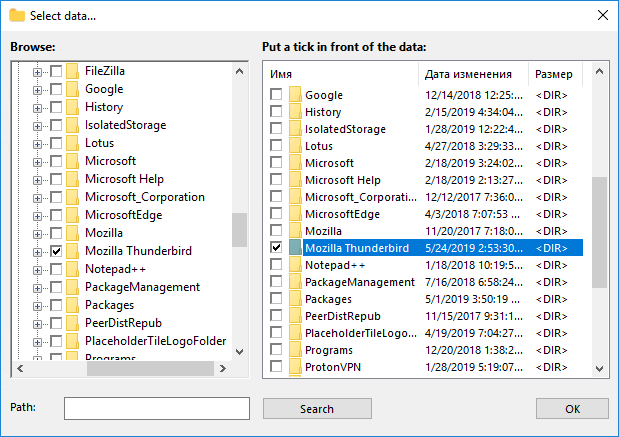 Note: To operate with Excite backup content with utmost efficiency, your chosen local client must support the EML message format. This will allow you to recover Excite mails to another mail server by sending the folders with EML messages to another account by using the IMAP protocol!
ProtonMail Backup
This is another case that can cause some problems. The ProtonMail uses some bridge sites and software to connect with different local clients; therefore, to set up a ProtonMail backup task, you must previously connect to it via the one of these local clients, and then operate with a local ProtonMail copy!
Backup Email Services: Video
This video instruction is an example of "generic" approach to backup email services with Handy Backup. Here, you will see how convenient and easy-to-use can be a software solution, by using it to backup email services of most common types, such as Yahoo!Mail and Outlook.com.
Handy Backup is an example of effective, modern email backup services designed for any existing mail server. Try it freely for a 30-day trial period – download the latest version with all plug-ins available!
Who uses our backup software?