Backup Scheduling: How to Provide Full Backup Tasks Automation
Backup scheduling is one of the most useful features of data backup software. It eliminates a need for running manual backups (with all filtering, compressing, transferring and other actions).
Handy Backup allows you to schedule backups of any other data.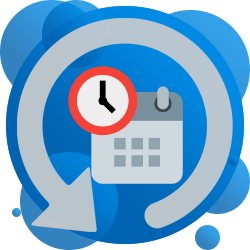 Why You Can Need Backup Schedule?
It is not a secret that most people do not back up their data, because it takes a lot of time and efforts. Do you want to run unattended backups and always be sure that you can perform data restoration or hard disk recovery in case of a disaster? Then backup scheduling with Handy Backup is for you!
Typical Tasks for Backup Scheduling
These are some crucial task types for automated running.
Utilizing some backup strategy, such as 3-2-1 backup or GFS backup;
Triggering copying big amounts of data to an external USB drive by plugging it to a PC;
Regular database backup or taking snapshots of virtual machines;
Copying projects, photos or some other information on daily basis (e.g., during cloud backup).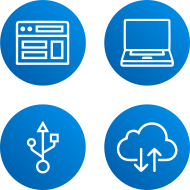 How to Schedule Windows Backup?

Making an image of Windows system drive is a time-consuming task, but Handy Backup allows scheduling backup of Windows just as simple as for any other data, due to "hot" access to a system drive. All that you must do is to provide enough time between Windows backups to complete a task.
What Is Important In Good Backup Scheduling?
These are some tips for organizing an efficient backup schedule.
Always allow enough time between repeating scheduled task to complete previous job before starting a new task.
Check and monitor free storage space between schedules regularly, to avoid situations of accidental space exhaustion.
Read articles and manuals about backups, e.g., on this website. In these articles about "How to", backup task scheduler is often a flexible and efficient tool.
Customers about Scheduling Backup by Handy Backup
Recommended Solution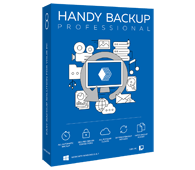 Version 8.5.0, built on September 19, 2023 . 116 MB
Backup Software from Novosoft LLC. 89 USD per license.
The Professional edition is a full-featured, workstation-level backup solution containing all backup scheduling options. Try it free with a 30-day complete trial version!
Scheduling Backups of Your Computer Data
Our utility is an automatic Windows backup software that allows you to organize virtually any backup rotation scheme. It allows implementing to backup schedule best practices and strategies, completing a scheduler with several useful options such as:
Automation of all tasks.By scheduling backup tasks, you can automate all backups and make them run when you need, without a need for user interference.
Flexible schedule configuration. For each type of data, you can specify their own backup schedules and perform tasks on a regular base, from a minute to months in intervals. For example, you may want to backup databases two times a day and make photo archives two times per week, as shown below.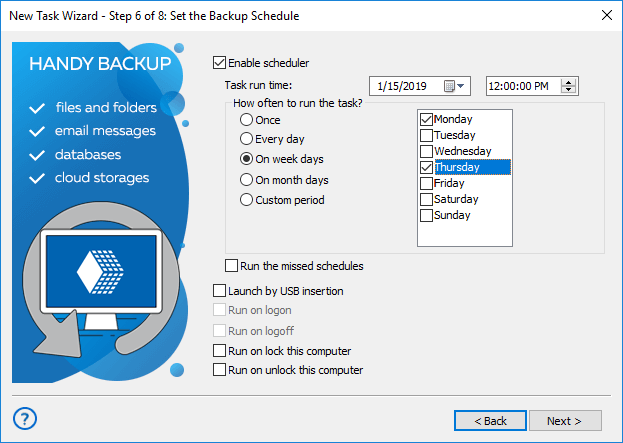 E-mail notifications. Once you have established a backup schedule, you have no need to worry about manual checking and controlling results of all backup procedures, as you can get all task reports through e-mail notifications.
Run backups as Windows service. The utility can run as service under Windows 10, 8, 7, Vista and Windows Server 2019, 2016, 2012, 2008 operating systems, which allows launching tasks without loading a graphical interface, and even without user logon. Learn more about running backups as service.
Scheduling Backup to Online Storage

Some storage options can restrict backup scheduling by additional requirements. It is especially true for online storage, as you must be sure in a network connection during a scheduled backup task. Even such routine option as schedule backup to NAS in local networks depends on a connection reliability.
How to Organize Cloud Backup Scheduling
For cloud backup tasks (e.g., if you schedule backup to OneDrive or Google Drive), an additional concern is technical availability of data exchanging interface (which a firewall or a maintenance job can temporarily deny). An option for running missed tasks helps overriding this problem!
Schedule automatic backup tasks and be sure about saving all your data regularly and efficiently! Get now a copy of Handy backup with a free 30-day trial!
See Also:
Who uses our backup software?