Thunderbird Email and Profile Backup via IMAP Server Settings
Thunderbird backup allows users of Thunderbird to save emails from local folders, or to connect with a server directly for Thunderbird IMAP backup. Handy Backup supports both methods and allows exporting messages from Thunderbird to any other client or mail server using different protocols.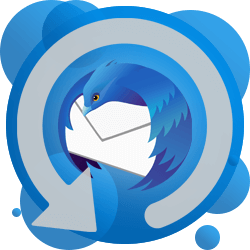 How To Backup and Restore Thunderbird Emails
When you use Thunderbird to backup email, utilize the "Computer" plug-in, which has an access to any local folder. This plug-in allows hot Thunderbird backup, i.e., the client still works when you save emails from local folders.
How Thunderbird Save Emails from Local Folders with Handy Backup?
Use the next brief instruction as a guideline for creating a software task for Thunderbird backup email. For additional information about backup tasks and the "Computer" plug-in, please read the User Manual.
Start Handy Backup. Call a New Task Wizard by pressing Ctrl+N or by clicking a "Create" button.
Select a backup task type on Step 1. Do not worry about advanced mode. Go to Step 2.
Click onto the Computer plug-in in the "Local or network drive" group on the left panel.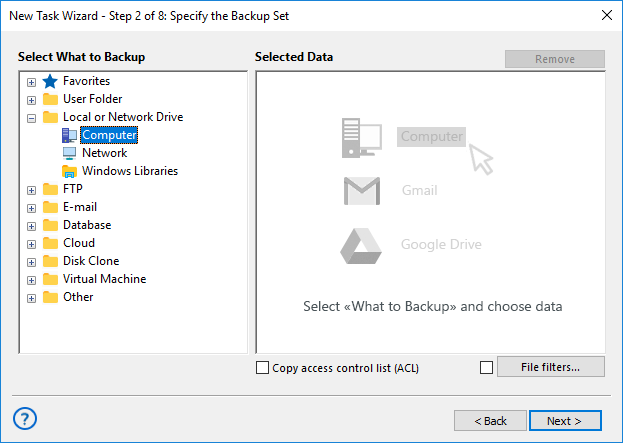 You will see a list of local folders and files. Browse this list after a Thunderbird backup account.
Select a Thunderbird mail backup folder by marking a checkbox against it.
Repeat the selection procedure until you will mark all the Thunderbird accounts you need.
If you plan to backup Thunderbird contacts, address book and so on, browse to the settings.
Note: To backup Thunderbird profile, settings, contacts and other data, you can also utilize the same "Computer" plug-in as for Thunderbird email backup and restore!
Again, select all the files and folders you need. When finished, click OK and return to Step 2.
Continue making your new task as described in the User Manual. That is all!
Restoring Thunderbird Data
You can restore Thunderbird backup email content either to its original location (or to a new folder related to Thunderbird), or directly onto some Web mail service by using the "E-mail" plug-in. Use the second method to export messages from Thunderbird.
Create a new task, select recovery mode for Thunderbird restore from backup.
On Step 2, select a file backup.hbi in your Thunderbird backup folder. Click "Next".
In advanced mode, you can click "Change Location" on Step 3, to force Thunderbird backup restore email content to some another place.
Otherwise (or after selecting a new place), just proceed with creating a recovery task.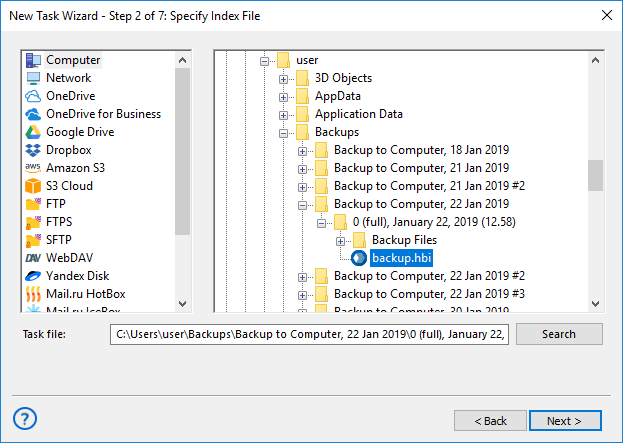 Note: Handy Backup makes Thunderbird backup with a native EML message formats for each particular email. Therefore, you can either select appropriate messages to restore or migrate, or just use the Thunderbird mail backup content directly for browsing, processing and manual restoration file-by-file!
Advantages of Thunderbird Backup Program
Automation
With scheduled tasks designed for Thunderbird backup emails, you cannot miss the backup sequence! To ensure saving your messages, you can also add an option of running tasks missed by some cause, e.g. because a computer shutdown in a time of planned backup.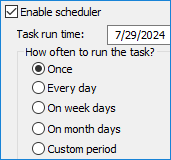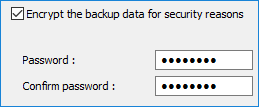 Security
You can use internal security tools, such as encryption, to protect your Thunderbird mail backup with Handy Backup. In addition, Handy Backup works with many secured backup vaults, including Thunderbird backup to Dropbox (or to other popular cloud), to an SFTP/FTPS storage, etc.
Controlling
Handy Backup contains different task controlling options besides scheduling. It can run tasks silently as a Windows service, start other programs before and after a Thunderbird backup email task, notify users by mail about backup results, and make several other things as a perfect Thunderbird mail backup tool.
Storage Types for Thunderbird Backup and Restore
These are many storage solutions where you can save your Thunderbird backup email with Handy Backup. These solutions include:
Different popular clouds, such as Amazon S3, OneDrive, Box, Dropbox and Google Drive;
Any S3 or WebDAV-connectable cloud for Thunderbird online backup;
FTP and NAS servers, allowing Thunderbird mail backup and restore for local networks;
Local data storage, such as built-in HDD or DAS units (e.g., USB drives and flash pens).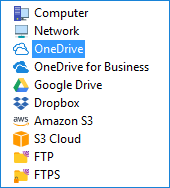 Customers About Thunderbird Backup Tool by Handy Backup
Recommended Solution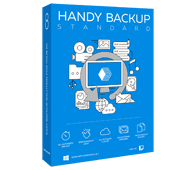 Version 8.5.0, built on September 19, 2023. 116 MB
Backup Software from Novosoft LLC. 39 USD per license.
The Standard edition contains both "Computer" and "E-mail" plug-ins to serve as a Thunderbird backup tool, as well as a good set of common storage plug-ins. The free 30-days trial version!
Accessing Thunderbird Content via E-Mail Plug-in: an Alternative Backup Technique
A crucial possibility of Handy Backup in matters of Thunderbird backup operations is the function of direct access to Thunderbird IMAP backup of the mail server, making local operations unnecessary. For direct Web mail backup, Handy Backup uses the "E-mail" plug-in from the "E-mail" group .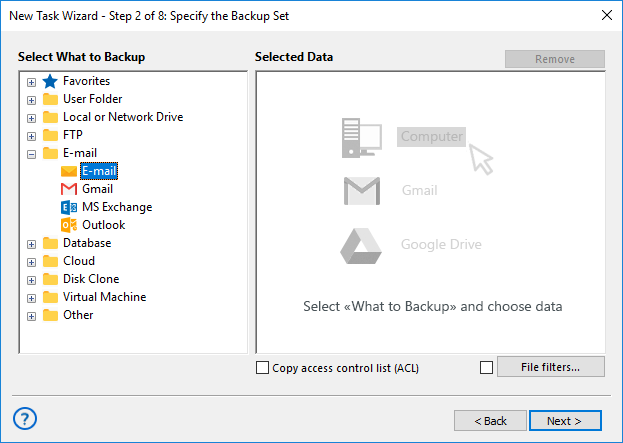 Caveat: For utilizing direct Web mail connection instead of Mozilla backup, check all server connection data (e.g. an address of a server, a port etc.) can be a necessary part of effective task building. Please read carefully all the documentation about a particular mail server to tune up a backup task quickly!
Using Thunderbird IMAP Backup with Advanced Settings for Mail Migration
With the "E-mail" plug-in, Handy Backup can not only save Thunderbird backup email to a different place but also restore it directly to a server, or even move it to another email services. You require no local Thunderbird backup operations to do it; please see an article about email backup to know details.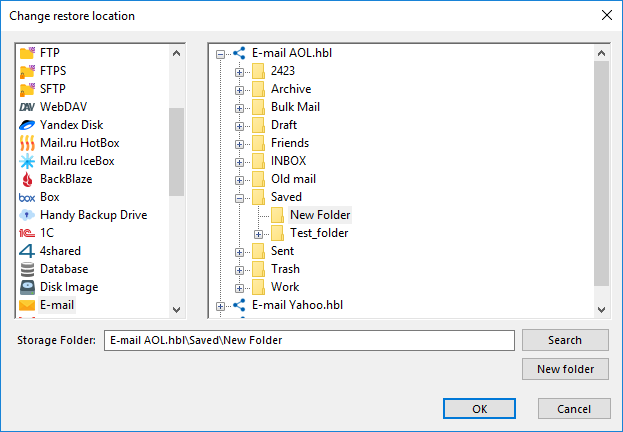 Handy Backup can serve as both very effective Thunderbird backup software and a utility to make Thunderbird backup emails directly from a server. Experience yourself with its capabilities by downloading and installing a 30-day free trial version with all functions and plug-ins available!
Who uses our backup software?