Email Backup IMAP Tool Using Server Account
IMAP email backup allows connecting to some email service and downloading its account folders automatically to some local or network storage, different from original place.
Handy Backup contains the dedicated E-mail plug-in, which serves as an IMAP backup wizard for copying mails to anywhere.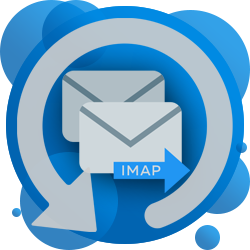 IMAP Email Backup Tool: Principal Advantages
To start backup IMAP mail messages from a user account to some storage, using the IMAP protocol for exchanging data. Backup email via IMAP has some crucial advantages over backing up email locally or using bridge services.
Direct Access for IMAP Backup Tool
As an IMAP backup tool, Handy Backup requires no extra space, bridge service or third party software to do it. Besides saving traffic, time and storage space, it also adds greatly to overall backup security, excluding unnecessary procedures capable to bring problems into the backup process.
Restoration, Cloning and Migration
This technique allows IMAP email backup and restore, including cloning or moving the account content to a completely different server. Thus, instead of just saving IMAP email backup locally, you can move all your message content to a different place and still use it.
Other Features of IMAP Email Backup Software
Use Handy Backup as your trusted IMAP backup tool and get some crucial advantages with a dedicated software solution when doing it! With Handy Backup, you can get these advantages as one big pack. For example, you can:
Set the backup to run at a specific time, repeating or for any system event;
Use different techniques such as incremental, differential, mixed and versioned backup;
Backup email from IMAP server to Google Drive, Dropbox, Amazon S3 or to other clouds;
Compress a message base to ZIP file(s), and/or encrypt it with a BlowFish 128-bit;
Get notifications and reports by email or just from the Management Panel of the tool.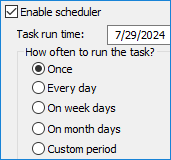 Testimonials About IMAP Email Backup by Handy Backup
Recommended Solution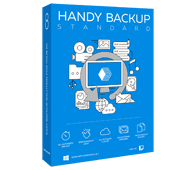 Version 8.5.0, built on September 19, 2023. 116 MB
Backup Software from Novosoft LLC. 39 USD per license.
All editions of Handy Backup, including the simplest Standard solution, contain the full set of IMAP backup functions for most individual and expert users. Free 30-days trial version!
How to Backup Email IMAP Automatically with Handy Backup?
Backup email with IMAP server by using the dedicated "E-mail" plug-in for Handy Backup is a simple job. Just create an automated backup task as described in the short instruction below.
Start or open Handy Backup. Create a new task with the "Create" button or a menu item.
Select a backup task on Step 1. Use advanced mode to take all advantages of Handy Backup.
Then go to Step 2 and select the E-mail plug-in from the E-mail group .
Attention: For lossless copying additional information such as email date and time, please mark the "Copy access control list (ACL)" option on the lower part of Step 2!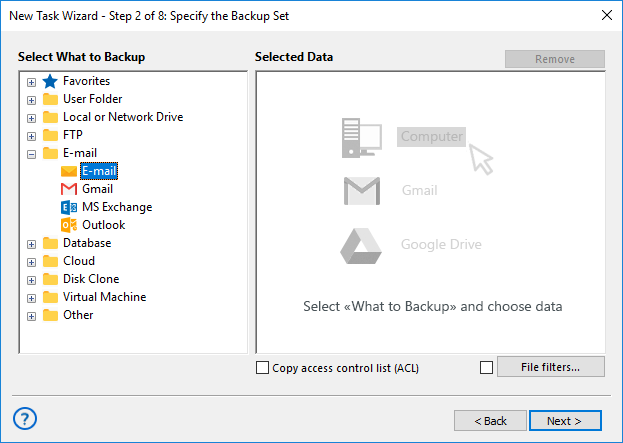 You will see the dialog for creating a connection to some particular IMAP email backup server.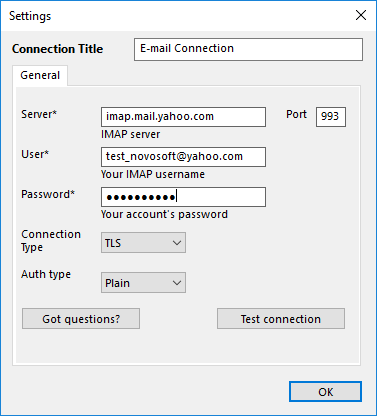 Enter the parameters to access your account, including an IMAP port number on a server.
Now click OK. You will see the list of mailboxes and messages in a selected account.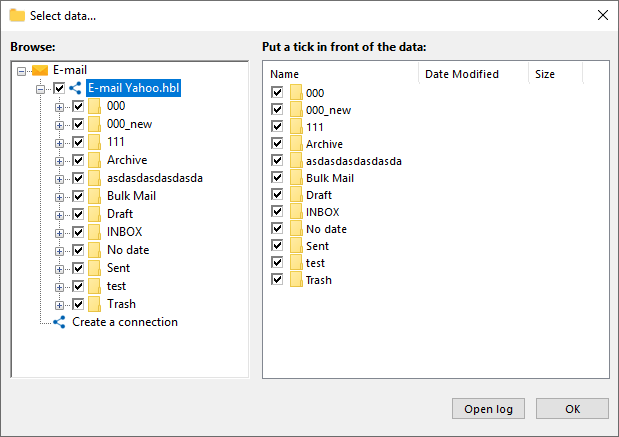 Check/uncheck the boxes against the names of data you plan to select/unselect for backup.
Click OK again and return to Step 2 window.
Continue creating your task by selecting storage for your mailbox backup on Step 3.
In advanced mode, you can do some important things on Step 4, such as incremental IMAP email backup for content and keeping some different versions of the same mailbox.
You can set up other steps, such as encryption and scheduling, according to the User Manual. These steps are not specific for backup email with IMAP.
You can read in details about all other steps of task creation in the User Manual. These steps are not specific for using an IMAP backup tool.
Restoring Email from IMAP Backup
When you backup email from IMAP server, you can (and need) also restore it sometimes. To do it automatically, create a restoration task with a New Task Wizard, as described above for a backup task.
If you want to change the destination for restoring your IMAP email backup, select an advanced task wizard mode on Step 1, and then on Step 3, click the "Change location" button when creating a restoration task. Now you can select a new IMAP server or account to restore emails.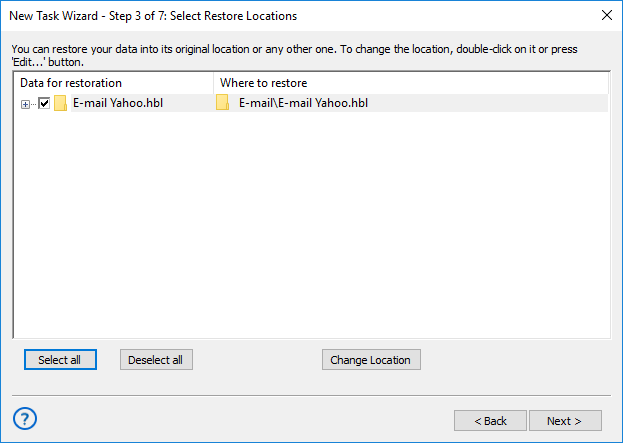 Caveat: To move or clone your data to another server, you must already have a connection to this server established by an appropriate email backup IMAP task. This practice encourages preventive backups before any restoration or migration, reducing the risk of incidental data loss.
Video: IMAP Email Backup and Recovery
Please watch the next video about using Handy Backup as an IMAP email backup tool. This example will show how to migrate inbox content via IMAP backup email from Yahoo!Mail to Outlook.com. It is a straightforward, comfortable and very flexible procedure with very simple setup.
Backup email via IMAP with Handy Backup, the dedicated, convenient tool for saving your mailbox content! Try it freely with a 30-day full trial version just now!
Who uses our backup software?