As in the previous part, create a new backup task and make it to the same dataset ("User Folders" → "My Documents") as the previous task. Now follow the next sequence of operations:
On Step 3, select "OneDrive" as the backup destination.
You can create a connection to your OneDrive account, as for FTP server in the previous example. Click the "Connect to OneDrive" button, and then provide all data for your account in the browser window. Do not forget to allow Handy Backup using your OneDrive!
On Step 4 , select full backup. Mark the option "Store versioned backups".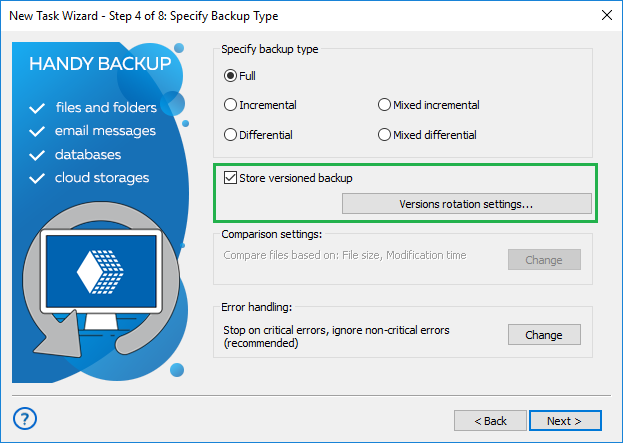 Click "Versions rotation settings". On the dialog window, allow to save as many (or as old) copies of your "grandfather" backup as your wish.
Return to the new task wizard and go to Step 6. Here, enable scheduling and repeating, and select the last Friday of the month in the "Start" date field.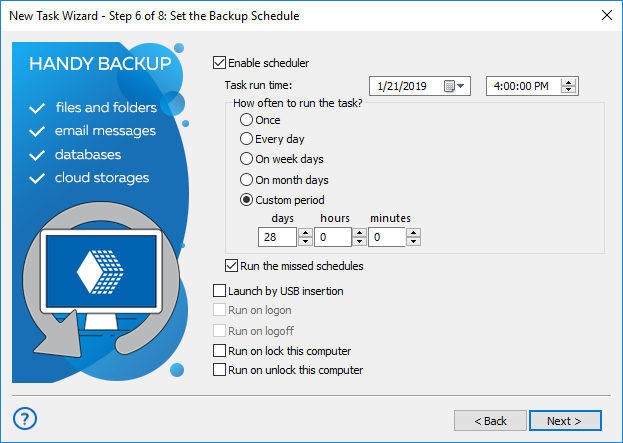 Select a repeating option of "Custom" period of the 28 days 0 hours 0 minutes, to ensure that your "grandfather" backup will take place every fourth Friday.
Check the "Run the missed schedules" option, to be ensured that your "grandfather" backup sequence will also be as consistent as "father" and "son".
Complete the task creation as described in the previous part. Give your task a name related to the "father-son" part (e.g., "GrandfatherOne"). Check also that you will not run this task automatically just after creating it!
Well done! You have tuned up the GFS backup schema using Handy Backup! Note that it is now a completely automatic process! You have no need to take any additional actions to drive a grandfather-father-son backup process; Handy Backup will do all job without any interference!
Version 8.5.0 , built on September 19, 2023. 116 MB
30-day full-featured trial period
With Handy Backup, you can copy classic "grandfather father son" backup schemes without any limitations! Experience this technique by downloading a 30-day free trial edition of the program, with all functions and plug-ins available!