Data Backup Using the Generic Database Plug-in
To make a task for Sharepoint backup, please use the "Database" plug-in available in most editions of Handy Backup.
Open Handy Backup and make a new backup task on Step 1. Proceed with either basic or advanced mode, according to what complexity you want for this task.
Select the Database plug-in from the Database group on Step 2.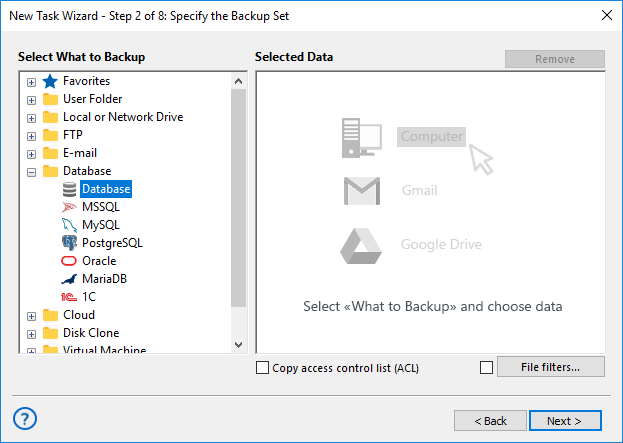 Note: This plug-in requires an ODBC driver for Sharepoint added as a data source to the Windows data list. Please refer to the User Manual, where the procedure of sharing an ODBC driver described.
Open the Sharepoint backup database and select what data you want to save in a copy.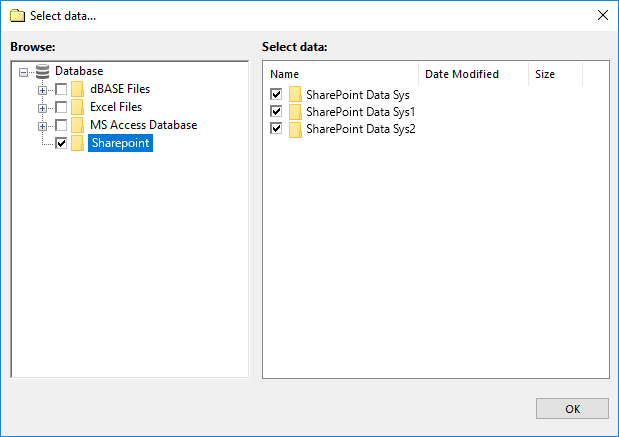 After selecting, click OK and continue creating a task as described in the User Manual.
Make Sharepoint Backup Site Collection or Other Server-level Data via MSSQL
To access Sharepoint server-level information directly, you can use the MSSQL plug-in, allowing backup Sharepoint database without using an ODBC driver. To use the MSSQL plug-in, find it in the Database source list on the Step 2, and then select all Sharepoint databases you need.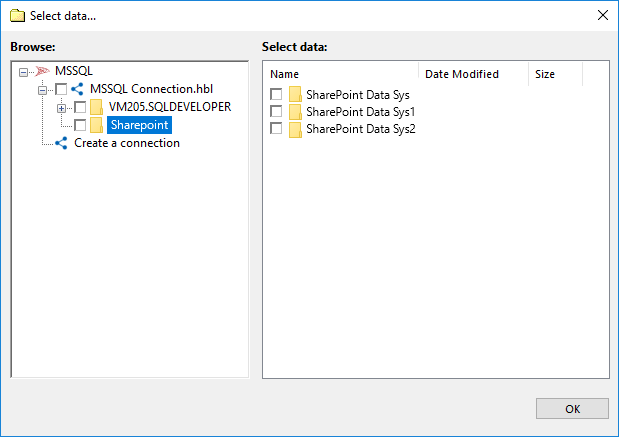 You can create a restoration task for Sharepoint data, moving a restored copy to its original location or to another place. The last method allows also replicating and cloning any Sharepoint data to other PC or a server, preserving their original formats and content.
As Handy Backup stores all unencrypted data in native formats, you can easily organize granular restoration for Sharepoint data, either by selecting only part of data to restore by Handy Backup task or by completing a manual restoration using any file manager!
How to Use Sharepoint Backup and Restore
The simplest way is to follow the next guide:
Right-click onto the name of Sharepoint backup task.
In the context menu, select "Restore". The program will automatically make Sharepoint recovery from a previously completed backup.

Sharepoint Granular Backup and Restore
To use partial recovery, you can just save unencrypted files when you copy your Sharepoint backup and restore site collection. From this collection, you can browse, pick, use or even modify/delete any Sharepoint backup data with standard file managing and database browsing tools!
Version 8.5.0 , built on September 19, 2023. 116 MB
30-day full-featured trial period
Add the extra layer of protection to your Sharepoint backup strategy, including Sharepoint to Handy Backup automating software. Try the possibilities by personal experience, downloading a latest full version of Handy Backup just now for a 30-days trial!
Other Microsoft products to backup: