Hotmail Backup Tool for All Mailbox Emails via IMAP Server

Hotmail backup is not completely obsolete, because Hotmail is a part of Outlook email service now, and many users still have accounts that require to backup Hotmail mailbox content. Handy Backup allows saving Hotmail emails, and in this article you will find the required IMAP server settings for Hotmail.
How to Backup Hotmail Email Account with Handy Backup?
To make an automatic Hotmail backup, please use the following instruction.
Note: Before configuring Hotmail backup, please open the IMAP Hotmail account service through the Web mailing interface, and in the account settings menu, give permission to access your Hotmail with external clients.
Start Handy Backup. Create a new task by control button on the panel or by the Ctrl+N keys.
On the Step 2, select the "E-Mail" plug-in from "Email" group on the left pane.
Double-click onto the "Create a connection" string. You will see the setup dialog.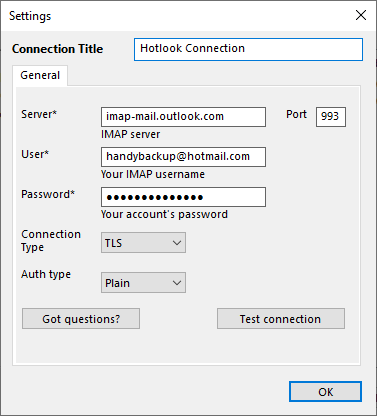 Enter your Hotmail IMAP server settings. Start with a website service name: Imap-mail.outlook.com
In the port number field, keep the default value: 993
Select "TLS" (not "StartTLS"!) from the connection type list.
On the "Select data…" plug-in dialog, you will see the list of your Hotmail account folders.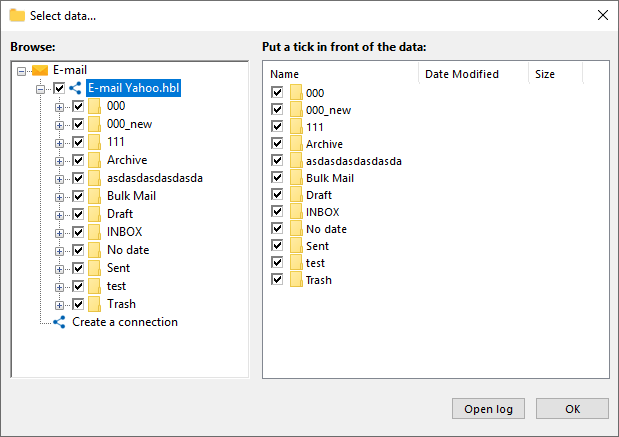 Mark/unmark the accounts and messages you will plan to back up or to exclude from backup.
After finishing, click OK and return to the task wizard.
On the Step 3, select storage where Hotmail backup all emails in this task (e.g., select the OneDrive account to make Hotmail cloud backup).
An advice: You can backup to Outlook by using the automatic Hotmail backup task described above in junction with a restoration task where you will select a new Outlook.com account as a destination. This will help you migrating from obsolete Hotmail to more modern Outlook.com!
Recommended Solution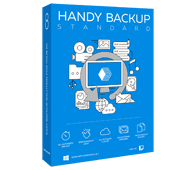 Version 8.5.0, built on September 19, 2023. 116 MB
Backup Software from Novosoft LLC. 39 USD per license.
Any edition of Handy Backup, starting from the basic Standard edition for home users, serves as an effective Hotmail backup tool, with many storage plug-ins and all options readily available!
Advantages of Hotmail Backup with handy Backup Software
Regularity: You will not Miss Your Hotmail Backup!
Built-in OneDrive functions for sharing documents are somehow limited. Handy Backup allows users to upload and download files online as frequently as they need, making a perfectly linked environment for synchronizing online and offline operations for working with OneDrive.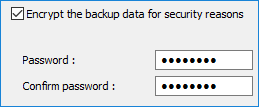 Security: Protect Your Data as You Wish To!
Besides the obvious options such as Hotmail cloud backup with using secured a cloud API to transfer data, these are much more security options, including making Hotmail backup all emails to an encrypted file, saving Hotmail backup email dataset to a protected SFTP/FTPS, or using some IMAP encryption.
Uniformity: Backup Hotmail Mailbox as Easily as Any Other Email Service!
The same plug-in as you using as Hotmail backup software serves to copy any IMAP-related web mail services, not only the Hotmail IMAP server. In addition, you can save data from such popular email clients as Microsoft Outlook, The Bat!, Thunderbird etc., and even copy emails between clients and IMAP Hotmail.
Other Advantages of Handy Backup
In addition to key options listed above, Handy Backup contains other useful features to use as Hotmail backup tool, including:
Running in "silent" mode as Windows service;
Reporting about tasks by email or in a dedicated window;
Running tasks missed by some reason;
Using partial (incremental, differential and mixed) backup techniques;
Making time stamps and saving some versions of the same dataset.
Try these and other options for utilizing Handy Backup as your trusted Hotmail backup software!
Download and install a newest version of the program for a 30-day free trial!
See also:
Who uses our backup software?