IBM Cloud Object Storage Backup
IBM cloud backup tool provided by Handy Backup is the standard S3 plug-in, allowing making connection with the famous IBM Cloud Object Storage, a reliable cloud service with big amount of options and features for data protection.
In this article we will discuss IBM backup with Handy Backup.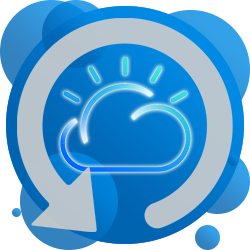 Advantages of Using Handy Backup in IBM Backup Solutions

Scheduling IBM Cloud Managed Backup. You can use Handy Backup to make regular IBM cloud backup at an exact time and with an exact repeating period, from months to minutes, according to your needs. In addition, you can trigger an IBM backup task to some system event such as shutdown.

Additional Data Protection. For making IBM cloud private backup even more secure than with a simple S3 transferring protocol, you can use such built-in Handy Backup tools as internal data compression and encryption. With these tools, you can protect any sensitive or private data from theft or inconsistency

Fine-Tuning IBM Cloud Backup and Recovery Tasks. Compared with standard IBM backup tools, Handy Backup allows much more flexibility for setup a backup operation, including incremental, differential or mixed backup, keeping versions with creation time stamps, calling for external software before or after a task, email notification etc.
Recommended Solution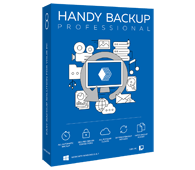 Version 8.5.0, built on September 19, 2023 . 116 MB
Backup Software from Novosoft LLC. 89 USD per license.
With the S3 plug-in available out of the box, the Professional edition for advanced users and mighty workstations allows IBM Cloud backup to and from, with all functions needed for a user-level computer backup!
Typical Tasks for IBM Backup Solutions
IBM Cloud Object Storage is a business-level protected cloud for unstructured data of any type. Using this cloud for making backups, you can store in safety any sensitive and complex information such as business data, IT objects and codes, website content or some private information about employees.
Note: IBM Cloud Object Storage is a business-type cloud designed for corporate tasks. Its typical capacity varies from tens of gigabytes and up to some exabytes of data, making using this cloud almost nonsense to store much smaller amounts of objects.
Which Data I Can Backup to IBM Cloud Storage?
IBM cloud backup solutions are not sensitive to data types. It means that you can back up any type of information to IBM Cloud Object Storage, including:
Corporate SQL databases;
Website content, either archive or mirrored;
Projects, including shared project files;
Documentation, texts, reports etc.;
Any other unstructured, generic data of up to 72 Gb per a single object (file).
How to Make IBM Cloud Backup with Handy Backup?
To run an IBM backup task, you can use the "S3 Cloud" plug-in. Let us show how to make a new task that uses IBM Cloud Object Storage as backup destination.
Create a new Handy Backup task by clicking the "New" button or by pressing Ctrl+N.
Select Backup on Step 1, then click "Next".
Note: If you are planning to use all functions and features of Handy Backup, please marl the "Use Advanced Wizard" option at the bottom part of the Step 1 window.
Select data that you want to back up on Step 2.
Click on the S3 Cloud plug-in on Step 3.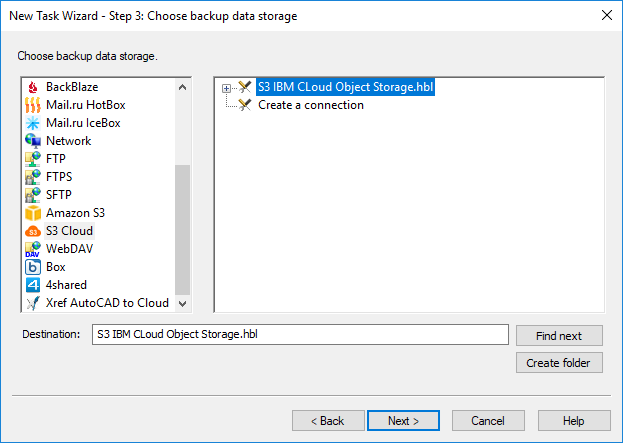 In the new window, click Create a connection option.
Set up the access settings to IBM Cloud backup storage in the next dialog window:
Server name: s3.ap.cloud-object-storage.appdomain.cloud
Access key: Enter your access key that grants permissions to use your IBM Cloud account.
Secret key: Provide your S3 secret key (also from your IBM Cloud account).
Attention! The server name for a particular bucket can change from region to region where a bucket was created.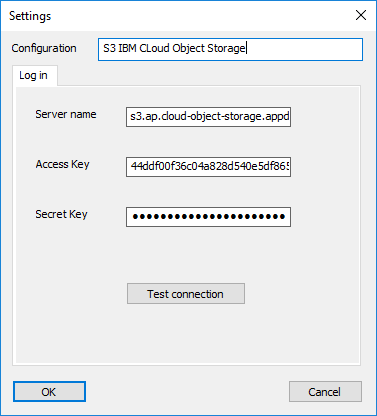 Test your connection, and then click OK to return to the plug-in window. You will see the list of folders in your IBM Cloud Object Storage.
Select a folder to store your backups, then click OK and return to the Step 3 window.
Continue creating a backup task as described in the User Manual.
Handy Backup is a perfect, well-equipped solution for IBM Cloud managed backup tasks.
Try it freely by downloading a 30-day full trial version!
Who uses our backup software?