Wasabi S3 Cloud Backup and Recovery
Wasabi backup means utilizing the Wasabi S3 cloud either for backup its content or for storing some data on its bucket. Handy Backup provides a mighty and easy to use S3 plug-in, which allows performing both these actions, as well as restoring data to Wasabi cloud after backup to other place.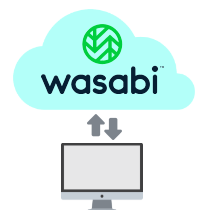 Why Wasabi?

Wasabi cloud backup is a very secure, efficient and relatively cheap backup solution. It is a constantly growing service, adding new functionality for users on a regular base. Therefore, backup to Wasabi can be one of most reliable solutions for utilizing S3 cloud storage.
Handy Backup certified as trusted Wasabi backup software. The principal features of Handy Backup matches those of Wasabi; it is a reliable, efficient and affordable solution. Therefore, Handy Backup is a very good Wasabi backup client that supports all features of this cloud!
Advantages of Automatic Wasabi Backup
Easy Operations
All parts of a Wasabi backup task are highly automated; from making a new task to creating a connection with a Wasabi cloud storage to running a task at a particular scheduled time and repeating it as frequently as you need. Handy Backup will do most of the routine operations for you automatically.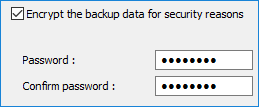 Security and Control
Besides built-in encryption and compression, handy Backup fully supports a secured S3 protocol when transferring data to and from Wasabi storage service, and allows using much more secured protocols for other types of data storages. You can also use external utilities before or after a Wasabi backup task.
Plenty of Options
Use Wasabi storage for any type of data to back up. Make full or partial (i.e. incremental and differential) or mixed full/partial backups. Store different versions of the dataset, make time stamps, compress and encrypt your backups to a Wasabi cloud. Handy Backup provides it all – and much more!
Testimonials About Wasabi Backup Software by Handy Backup
Recommended Solution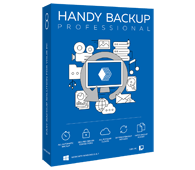 Version 8.5.0, built on September 19, 2023 . 116 MB
Backup Software from Novosoft LLC. 89 USD per license.
With the S3 Cloud plug-in out of the box, the Professional edition for advanced users and mighty workstations allows Wasabi backup to and from, with all functions needed for a user-level PC backup!
How to Make Wasabi Backup with the S3 Plug-in
To make a backup from Wasabi storage, please follow the next instruction:
Open Handy Backup and call a New Task Wizard by clicking a new task button on the panel.
Select Backup on Step 1. Also, choose the "Use advanced mode" option for its task.
Attention! You can stay in a simple mode. It will skip few steps in task creation, as well as disable some options in a Task Wizard. (You can always add these options later in a task properties window.)
On the left panel of Step 2 window, click on the S3 Cloud option in the Cloud group .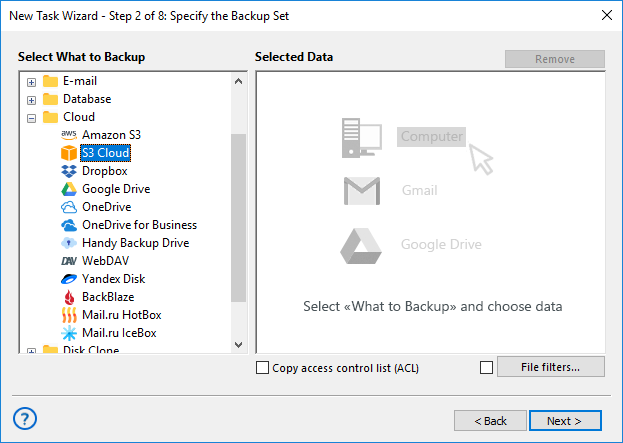 The new window will appear. Here, click on the Create a connection option.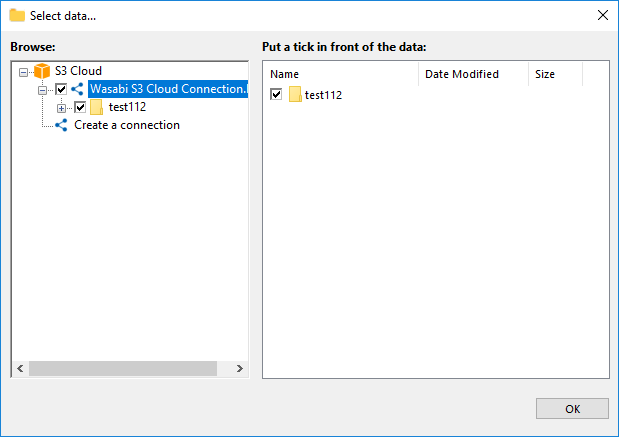 Here, enter the access parameters to the chosen Wasabi cloud storage:
Server name. Enter here a name of the Wasabi storage: s3.wasabisys.com.
Access Key. Enter your Wasabi storage access key.
Secret Key. Enter your Wasabi S3 secret key.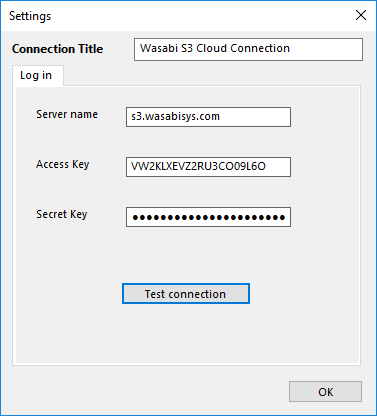 Test your connection, and then click OK to return to the plug-in window. You will see the list of files and folders located on your Wasabi storage.
Mark the checkboxes against those data that you will plan to save. Then return to the task creation by clicking OK.
On the next step, select a storage destination for your particular Wasabi backup. Proceed.
Step 4 is for advanced settings. Here you can select time-stamping, partial or mixed backup, keeping some versions of the same dataset etc.
The fifth step is for compression and encryption of your Wasabi backup files.
Note: Handy Backup stores uncompressed and unencrypted backups in original data formats. This allows you using, modifying or even restoring the Wasabi S3 backup files manually through other applications, without a need for complete restoration.
Schedule your task on Step 6 to an exact time to run and an exactly preset repeating period. You can also trigger a task by some system event, such as by user logon.
Step 7 allows you using external software or batch files before or after a backup task. You can run an external encryption utility, garbage cleaner, a batch file that will process your backups, or anything you feel a need to run.
Finally, give a name for your Wasabi backup task and finish the task wizard.
Using the Wasabi Storage as Destination for Data Backup
To save your backup information to a Wasabi S3 bucket, please select it as a destination on the Step 3 of a new task wizard.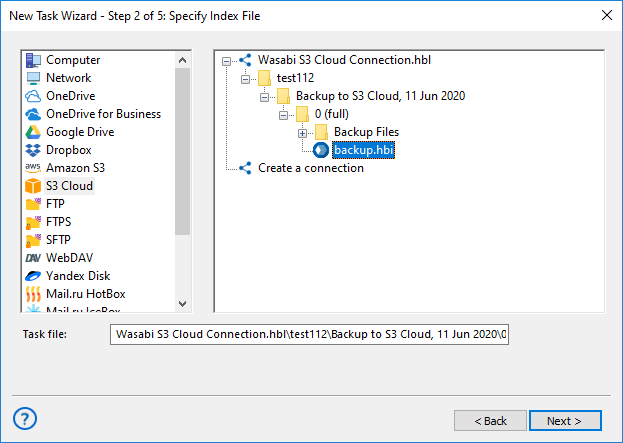 Select the S3 Cloud plug-in on Step 3 as the backup destination.
Create a new connection as described above, or select from existing connections to get an access to a particular Wasabi storage.
After completing a configuration for Wasabi S3 storage, just choose a folder to serve as your backup destination, and then click OK. Continue creating a backup task as described above. There are no any specific limitations or options to back up to Wasabi storage.
Restoring Data from Wasabi Backup
To restore your backups from the Wasabi cloud, you can create a new restoring task, by calling a new task wizard and selecting the recovery task type on the Step 1. Then follow the next instruction:
On Step 2, select S3 Cloud as backup storage. Select an appropriate connection.
On the connected Wasabi storage, please find a folder that contains your backup data.
Select a file called backup.hbi, which contains all necessary data for restoration. Click "Next".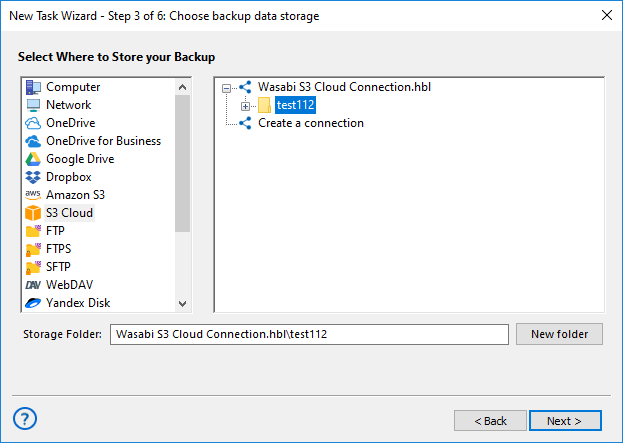 In advanced mode, you can choose a new place to restore your backup data from the Wasabi cloud backup service.
If you need to select another data destination, click at the "Change location" button.
In the next dialog, select a new destination and click OK to choose it.
Continue creating a recovery task step by step, as according to instructions given at the User Manual.
Handy Backup is a simple but mighty tool for Wasabi backup and recovery.
Experience its might by trying a full version of the program by a 30-day free trial period!
Who uses our backup software?