PostgreSQL Backup and Recovery Tool
Handy Backup is the perfect solution for PostgreSQL backup and recovery is an important factor of data safety for PostgreSQL databases. Handy Backup is the perfect solution for it, allowing hot backup of your data without PostgreSQL database stopping. Let us reveal all possibilities of PostgreSQL auto backup under Windows with Handy Backup!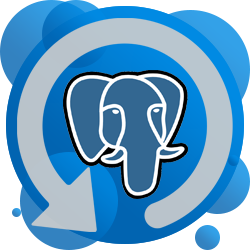 Key Principles of Efficient PostgreSQL Backup Tools
Handy Backup provides some crucial advantages for perfectly saving PostgreSQL data without slowing down a routine job on the server running a PostgreSQL database engine instance.
Handy Backup compatibility was tested on PostgreSQL 15.1, 14.6, 13.9, 12.13, 11.18, and 10.2. Please note that for PostgreSQL version 10 and later versions, you need to use Handy Backup with 64 bits capacity. The choice of the bit depth is carried out at the stage of the program installation.
PostgreSQL Hot Backup

Handy Backup can save all the database information without stopping the database engine. All operations will continue (including transactions), and a user backing up data does not have a need to stop or partially slow down the server.
Automatic Data Selection
Handy Backup allows selecting PostgreSQL backup schema, databases, procedures or settings to save using a tool called "PostgreSQL" for all these actions. This action works completely in automated mode, seeking and saving any data selected by a user.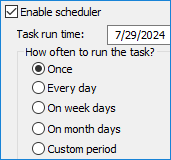 Using PostgreSQL Copies for Replication, Mirroring and Cloning Databases
To utilize PostgreSQL auto backups with a peak efficiency, a user must have a possibility to change, replicate or mirror the database or schema backed up. Handy Backup saves PostgreSQL copies in a native, readable format available for changing, and allows cloning and replicating backups.
Friendly Graphical User Interface for Task Creation and Control
With Handy Backup, you can create new PostgreSQL backup and restore tasks in a few steps with an efficient but easy-to-use task creation wizard. Turn it in a simple mode for quick backup task creation, or in advanced mode for accessing all Handy Backup features. Control all tasks with the same elegant GUI!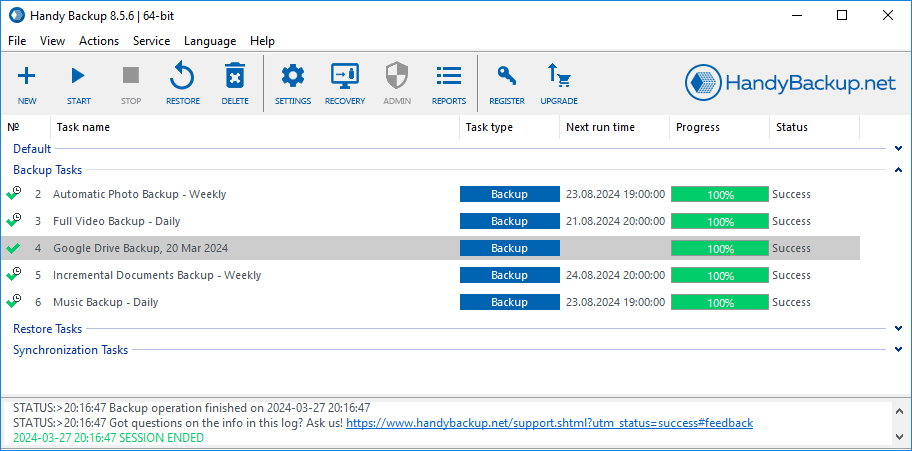 Other Features of PostgreSQL Backup Windows Applications with Handy Backup
In addition to main advantages listed before, Handy Backup provides some other features for making it effective, quick and reliable PostgreSQL backup software:
Scheduling backups by a period or an event such as logon/logoff or plugging a USB drive;
Full, incremental, differential and mixed backup, with timestamps and versioned backups;
Different methods of notifying users about tasks performed, including emails and reports;
Control features, from starting as a Windows service to running other apps with a task;
Built-in tools for optional data encryption, secured network storage protocols and cloud API.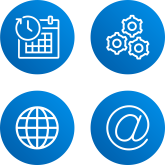 Where to Save a PostgreSQL Restore SQL File?
Handy Backup provides many modern options for data storage, including:
Local drives and external USB disks;
NAS units, shared network folders or other network machines *;
FTP, SFTP and FTPS file servers;
Cloud services based on S3 and WebDAV protocols;
Popular commercial storage, such as OneDrive for Business, Google Drive and S3.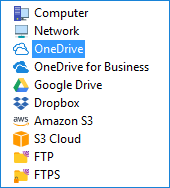 * You can access local drives on remote network machines only after sharing those drives as network resources or mapping as parts of Windows disk system. As an alternative, you can connect to remote drives by using the Server Network solution for making and keeping PostgreSQL restore dump files.
Recommended Solution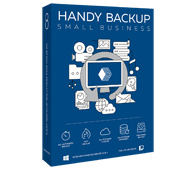 Version 8.5.0, built on September 19, 2023. 116 MB
Backup Software from Novosoft LLC. 249 USD per license.
The Small Business solution can backup, restore, compress, encrypt, clone and mirror your PostgreSQL databases and any other data on a single server. Free 30-days trial version!
How to Backup PostgreSQL Database in Windows with Handy Backup
To create a task for automatic backup database or schema, please follow the steps described here:
In Handy Backup, create a new backup task. Select PostgreSQL in the Database group on Step 2.
If you do not have a connection to PostgreSQL, create a new by selecting an option allowing it.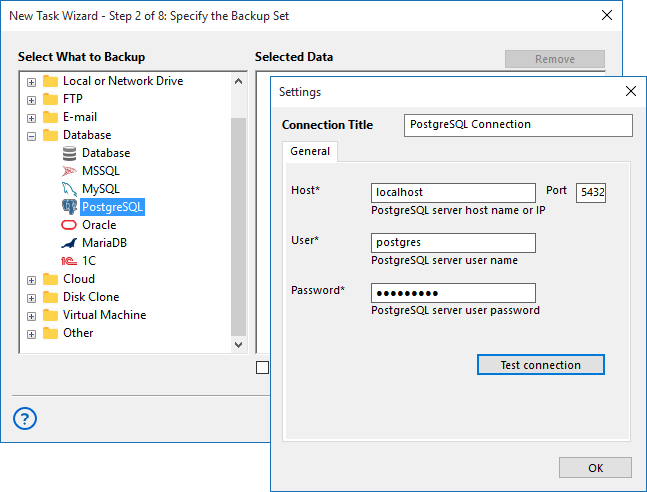 To create a new connection, enter your DBMS connection parameters into the dialog.
Open an existing connection and select PostgreSQL tables for backup inside it.
On Step 3, select a data storage for your PostgreS backup table set.
In advanced mode, choose backup type on Step 4. Also, set up timestamps and versioned backup keeping if you need.
An advice: We are not recommending selecting PostgreSQL incremental backup, as it can give up to no bonus in terms of space and, especially, time used for backups. Use the differential backup instead whenever it is possible!
Proceed to create other task parameters, as described in the User Manual for backup tasks.
Note: You must have a sufficient user privileges to use a PostgreSQL SELECT statement for creating PostgreSQL backup with the tool provided.
How to Restore PostgreSQL Backup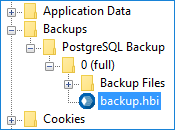 Handy Backup saves PostgreSQL backup data as a typical database, and users can open these backups as the standard PostgreSQL files, to modify, explore or restore the information. To make a PostgreSQL restore backup task, please follow the next steps:
Create a new task. Select a recovery task on Step 1 in either simple or advanced mode.
On Step 2, open your storage with PostgreSQL restore dump files. Select a file backup.hbi here.
Proceed to next step. Continue creating a task as described in the User Manual.
Note: In advanced mode, you can change the PostgreSQL backup restore location, to make a clone or a mirror of your original database.
We are recommending using only manual PostgreSQL backup and recovery methods when you saving a copy of some database in active use. However, for regular backup and optional restoration after some accident, you can utilize a fully automated PostgreSQL restore backup script.
Video Tutorial: PostgreSQL Database Backup
In this video example, we will show how to backup PostgreSQL database with Handy Backup. It is a complete step-by-step walkthrough that shows an entire process of creating tasks for PostgreSQL backup and restore.
Note: If you still have some questions about PostgreSQL backup matters, please do not bother to ask us by email, of follow us in social networks!
Replicating and Cloning PostgreSQL Databases
With Handy Backup, you can restore your database to another place than the original dataset was located. Using this technique, you can quickly clone or mirror your PostgreSQL backup database to as many copies as you need.
Try the automated PostgreSQL backup feature with Handy Backup on a 30-days free trial period, downloading a newest version of Handy Backup immediately from our website!
Licensing information
PostgreSQL backup is readily available in two versions of Handy Backup - Small Business and Server Backup editions.
Both versions will provide you with a full-featured backup, but there are some differences. The Small Business is a complete solution for a single computer, and the Server Network edition is a solution for multiple computers, allowing backing up servers and workstations over the local network.
Note: Both editions allow PostgreSQL backup from a remote server by using either a network name or an IP to connect to a server. Still, the Server Network solution allows such additional things as network backup to remote machines, "hot" cloning and replicating PostgreSQL, and using cluster backup.
Who uses our backup software?