Backup Jira: Automatic Backup Database Strategy
Jira backup and restore is a necessity for many developing companies, as Jira is a very popular bug-tracking tool. Just copying XML files to restore Jira manually (or to make Jira migration) is an ineffective method that is prone to errors. Therefore, Handy Backup allows complete automation for this process!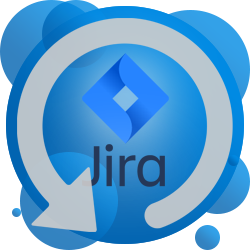 Advantages of Jira Automatic Backup
Independence
Regardless of database engine you are using, Handy Backup allows you fully automate your Jira backup project equally for MS SQL, PostgreSQL or MySQL engines. The system of plug-ins also allows Jira hot backup without stopping an engine, which is almost impossible with common Jira backup and restore.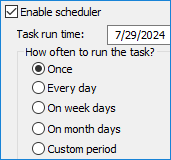 Scheduling
Instead of manual Jira backup and recovery, Handy Backup allows setting a scheduled Jira backup configuration, repeating a data-saving task for a period from months to minutes or starting it by some event such as user logon (logoff) or plugging a USB drive related to a task into some PC slot.
Storage Options
Handy Backup can store Jira backup database into almost any modern data vault (including Jira cloud backup, using online FTP servers, external USB drives etc.). For example, you can save your Jira backup to S3 cloud storage from Amazon, using the standard Handy Backup plug-in.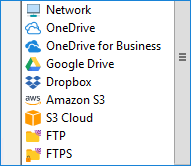 Other Features of Handy Backup
In addition to the basic advantages described above, Handy Backup provides a full set of features and options allowing making the most effective Jira backup method you want. These options are available for any task designed for both Jira regular backup and for saving any other data.
Compression and encryption of backup files (very useful for Jira online backup!);
Storing any data (including Jira backup attachments) in native formats unless encrypted;
Running "silently" as Windows service or as a command-line tool (for making Jira backup script);
Different backup methods including full, incremental, differential and mixed backup;
Running other programs before or after a task (again, can be useful for Jira backup schedule).
Recommended Solution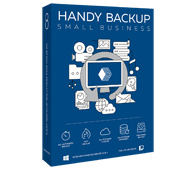 Version 8.4.5, built on March 14, 2023. 116 MB
Backup Software from Novosoft LLC. 249 USD per license.
The Small Business edition contains all database and file plug-ins for Jira backup out-of-the-box! Secure all bug-tracking projects just now, making no additional efforts! Free 30-days trial!
How to Backup Jira Database with Handy Backup
For example, let us show how to make a Jira backup task using the most popular MySQL database engine as a standard Jira database, as well as FTP connection to save Jira static content.
Caveat: According to some Jira documentation, the most convenient way for Jira backup and restore is a cold backup, where the database engine stopped, blocking all changes. The instruction below describes a hot Jira backup; therefore, please see the notes on the instruction.
Start Handy Backup and create a new backup task by clicking on a button or through the menu.
On Step 2, find the "Database " section of source types and select the "MySQL " plug-in.
Establish connection to your MySQL database by clicking a "Create a connection…"
In the connection dialog window, enter access parameters for your Jira database.
Click OK and return to data selection. Select a database you want to backup.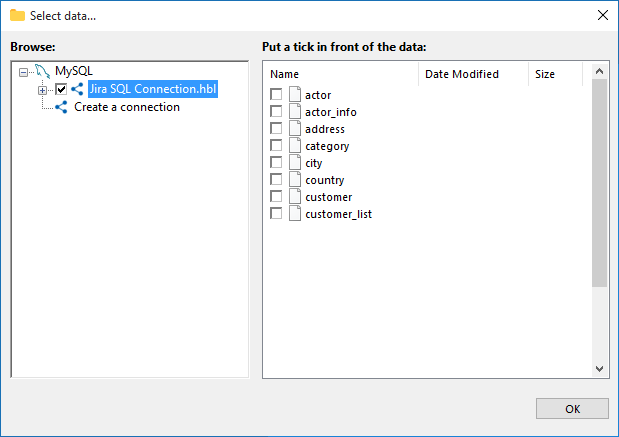 Now click on the "FTP" plug-in in the "FTP" section of data sources.
Again, set up a new FTP connection to your Jira file server. Test the connection.
Select the Jira FTP folder using the connection you just established.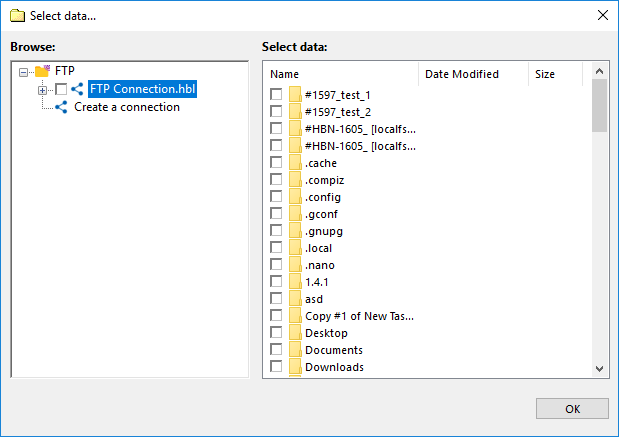 Click OK and proceed to Step 3, where you can select a storage for Jira backup.
Continue creating a task as described in the User Manual.
Note: For using Jira automatic backup in a "cold" mode correctly, please add commands to stop the MySQL server before a task and to restart this server after it on Step 7 (available in advanced mode only), by using the appropriate fields and checkboxes to enter these commands!
Making Jira Restore Backup
To provide Jira restore from backup, you can create a restoration task much like a backup task (see the instruction above). Handy Backup also allows Jira change backup location, making an effective Jira migration or cloning instead of just restoring it (again, this requires an advanced task creation mode).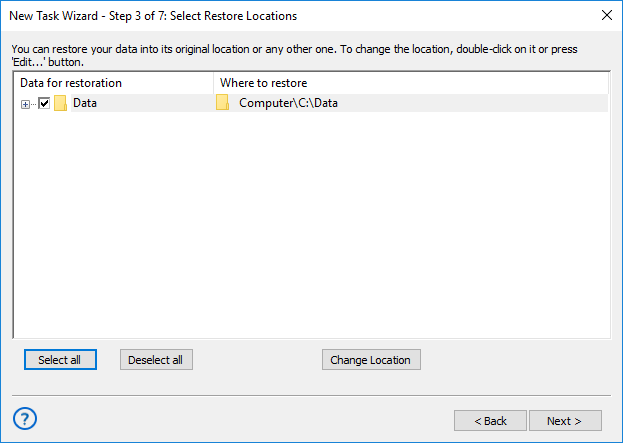 An advice: You can also make a granular restore from Jira backup, using the native backup formats for Jira data, which Handy Backup preserves. Just find and restore a particular XML file or a database table and copy it to a location you need using any file manager!
Handy Backup allows realizing all Jira backup best practices, automating Jira backup, restore and migration. Try it as a personal experience! Download and install the latest, fully functional version of Handy Backup just now for a 30-days free trial!
Who uses our backup software?