Lenovo Backup and Restore Laptop Software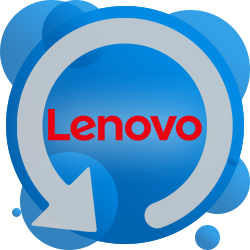 Lenovo backup and restore software allows both Lenovo system backup and keeping copies of separate files or other user data from any desktop or mobile Lenovo devices. Handy Backup software provides many functions allowing smooth, fast and convenient Lenovo backup and recovery.
Advantages of Handy Backup as Featured Lenovo Backup Software
Creating Lenovo Backup Disk for Laptop or Desktop
Dealing with x86- or x64-based Lenovo computers under Windows or Linux, Handy Backup provides all its standard functions, such as incremental and differential backup, compression and encryption, fast Lenovo recovery, calling other software before or after a task, database backup and many other things.

Lenovo Mobile Backup
You can also use Handy Backup as Lenovo mobile backup software. Just set up your Lenovo Android backup phone (or a SD card) as an external USB drive, tune up a task to start when this USB device will plug into a computer, and you will fully automate your Lenovo mobile backup and restore actions!

Unified Lenovo Online Backup Solution
Finally, Handy Backup has a couple of functions to organize Lenovo system backup via the network. These functions include using network-oriented solutions to make remote Lenovo system backup, utilizing cloud and FTP services as storages, calling remote Lenovo backup software and so on.

Other Crucial Features of Handy Backup
To provide most efficient Lenovo backup software functions, Handy Backup brings many featured options to every edition: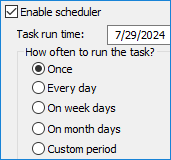 A comprehensible and convenient, classical-looking GUI to control all tasks;
The New Task Wizard, allowing creating a complex backup or recovery task step-by-step;
A possibility to start as a "silent" service, making no distractions to a user by GUI;
Unification for all backup types, such as for using as both Lenovo and HP backup software;
Keeping backups in native formats, allowing using backup data without restoring.
Recommended Solution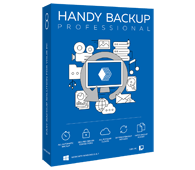 Version 8.4.1, built on August 16, 2022 . 111 MB
Backup Software from Novosoft LLC. 89 USD per license.
The Professional edition is excellent Lenovo backup software, providing all functions and most useful plug-ins for Lenovo back up operations and data safekeeping.
How to Backup Lenovo Laptop or Desktop Data with Handy Backup?
Firstly, download and install Handy Backup to your desktop or mobile Lenovo PC.
Note: You can download the most modern version of Handy Backup with all functions and features at any moment, for a 30-day trial period, which is completely free for you! After the trial period, you may purchase a license for a desired edition of Handy Backup, according to your needs and preferences.
Now please follow the next simple instruction.
Open Handy Backup. Click at a new task button, or create a new task through a menu.
Select a backup task on Step 1. Go to Step 2 and choose your Lenovo backup plug-in.
If you want to backup Lenovo files and folders, select the Computer plug-in from the Local or Network Drive group.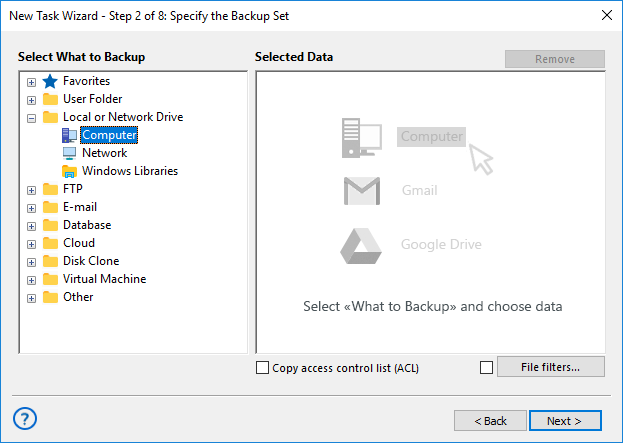 If you want to use Lenovo mobile backup software, please connect it to a computer, and then select the Computer plug-in as described above. Later, mark a checkbox against the name of your Lenovo Android backup device shown in a list of PC drives.
If you want to perform Lenovo system backup, please select the System Recovery plug-in from the Disk Image group.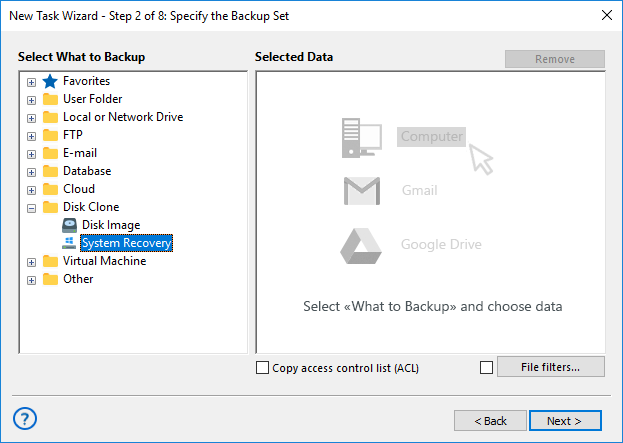 For any other data, select an appropriate plug-in from the full list of available data sources on the left panel. You can learn how to use the plug-ins from the User Manual.
Click on the selected plug-in to add it to a backup data list. Configure access to Lenovo backup data if you need.
Note: No plug-in operation in Handy Backup is somehow specific for Lenovo backup!
Select data you want to back up by marking the names of data sources by marking these data with checkboxes.
After finishing, click OK. Go to the Step 3 and select an appropriate storage for Lenovo backup and recovery operations with a selected dataset.
Continue creating your backup task from step by step, until reaching the final Task Wizard screen, as described in the User Manual. None of these steps is somehow specific for Lenovo backup actions.
An advice: When you want to automate Lenovo backup Android phones, select an option "Launch by USB insertion" on the Step 6. This option will backup Android phone every time you will insert it to a PC! Please take in account also that this mode is available only in Advanced task wizard mode.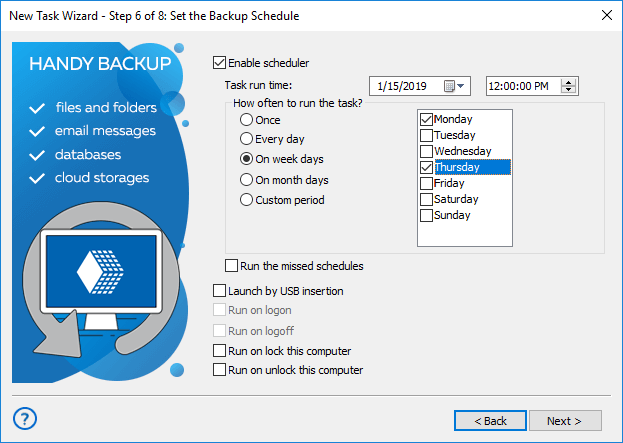 The Native Lenovo Backup Tool

For organizing Lenovo system backup out of the box, all Lenovo laptop and desktop solutions contain a native Lenovo recovery utility called OneKey. This tool is simple but powerful, providing an effective Lenovo backup and recovery. However, it lacks automation and storage functions of Handy Backup.
System Requirements
Handy Backup works as Lenovo backup software solution on any modern PC unit utilizing Windows (including Windows 10, 8.1/8, 7 and Vista, as well as Windows Server 2019, 2016, 2012/2012R2 and 2008/2008R2), and supports some Linux distributives based on Ubuntu 14.04 and 16.04.
Hardware requirements: Handy Backup requires no special hardware except 256 Mb of RAM and some free space to install a copy on the hard drive;
Network: Handy Backup effectively utilizes a network, allowing such things as Lenovo cloud backup, FTP connections and dumping remote database. It works without a network, too.
Drivers, services and bridge software: by itself, Handy Backup utilizes no third-party software to operate, except Wine for Linux to run an interface component.
Note: When using Handy Backup as Lenovo Thinkpad backup software, laptops of this type can require additional authentication and permissions for copying different data and system, due to extended data protection of Lenovo business series!
Enjoy Handy Backup, one of the best Lenovo backup software solutions! Try it just now, with a 30-day free trial!
Who uses our backup software?