4MLinux, TinyCore, Puppy Linux and Knoppix Backup
Knoppix, as well as many other small Linux distributives (such as TinyCore, Puppy Linux and 4MLinux), is a well-known IT tool.
It is a base for many utilities, including disk cleaners, encryption tools, recovery software and external antivirus scanners. Therefore, you can have a need for Knoppix backup.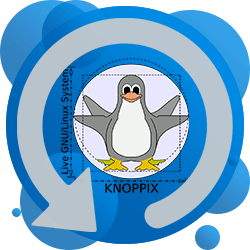 What Means the Small Linux Distributive Backup?

Knoppix Backup
Knoppix is a "biggest of small" among the Linux distros. It can use up to 10 Gb of disk memory, and is based on Debian. Its primary purpose is to run some recovery or encryption software in a LiveCD mode.
Backup Knoppix when you plan to save a particular Linux-based toolkit.

TinyCore Backup
Tiny Core Linux is a very small distro, and it contains even a version without graphical subsystem that has a size of about 11 Mb only. This is a good example of a very small distro that you can set up and tune according to your personal needs.
Make TinyCore backup when you select a good package of tools and additional software for your particular purposes.

Puppy Linux Backup
Puppy Linux is not a distro by itself but a family of small distributives ("puplets"), created for different purposes and with different sets of tools and packages on board. Its main purpose is to create a fully functional, Windows-like distributive for particular user-level tasks.
Puppy Linux backup is a complete analog of Windows backup. Create an image of your configured distributive to restore or clone it when you need.

4MLinux Backup
This is a complete different concept than other distros described above. 4MLinux is an all-purpose, completely standalone distributive with all typical functions of this system class, from multimedia players to server operations. It has a relative small size and allows either server-level or desktop actions.
As you can see, the 4MLinux backup is a set of typical backup tasks for a common OS, to protect an OS image, user data or server-level information such as databases.
Knoppix Backup Trivia
The terms such as "Knoppix Backup" or "Puppy Linux backup" mean almost exclusively creating a drive or USB flash image of a distributive, perhaps with appropriate additional toolkits to make some particular operations. As a result, when you want to do, say, a 4MLinux backup, just make a drive image!
Advantages of Handy Backup for 4MLinux, TinyCore or Knoppix Backup
Bare-Metal Backup and Recovery
All editions of Handy Backup except the smallest Standard edition contain a dedicated Disaster Recovery tool out of the box. It allows making a USB pen drive (based on Slax 9 Linux by itself) to copy and restore drive or partition images of any Linux distributive without even starting an OS.
Backup Automation to High Level
For such tasks as Puppy Linux backup or Tiny Core backup, the program contains a set of plug-ins, including Disk Image and System Recovery plug-ins. You can use these plug-ins with all Handy Backup features, such as versioned backup, utilizing cloud storage or data encryption.
Network Backup Actions
The Server Network edition allows you making backups from remote machines running under Linux distros such as 4MLinux. You can use either a native Linux Network Agent, which is especially convenient for a Debian-based Knoppix backup, or a Java client for any OS supporting Java machines.
How to Make Knoppix Backup with Handy Backup
Here we are talking about Knoppix backup just for a convenient example. All things described here are also fully applicable for any other Linux distro backup*, like 4MLinux or TinyCore backup!
Note: In this instruction, we are supposing that you want to make Knoppix backup from a separate drive (e.g., from an external USB disk) using the Windows version of Handy Backup. For instructions about bare-metal backup or external Knoppix backup, please refer to the Disaster Recovery user manual!
Open Handy Backup. Create a new task by clicking the "Create" button or by pressing Ctrl+N.
Select a backup task on Step 1. Proceed to Step 2.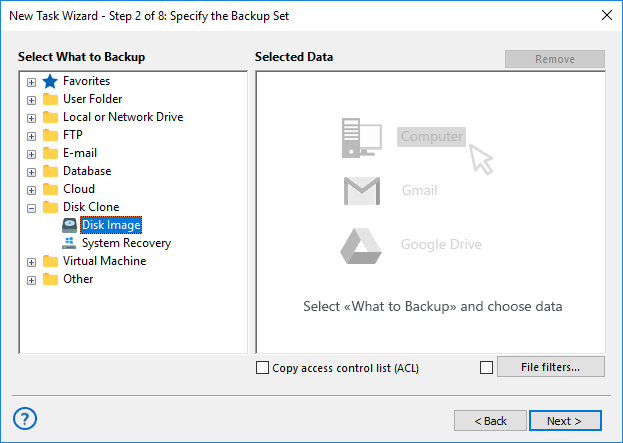 On the left panel, select the Disk Image plug-in in the Disk Clone group.
You will see the Select data... dialog. On the left panel, here is the list of all your drives.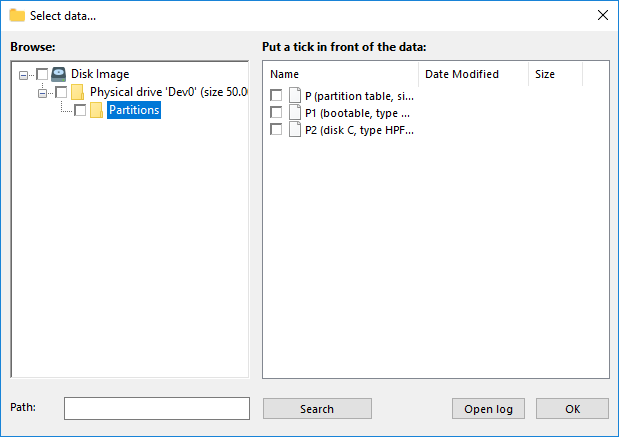 Find and expand your Knoppix backup drive in the left list.
On the right panel, mark the boxes next to disk image parts to back up. You can use the full drive image file (located in the Physical drive folder) to entire drive backup. If you have Knoppix on just a single drive partition, then go to the Partitions folder and mark an appropriate partition.
After selecting a drive or partition, click OK and return to the Step 2 window.
You may additionally tune up your task as described in the User Manual. These steps are typical for drive image backup, and have no differences for Knoppix backup, anyway.
* At the moment, the version is under improvement and the functionality will be available from July, 2023. Sorry for the inconvenience!
Recommended Solution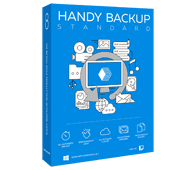 Version 8.5.0, built on September 19, 2023. 116 MB
Backup Software from Novosoft LLC. 39 USD per license.
The Professional edition has all functions and plug-ins for such tasks as Puppy Linux, Tiny Core or Knoppix backup. It also provides the Disaster Recovery utility just out of the box.
Restoring Your Knoppix Backup
For general purposes, this is the Disaster Recovery utility described above, to restore a copy of your Knoppix, Puppy Linux, 4MLinux or TinyCore backup to another drive or to its original place. In addition, you can run Handy backup to restore such backup to some non-system drive from the program itself.
Create a Handy Backup task to restore your Knoppix backup image onto some place;
Use your Knoppix image with a Disaster Recovery utility to make "bare metal restore";
Make Knoppix recovery with some external tool.
To use the last method, please refer to the System Recovery plug-in when making Knoppix backup, instead of the Disk Image plug-in described above. This plug-in creates Knoppix backup files in a comprehensible, readable VHD format.
Caveat! The System Recovery plug-in creates only whole drive images nowadays, and does not work with partitions. For most Linux backup tasks, this is not an inconvenience, as a typical OS often uses a whole drive for its purposes. Still, we are notifying this fact for you.
Try Handy Backup as your trusted Knoppix backup utility, or for other small Linux distro backup! Download now a 30-day free trial version with all functions!
Who uses our backup software?