To make a pair of tasks containing MySQL replication setup, please follow the short instruction (provided below), or read the User Manual sections about MySQL plug-in to learn some additional principles and tricks.
Configure the MySQL Master and Slave servers, select storage engines etc.
Make a MySQL backup task by using the "MySQL" plug-in, as described in the User Manual.
Change (automatically by script or manually) all necessary parameters in MySQL dump files.
Make a MySQL restore task to a different MySQL server according to the User Manual.
An advice: You can schedule both backup and recovery tasks to make a MySQL replication process fully automated. In addition, you can write a script or a batch to modify dump file parameters between backup and recovery, and force this script to run after a backup task (set it up on the Step 7).
To make your MySQL replication copies secure, please use most protected vaults. In Handy Backup, you can select between several methods of data keeping, either online or local:
Hard drives (including external USB disks).
Shared network drives and NAS/SAN units.
FTP, SFTP and FTPS servers.
Clouds (including S3-driven clouds, Google Drive, OneDrive and OneDrive for Business, Dropbox etc.).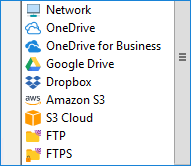 Any of these storage methods allow some grade of data protection for your MySQL replication data. You can protect your tables additionally by encrypting the table content with internal Handy Backup tool.
These are some other MySQL replication software solutions, including scripts and the phpmyadmin utility. Generally, these other methods lack the unification and easiness of MySQL replication with Handy Backup.
Version 8.5.0 , built on September 19, 2023. 116 MB
30-day full-featured trial period
Try Handy Backup as your MySQL replication software! Download now a free 30-day trial version with all plug-ins and functions ready to use!