June 03, 2019
Dear customers! We are glad to tell you about releasing of Handy Backup 8.0.3, the newest update for our backup software!
This new version updates the recovery interface by fixing selection of just some files or subfolders from an unselected dataset. In addition, the E-mail notification window in this new version becomes more informative, with advanced possibilities of tuning up notification email content.
Version 8.5.0 , built on September 19, 2023. 116 MB

To update Handy Backup one can for free at the link
The new version allows avoiding an uncommon problem with data recovery, where selecting some files or subfolders in completely unselected data source causes restoring all content, not just selected files. For now, the program will recover only the selected set of files after total data unselecting.
Learn more about Data Recovery Software
The new E-mail notification window for the version 8.0.3 also becomes much more modern and convenient. It contains some new possibilities for tuning up texts of notification messages, and also provides the modernized interface, including disabling unusable controls on the setup window.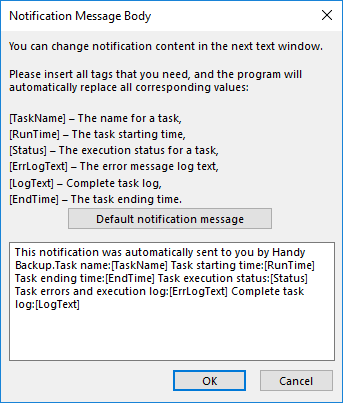 Learn more about email notification settings