Sybase Database Backup Software
Handy Backup provides a tool for SAP Sybase backup, where Sybase is a standalone part of a popular SAP business automation software. For Sybase backup, Handy backup provides many advantages, such as offline and cloud backup, differential backup and scheduling.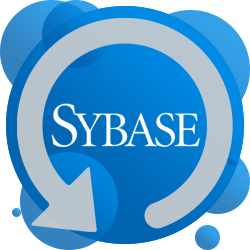 Key Features for Sybase Database Backup
Handy Backup uses a generic "Database" instrument for backing up Sybase IQ or other SQL-based Sybase solutions. This tool allows applying some features for efficient, quick and reliable SAP Sybase backup. It has no other requirements than a Sybase backup server installed with an ODBC driver.
Keeping Sybase Databases in Native Format

If you want to open, to copy or to clone your Sybase backups without a restoration, you can just work with its elements located the backup folder. Handy Backup preserves these files in original formats, allowing using the data backed up directly from saves.
Different Techniques of Backup
Handy Backup allows full, incremental, differential and mixed (full/differential or full/incremental) types of backup, to maximize efficiency and to minimize owning cost. It can also store versioned backups, as well as mark backup folders with clearly readable timestamps, to automate processing backups.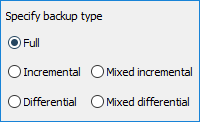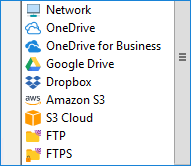 Storage Capabilities
When Sybase backup server data, the information must be saved to one or, preferably, several different locations and storages. Handy Backup allows local and online Sybase backup to local drives, USB and NAS disk units, cloud services such as Amazon S3, WebDAV clouds, FTP, SFTP, FTPS and more.
Other Advantages for Backup Sybase with Handy Backup
Among many other features and tools provided by Handy Backup to guarantee an effective SAP Sybase products backup, there are some options most useful for organizing the backup process:
Flexible scheduling by time, allowing setting up a period from months to minutes;
Starting a task by an event, such as system logoff or plugging a USB drive linked to a task;
Compression and encryption of Sybase backup data (and any other data, of course);
Control features such as starting other programs, logging events and running as a service;
Modest hardware requirements, allowing making backup without running out of memory.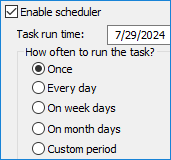 Recommended Solution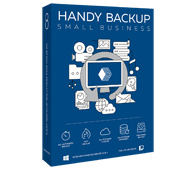 Version 8.5.0, built on September 19, 2023. 116 MB
Backup Software from Novosoft LLC. 249 USD per license.
An ideal solution for SAP Sybase workstations, the Small Business edition already contains a Database tool for making Sybase backups. Free 30-days trial version!
How to Make a Sybase Backup with Handy Backup?
Let us tell you about using a Sybase backup through a small "how-to" guide. Please mention that the two first actions of this guide are not linked to Handy Backup; these are the system operations guided through Windows.
Obtaining an ODBC driver
1
Firstly, please obtain an ODBC driver for your particular Sybase product. Handy Backup will work with any version and solution of Sybase, and an ODBC driver is a single principal requirement for this job. Additionally, capabilities of an ODBC driver will define the possibility of a hot Sybase backup.
Adding a Sybase ODBC Driver to a List of Data Sources
2
To add your ODBC driver into a list of data sources, please open a Control Panel of your Windows and select the option called "Data Sources (ODBC)". Then add your installed ODBC driver into a list. After this operation successfully completes, Handy Backup will "see" your Sybase data.
Note: These two steps described before are not parts of Handy Backup software, and Handy Backup has no control over these functions.
Backup Sybase Data
After installing your ODBC driver and adding it as a data source, please follow the next instruction:
Open Handy Backup. Call a new task wizard by clicking the "Create" button or by Ctrl+N keys.
Select a backup task. Proceed to Step 2 and click on the "Database" in the "Database" section.
You will see a list of Sybase databases on the right panel; click on it to open.
Select databases that you want to back up in a drop-down list, and then click OK to proceed.
Continue selecting other task parameters step-by-step, as described in the User Manual.

You can get a personal experience in all functions of the Sybase backup by downloading and installing a full version of Handy Backup on a 30-days free trial period.
Who uses our backup software?