Exchange 2013 Mailbox Database Backup
Backup Exchange 2013 before any significant operation with Windows Server or just on a regular basis to secure your data! The most convenient and efficient way to do it is to utilize Handy Backup, a paragon of simplicity and efficiency among Exchange 2013 backup solutions!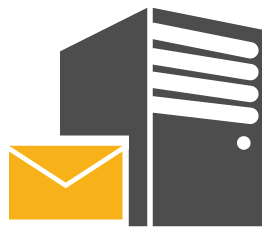 Advantages of Handy Backup as Exchange Backup Solution

Scheduling and Other Backup Control Options
The flexible backup scheduler allows setting a particular task to backup Exchange Server 2013 to run at every day, week, month, or other pre-defined time period. For each task you can specify separate backup schedules. Also, you can start the task by plugging a related USB drive into a machine.

No Job Interruption
Handy Backup allows a "hot" backup Exchange server 2013 data. This means requiring no stopping Exchange server to complete the backup process. In addition, Handy Backup is very undemanding to system resources, which allows Exchange data backup without slowing the server.

Dedicated Instrument for Exchange Backup and Recovery
Handy Backup contains a specialized data option to backup mailbox Exchange 2013 in a fully automated way. This tool allows best Exchange backup, saving any Exchange data including mailboxes, contacts, calendars, personal settings and other information.
Recommended Solution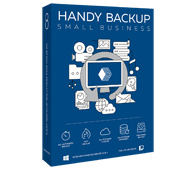 Version 8.5.0, built on September 19, 2023. 116 MB
Backup Software from Novosoft LLC. 249 USD per license.
A featured, ultimate backup solution for one machine, the Small Server edition allows you to backup Exchange 2013 mailbox database to any modern storage in existence
Guarantee of Data Safety with Handy Backup
Since e-mail communications are a crucial part of most business activities, backup Exchange Server 2013 regularly with Handy Backup to protect your mailbox database from disasters! Compared to other Exchange Server 2013 backup solutions, Handy Backup provides both flexibility and utter convenience.
Note: Please read the User Manual section about the MS Exchange plug-in to make a proper task configuration to backup Exchange Server 2013.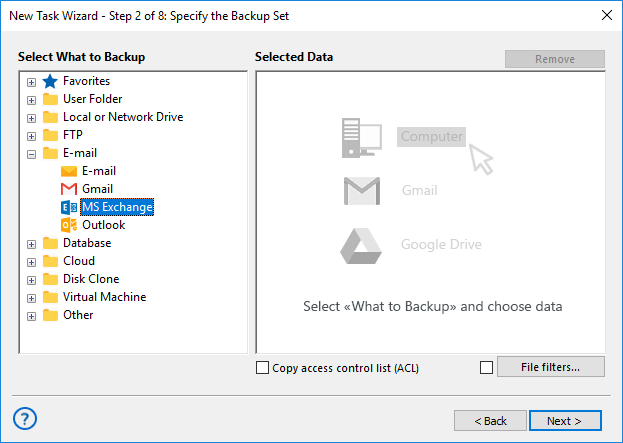 Note: This plug-in requires no configuration for using it! If you want your Windows Server backup Exchange 2013 database, just call for the plug-in and select an appropriate account mailbox. For selecting mailboxes to backup Exchange 2013 data, please mark the checkboxes against database names that you will save in this task!
You can backup Exchange 2013 with Handy Backup to local and USB drives, to an FTP/SFTP/FTPS server, to a network drive or a NAS/SAN device, as well as to a cloud including Amazon S3, Dropbox, OneDrive/OneDrive for Business, Google Drive Backup, WebDAV-based clouds etc.
Experience how easy is to use Handy Backup to backup Exchange Server 2013!
Try it by downloading a full newest version for a 30-day free trial!
Who uses our backup software?