Excel Auto Backup: How to Backup MS Excel Files
Backing up Microsoft Excel files is a sort of backbone activity for business and office workflow, as well as for some individual users.
With Handy Backup, you can schedule and fine-tune all the backup jobs. You can store files locally of by network using different means, e.g. local or remote hard drives, private and commercial networks, stream tapes and FTP/SFTP/FTPS data servers.

Key Features of Safekeeping MS Excel Files Using Handy Backup
Supporting Excel backup of all versions. Starting as Excel 2007 backup tool (and, of course, supporting earlier versions such as MS Excel 2003, 2000 and Excel files from MS Office 97), Handy Backup can backup Excel 2010 file or more modern Excel table as easy as earlier versions. It is a perfect Microsoft Excel auto

backup software

, regardless of version.
Multiple destination backup. The program supports different options for saving MS Excel data, including Computer, Network, FTP and FTPS plug-ins. Handy Backup also has the online backup service based on dedicated cloud called HBDrive. We recommend you to back up your data both on the local computer and off-site.
Different types of backup. Software can perform full, differential, incremental and mixed backup as needed, greatly varying overall storage options and backup strategy. Careful planning of these methods boosts the process of backup and can also save much of data storage space.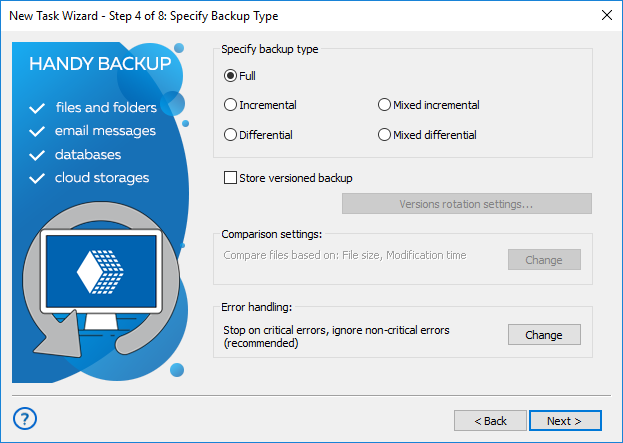 Compress and encrypt options. All the data stored can be compressed through ZIP algorithm or encrypted by 448-bit modified BlowFish method. These means ensures both security and economy of space if necessary.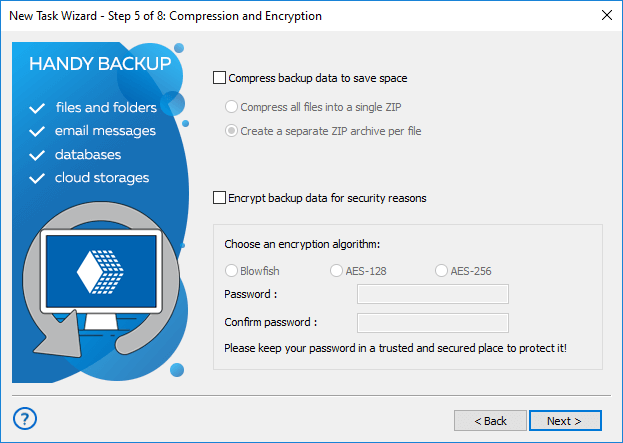 Scheduling backup tasks. All tasks can be scheduled on regular basis from minutes to months according the needs of workflow. (Daily and weekly running of backup tasks is a most common practice in an area of MS Excel data keeping.)
Technique of Microsoft Excel Back Up with Handy Backup
With Handy Backup, Excel auto backup is a simple task. To start the MS Excel backup, just click the New Task item on the file menu, and then select Backup. Then you can use two methods:
Using Database plug-in: select Database as source, and then select MS Excel as a type of database.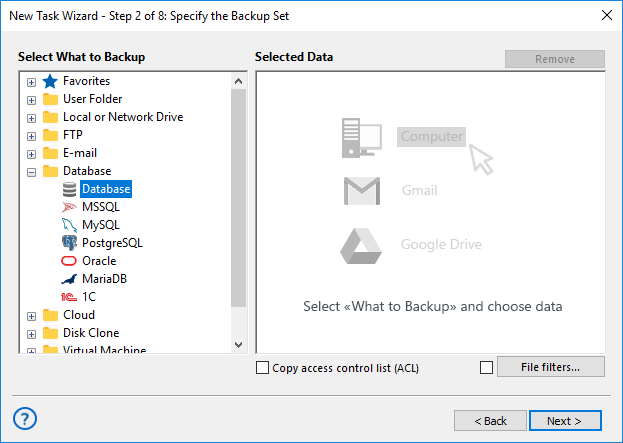 Using Computer of User Folder plug-ins: select Computer or User Folders (with subselection of folders as needed) as source. Then click File Filters and in the window appearing, type a filter for Excel file extension ('*.xls*').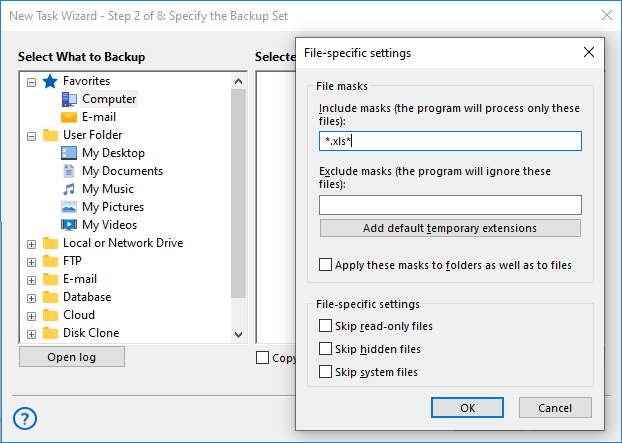 Both ways select data for Excel auto backup from your computer or folders as source files.
Restoring Microsoft Excel Backup Data
To restore MS Excel files, create the restoration task by clicking a New Task button on the toolbar or main menu, and then select Restore task type. Find the appropriate file with the .hbi extension in the backup folder. Handy Backup will automatically prompt you proper MS Excel data to restore. Then click Next to restore selected files to the destination.
More Handy Backup Advantages
Using Handy Backup as the Excel backup software can give you some advantages include total control over all the backup activity from just one solution, versatility of storage media types, and easy restoration.
Handy Backup can save not only Excel files but any other types of files and folders, databases, entire disk image data, registry file and website content, all you need to backup or to restore in just a single task!
Other Microsoft products to backup:
Who uses our backup software?