Red Hat Virtual Machine Backup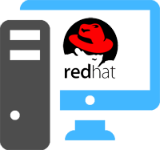 Red Hat backup and restore for dedicated virtual machines is a routine task in daily practice of many system administrators. Along with Handy Backup, a dedicated Red Hat backup utility for virtual machines will come soon as a data source plug-in.
Common Methods of Red Hat Backup for Virtual Machines
The Built-in Red Hat Backup Feature
Red Hat Enterprise Virtualization (RHEV) software contain a dedicated "Snapshots" function, allowing Red Hat backup and restore with a single click. This tool is simple and stable, but lacks any automation, which problem is common for most administrative-level backup methods.
The Scripts
Backup scripts are the most common methods among the "advanced" administrators and other IT staff. Scripts allow flexibility and some level of automation. However, using (not mentioning writing) scripts requires some skills and experience; in other ways, it can cause many disastrous consequences!
Handy Backup: What It Will Bring for Red Hat Virtual Machine Backup?

Remote and Cloud Based Red Hat Backup
To save your Red Hat virtualization backup data to some remote place, you can use an external USB drive, or call to online backup on FTP/SFTP/FTPS servers, the HBDrive backup storage, or a cloud service such as Amazon S3, Dropbox, Google Drive or any clouds supporting WebDAV.
Complete List of Backup Settings
You can give your Red Hat backup in full, incremental, differential or mixed (full/differential) modes, store many versions of a same Red Hat virtual machine backup, compress and encrypt data, take cold and hot backups controlling RHEV instances just from a task, and do many other useful things!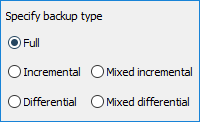 Scheduling Red Hat Virtualization Backup Actions
Handy Backup allows scheduling any Red Hat backup and restore tasks precisely to an exact time to run and a repeating period from just a minute to several months. It also allows starting a task by some system event such as user logon/logoff to a system or plugging a USB drive into a physical frame.
Recommended Solution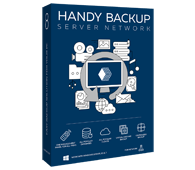 Version 8.4.2, built on September 19, 2022. 111 MB
Backup Software from Novosoft LLC. 299 USD per license.
The unified solution for remote data backup, the Server Network edition allows backing up and restoring the information of any type from Windows and Linux workstations and servers connected into plain or heterogeneous network.
Interested at Red Hat Backup and Restore Plug-in?
Do not hesitate to tell us your opinions, wishes and ideas about a Red Hat backup tool that comes soon! Send us a letter to an email address: sales@handybackup.net and describe what you think about a Red Hat virtual machine backup plug-in!
Who uses our backup software?