Acer Backup: How to Backup Acer Laptop Data
Acer laptop backup tool helps you not care about hard disk errors, virus attacks, forbidden access and other various problems. These days market provides a variety of software applications that can back up computers running under Windows operating system. We welcome you to try Handy Backup!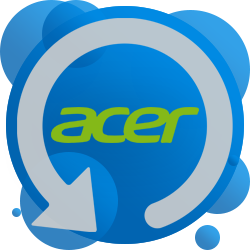 Effective Acer Backup with Handy Backup Program

Handy Backup allows comfortable and reliable Acer laptop backup. It is easy to use and has a convenient user interface makes it very good and comprehensible even by a complete computer novice.
All you need is to create and then run (or schedule) a "task" for Acer laptop backup. The tool will recognize and process your data, creating backups automatically for any selected information.
Handy Backup as Acer Backup Tool
Handy Backup has a set of plug-ins designed for backing up your Acer laptop data easier. Presets provide an opportunity of quick choice of desktop, disk partitions, email messages, popular programs, utilities and other common types of data.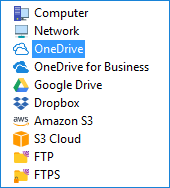 Recommended Solution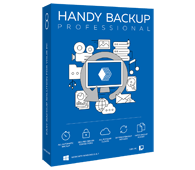 Version 8.5.0, built on September 19, 2023 . 116 MB
Backup Software from Novosoft LLC. 89 USD per license.
A good way to backup Acer laptop files is to use the Professional edition, allowing making either complete Acer backup disk or to save particular data from laptop storage!
Backing up Acer laptop with Handy Backup software is quick and consists of the following steps:
Task Wizard call. The program governs every step of task creation through the Task Wizard that can work either in simple or advanced mode for creating new tasks. You can also renew or redefine any task property later by the properties window.
Selecting the repository. With Handy Backup software you can save backups to local and external hard disks, NAS units, FTP servers, to clouds via S3, WebDAV or to a popular clouds like Dropbox, OneDrive or Google Drive.
Setting advanced features. You can use internal encryption and compression tools for your backup datasets.
Backing up Acer laptop on the flexible scheduler. Handy Backup utility provides a smart scheduler so you can have your backups entirely automated.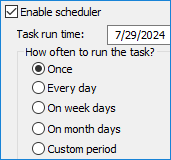 All processes launch in a very quick and powerful direction, and when you wish to restore your backups, you can do it with the one mouse click!
Advantages of Acer Backup and Recovery with Handy Backup

Big Selection of Data Storage
Need for Acer cloud backup? Want to create a whole copy of Acer backup (Windows 10 and all data) on a USB external drive? Plan to use FTP connection to save some files from Acer notebook? No problem, Handy Backup will always have storage plug-in to suit your need for a particular data vault!
Handy Backup can save data to local or mapped drives, shared system folders and NAS units, common and secured FTP servers, as well as make cloud backup and recovery for S3 or WebDAV-driven clouds, or for common storage services such as Dropbox, OneDrive and Google.

Complete Acer Image Backup
Handy Backup contains the Disaster Recovery utility*, which allows saving Acer backup and recovery partition onto any drive connected to a computer, and restoring it on "bare metal" when you need it. This utility can also recover Acer backup disk images created by Handy Backup disk plug-ins.
* The Disaster Recovery utility is a free part of Professional, Small Business and Server Network editions. It supports its own file system and a common, Windows-like graphical user interface based on Slax 9. It also supports images created by Disk Image and System Recovery plug-ins.
Video Example: How to Backup Acer Laptop Windows 10
This video illustrates the process of Acer image backup, creating a copy of Windows 10 and then recovering it by using Disaster Recovery. With this video, you learn how to make not only Acer image backup but any Windows backup, regardless of hardware brand or Windows edition you are using!
With Handy Backup, Acer laptop backup is rapid and safe! Experience it by downloading a 30-day free trial version!
Who uses our backup software?