HP Backup and Recovery Manager Download
HP backup and recovery is a crucial necessity for both business and individual users. Automated backup allows avoiding data loss that can be critical in some situations, as well as prevents from taking extra efforts for data recovery. The Handy Backup solution is a perfect example of HP laptop backup software.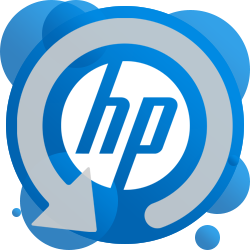 The Primary Goal of HP Backup Solutions
HP backup and recovery manager helps you not bother about computer errors, virus attacks, forbidden access and other dangers. Nowadays commerce offers a set of tools that can back up computers working under Windows operating system.

Advantages of Handy Backup as HP Backup and Recovery Software

Backup Drive Images and Any Data Types
Besides taking system drive backups, Handy Backup can save copies of any data types for making HP backup, including files, folders, user libraries, app data, website content, databases, virtual machines etc. It can work with both user-level and server-level information, depending on a program edition.
Scheduling HP Backup and Recovery Activity
All you require is to create a task to back up or recover the necessary dataset, and make a schedule for it and then the program will detect and smart process your data, performing backups each month or with any other date you specify.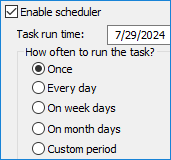 Simple and Comprehensible Control
Handy Backup has a convenient and clear user interface that makes it very practical and obvious even by a complete beginner. It has the two modes for a new task wizard (simple and advanced), as well as a big set of control options, including reporting, logging and sending emails about all program events.
Vast Selection of Storage Types
In addition, Handy Backup allows your HP backup software download data to any modern type of storage, including saving HP backup to a local or external USB drive, to a NAS, shared folder or FTP server, as well as making HP cloud backup to such clouds as Google Drive, Amazon S3 or OneDrive.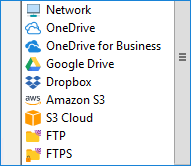 Recommended Solution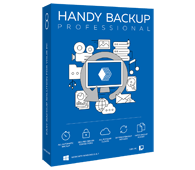 Version 8.5.0, built on September 19, 2023 . 116 MB
Backup Software from Novosoft LLC. 89 USD per license.
The Professional edition provides a big set of features as standard HP desktop backup software, and serves for HP laptops with an equally great performance!
HP Backup and Recovery

Also to common backing up of individual files, Handy Backup has a range of settings and plug-ins developed for backing up your HP computer data handy. Presets provide an ability of fast choice of desktop, favorites, Windows registry, email messages, hottest programs and utilities, etc.
Additional Features of HP Backup Solutions for Small Business
As HP data backup software, Handy Backup provides the next set of additional options:

Advanced task wizard run. In advanced mode, you have get many options and possibilities for advanced users (some of these options are listed just below), to make backups like a pro.

Featured data backup. The big list of data source and storage plug-ins allows you targeting backup from an entire system to just a single file or folder crucial for all your work!

Compression and encryption. You may use encryption and compression to your dataset just from the program, allowing giving it some additional protection and saving extra space.

Schedule HP backup and recovery. Handy Backup provides a smart scheduler thus you may have your backups totally automated, starting at an exact time or by system events.

Calling for external software. You can run additional programs or batch files before and (or) after a task. This is especially useful for HP server backup software applications.
Handy Backup performs all required operations quickly and requires no much system resource to work, and whenever you want to recover your data backup, you can perform it with just a few clicks!
How to Use Handy Backup as HP Backup Software?
This short instruction illustrates implementing Handy Backup as a HP backup manager. It creates a disk image backup of your laptop or desktop in a readable VHD format. You can restore this image by using the Disaster Recovery utility or by any appropriate software that can start from a USB drive.
Click the "Create" button or press Ctrl+N to call a New Task Wizard.
Select a backup task on Step 1. Stay in simple mode (do not mark "Use advanced mode").
Click "Next". On Step 2, select "System Recovery" on the "Disk Clone" group.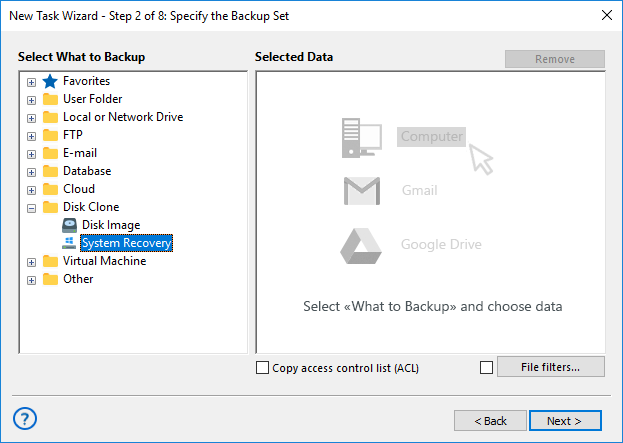 Choose an appropriate source (system) disk for HP backup. Click OK.
Again, click "Next". On Step 3, select appropriate storage of enough capacity for a HP backup.
Skip the next step unless you want to encrypt a drive image for additional security.
On Step 5, you can enable scheduler and then select a repeating period for this task.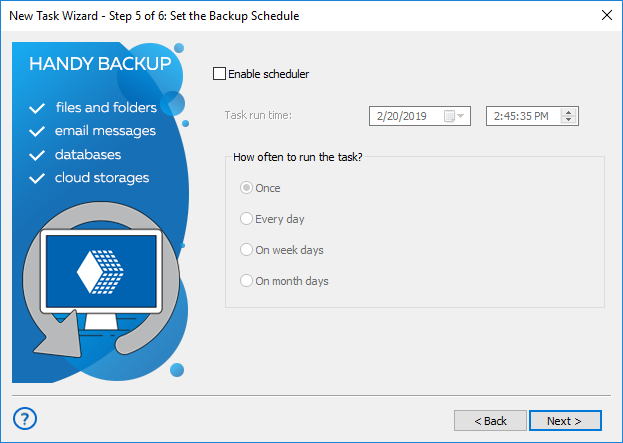 The final step allows you naming a task. Click "Finish", and a new task will run.
Wait until success. That is all! You just created a task for taking automatic HP backup hard drive images. Quite simple, quite efficient!
Try Handy Backup as HP free backup software! Please download a 30-day trial edition with all features and plug-ins available for HP backup and recovery!
Who uses our backup software?