PHPMyAdmin – Backup Database Automatically
PHPMyAdmin backup database automatically only when being a part of some script. In other word, for PHPMyAdmin automatic backup is almost impossible. How to deal with it if you want to have a backup tool for MySQL or MariaDB? The answer is simple: use some other software, such as Handy Backup!
Handy Backup software allows creating backups of MySQL databases as easily as common files and folders. To learn about the MySQL Backup plug-in, please see MySQL Backup Software.
PHPMyAdmin Automatic Backup Implementations
There are some solutions for PHPMyAdmin scheduled backup: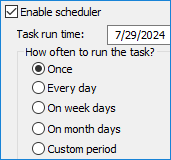 Doing this action manually, on a regular basis (perhaps via the automatic notification);
Using scripts with PHPMyAdmin and scheduling software, like cron to provide a simulacrum of automatic PHPMyAdmin backup;
Operating in a somewhat automatic manner via some CMS, like Drupal or Wordpress.
What I Can Apply for Auto Backup of MySQL Database Instead of PHPMyAdmin?
Auto MySQL Backup
This is a lot of MySQL backup software with automated functions. We recommend you to use Handy Backup, a pro-grade workstation backup and server backup software, allowing automated MySQL backup and restoration without a need of manual job (except some simple initial setup).


Features
Featured MySQL and MariaDB backup options, allowing automating all backup actions;
Perfect scheduling of backup tasks with a period from minutes to months;
Saving MySQL backups in native format, allowing replicating and cloning data by backup;
Many control options, such as compressing, encrypting and differential MySQL data backup.
Possibilities
Handy Backup can save not only MySQL and MariaDB databases but also data from any applications running under MySQL, including websites and CMS content, as well as automatically backing up and restoring any other data you need to save. Any task job can be scheduled and fully automated.


Considerations of the Format
When Handy Backup saves any uncompressed and unencrypted data as backups, it preserves original file formats (as SQL command sequence) and data structure. For MySQL backups, it means possibilities of cloning and mirroring MySQL content by "restoring" these databases to other places.
Recommended Solution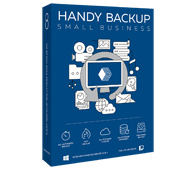 Version 8.4.6, built on April 25, 2023. 116 MB
Backup Software from Novosoft LLC. 249 USD per license.
The Small Business solution can serve instead of phpMyAdmin to backup MySQL database content in auto mode. All functions and plug-ins available out of the box!
How to Use MySQL Auto Backup Software Instead of PHPMyAdmin
You can see the video instruction teaching how to use Handy Backup software for MySQL backup and recovery. It can be interesting that the PHPMyAdmin utility appears in this video for illustrating the structure and properties of the database saved:
This video is about backing up and restoring MySQL 5.516 with Windows version of Handy Backup 7.3.0. To add and modify test data in the database, and track the changes after recovery, the author of this video uses phpMyAdmin software 3.5.1.
Try Handy Backup if you want to replace PHPMyAdmin to backup database automatically!
Download a full-featured 30-day trial version for free!
Who uses our backup software?