CMS Automatic Backup Software Solutions
CMS backup allows saving static and dynamic website data. In addition to a typical website copying, a CMS software solution for backup can copy entire arrays of websites, being a useful tool for web hosting providers and corporate site owners. Handy Backup can save CMS content using its standard plug-ins.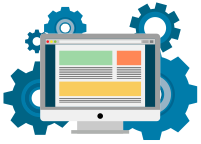 Advantages of CMS Backup with Handy Backup Software
Controllable and Unified Tasks
You will organize all CMS automatic backup jobs in Handy Backup into a couple of tasks, allowing automated CMS backup and restore. Create and control all tasks through a simple, comprehensible GUI, get reports by emails, run other programs with a task and do every other control action you need!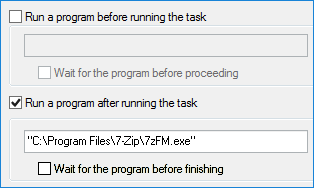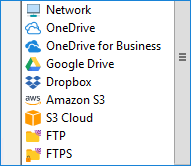 Wide and Expandable Plug-in List
With Handy Backup, you get a couple of dedicated plug-ins for CMS backup data, including FTP, SFTP and FTPS for accessing static data folders and almost all SQL databases existed to backup dynamic data. You may also choose between a big set of storages, from local drives to clouds like Amazon S3 and OneDrive.
Regular and Automated Actions
You can schedule your CMS backup task to run at an exact time and to have a repeating period from a minute to some months. You can also force a task to run when the crucial system event occurs (e.g. a user log on into a system, or when you put a USB device related to a particular task to a PC slot).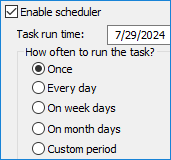 How to Backup CMS with Handy Backup?
The procedure divides into the two sub-tasks:
Download Static Content Using Some FTP Access to a Website (Including SFTP and FTPS)
Create a new Handy Backup task. Select a backup task on Step 1.
On Step 2, click onto an appropriate FTP plug-in (FTP, SFTP or FTPS).

Click "Create a connection..." and in a new dialog, provide your website FTP connection data.
Test a connection. If all works, click OK.
In the data selection dialog, mark checkboxes against those static data that you plan to backup.
Backup CMS Database with an Appropriate Plug-in
In Handy Backup, you can perform these two operations separately, or merge the sub-tasks under just one CMS backup task. If you will continue creating a unified task, please follow these steps:
On Step 2, choose an appropriate database plug-in in the "Database" group.

Click "Create a connection..." and make a connection to this database if you need it.
Select data in an appropriate dialog by mark checkboxes against tables and databases.
Click OK and return to Step 2. Continue creating a task as described in the User Manual.
In Handy Backup, you can perform these two operations separately, or merge the sub-tasks under just one CMS backup task.
The List of CMS Backup Examples
Recommended Solution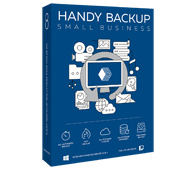 Version 8.5.0, built on September 19, 2023. 116 MB
Backup Software from Novosoft LLC. 249 USD per license.
The Small Business solution contains all plug-ins existed for a single machine just out of the box, and can also organize CMS backup through a network using FTP and database server protocols.!
Other Features of Handy Backup
Besides the functions listed above, Handy Backup has a set of other advantages and features, with some of these features shortly described here:
Partial backup, including incremental, differential and mixed full/differential backup methods;
Keeping unpreserved data in native formats, allowing operating with backups freely;
Preserving crucial data at user discretion by internal tools of compressing and encrypting;
Running preset tasks as Windows service, allowing "silent" operations without a GUI;
Multi-platform usability with native Windows and Linux support.
Handy Backup is a well-equipped, featured program among different CMS software solutions for backup.
Try it now – download a full and free 30-day trial version of Handy Backup!
See also:
Who uses our backup software?