DB2 Backup and Restore: Best Practices
DB2 backup and restore operations are the integral part of DB2 data security.
Along with internal backup feature operating from command-line level, other solutions, such as Handy Backup, allow these operations at much more advanced level of control and effectiveness.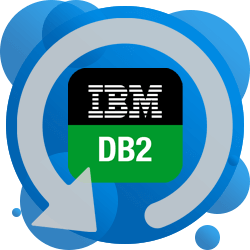 Here Handy Backup Comes with a DB2 Backup Solution
Handy Backup is a good solution to provide the same functionality as native IBM DB2 backup toolkit, with more affordable cost and bigger control options than most of other third-party DB2 backup software. It has the next basic advantages over the internal IBM instrument for DB2 backup and restore:

The Handy Backup DB2 tool has a full access to the IBM DB2 internal backup engine;
It also has an access to all methods and tools native to Handy Backup by itself.
Designed initially for Windows, Handy Backup also has some network-oriented solutions in the product line, which have the native possibilities of backup DB2 under Linux. For all versions, these are some other significant advantages for DB2 backup performance and convenience.
Principal Features and Approaches for Backup Database DB2 with Handy Backup
Hot DB2 Backup
Handy Backup allows you hot backup, which means saving DB2 database data without stopping the DBMS service or any data processing. You can also use the more traditional cold backup from a stopped server for taking data that are more consistent when DB2 restore database.
DB2 Backup Destinations and Storage Types
You can store DB2 backup on wide spectrum of storages, including local disks, external USB drives, NAS devices, FTP, SFTP and FTPS servers, any private or public cloud on S3 or WebDAV, commercial clouds such as Google Drive, Dropbox, OneDrive and Amazon S3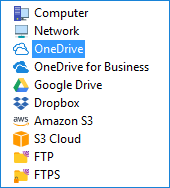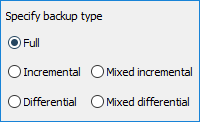 Controlling Backup Methods
Select a backup type among full, incremental, differential and mixed (cycled full/differential or full/incremental) backup techniques. Use versioned backups and time stamps. Compress and encrypt your data. Run other programs before or after restore DB2 database to make a space. Feel free!
Scheduling Tasks for DB2 Backup and Restore
Schedule your backup database DB2 to exact time and for a period with a length from one minute to several months. Run a task on logon/logoff, or by plugging a USB device related to a task into the server. You can even run Handy Backup as Windows service, to silent, scheduled DB2 backup!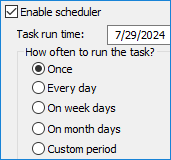 Recommended Solution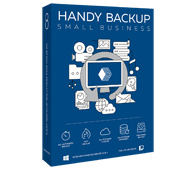 Version 8.5.0, built on September 19, 2023. 116 MB
Backup Software from Novosoft LLC. 249 USD per license.
The Small Business edition includes the DB2 backup and restore plug-in out-of-the-box, along with other plug-ins for making and controlling any other sort of server data backup. Free 30-days trial version!
How to Use Handy Backup as the IBM DB2 Backup Solution
Handy Backup software is available in several editions aimed to satisfy needs of different users and groups. Two of these editions, Small Business Backup Software and Server Backup Software, have a built-in plugin allowing to backup and restore IBM DB2 databases.
Detailed Instructions
To create a new IBM DB2 backup task, use the dedicated "DB2" feature as described in the instruction.
Before starting, please prepare your computer to DB2 backup as described in the manual.
Open Handy Backup and create a new backup task by clicking a button on the main panel.
Select a backup task on Step 1, and select advanced task wizard mode.
Then go to Step 2 and click on the DB2 line in the Database group.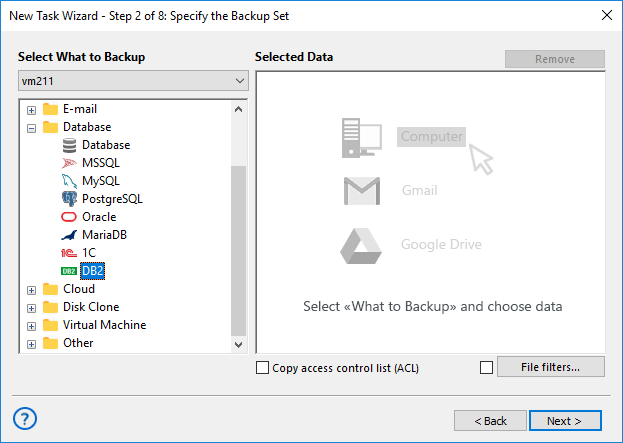 On the next dialog, select DB2 folders (databases) to back up. Click OK when finish.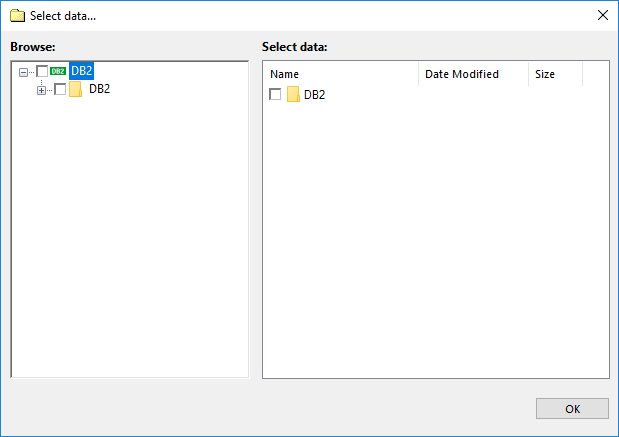 Return to the task creation wizard and continue creating the task as usual, step-by-step.
How to Restore DB2 Database Backup
The process of DB2 backup restore is quite similar to DB2 backup, controlling by the same methods and through the same interface as backup DB2 operations. You can provide DB2 with the next method.
Open Handy Backup and create a new task. Select the restore task type and advanced mode.
On Step 2, go to a folder with your DB2 backup database and select a file backup.hbi .
Select this file and proceed. If you want to change the destination, click "Change Location".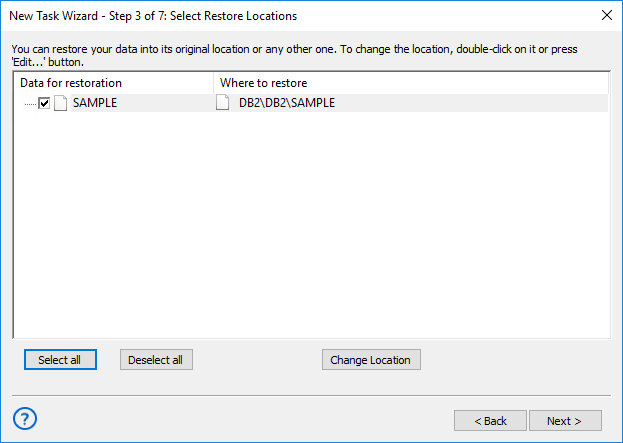 Choose a location for your DB2 recovery copy in the appearing dialog, and then click OK.
Proceed creating a restoration task as usual.
The Affordable Solution: Compare Price Tags and Overall Efficiency
Shortly, the Handy Backup software tool for IBM DB2 backup and recovery, taken from user′s point of view, considers the IBM DB2 databases as just another sort of data, allowing operating DB2 backup and restore as its other typical task.
Compared to native DB2 backup solutions, Handy Backup is a very profitable purchase; by the price tag from $249 for the Small Business edition, you can buy the universal utility allowing you to include DB2 data in your overall backup strategy.
Note: Besides DB2 backup, Handy Backup can perform automatic saving and restoration of any other data type, including all popular SQL database engines.

Database backup plug-ins: MySQL, MS SQL, Oracle, IBM DB2 and PostgreSQL
With the intuitive, comprehensible GUI, vast controlling functions and unprecedented versatility, the Handy Backup solution can be your best choice for IBM DB2 backup. Try it just now, by downloading a free 30-days trial edition with a DB2 backup and recovery feature included!
Who uses our backup software?