Payroll Backup: Software to Schedule Payroll Sage Backup Plan
Payroll backup and restore works with some payroll software solutions, using data created by these solution to take in a pre-defined payroll backup plan.
Handy Backup works as payroll backup software for any solution, and the most convenient way to use it is a "Computer" plug-in. Handy Backup has the advantages of using as payroll backup software.

Payroll Backup Architectures
Payroll manager backup solutions must have an access to a particular payroll dataset, which the payroll program often keep in some database format. It is true for most payroll software, although some popular solutions such as Moneysoft and MyOB AccountRight, use the non-database files.
For non-database format, payroll data backup in Handy Backup operates via either the "Computer" plug-in or the "Network" plug-in, to access local or remote files and folders included in the payroll backup schedule.
Advantages of Using Handy Backup as Payroll Backup Software
Providing Payroll Automatic Backup
You can configure a particular payroll backup schedule to backup payroll data within an interval from months to minutes. Handy Backup will make all necessary operations automatically and then create a report about each particular task activity, including source data, destination and results.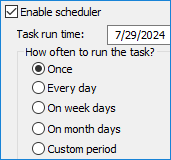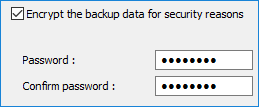 Securing Your Payroll Backup Plan
You can encrypt, compress and time-stamp your payroll backup copies. You can repeat a payroll backup missed when somewhat happened. You can use SFTP or FTPS protocols with SSL transfer encryption to secure data even more. You cannot only lose or compromise your payrolls!
Keeping Payroll Data Backup in Any Convenient Place
You can save your copy of payroll data in the native format provided by your payroll software (which means that you can also copy it or open it manually, too!) in any place on your local computer, or an FTP server, or a cloud account such as Amazon S3, Google Drive, Dropbox or OneDrive. Feel free to save!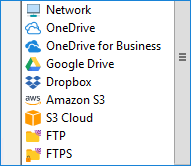 Other Capabilities of Handy Backup
Full, incremental, differential and mixed backup;
Easy-to-use, comprehensible graphical user interface;
Detailed logs and reports about each task processed;

Power to restore backups to a new place, cloning or mirroring data;
Tools to run other programs before and after backup tasks, allowing utilizing payroll software.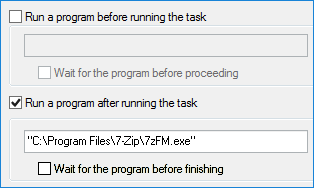 Recommended Solution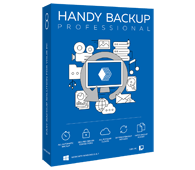 Version 8.5.0, built on September 19, 2023 . 116 MB
Backup Software from Novosoft LLC. 89 USD per license.
The Professional edition contains "Database", "Computer" and "Network" data source plug-ins, allowing making your payroll automatic backup for any data representation used by your payroll software. Free 30-days trial version!
Example of Payroll Backup Manager: Saving QuickBooks Payroll Backup
In this section, we will show how to create a task for making payroll automatic backup via the "Database" plug-in for the QuickBooks payroll software application. For payroll manager backup with non-database architecture (such as saving BrightPay files), use the "Computer" plug-in instead.
Wizard Sequence
Open Handy Backup and create a new task with the "Create" button on the Management Panel,.
Choose a backup task on Step 1. Use advanced mode to get access for all options and functions.
Click on the Computer plug-in from the Local or Network drive group on Step 2.
Note: Here, you can use the "Database" plug-in from the "Database" group (or a corresponding SQL database engine plug-in from the same group, for SQL payroll backup) instead of "Computer". When doing it, please check firstly that you already install an ODBC driver for a non-SQL database!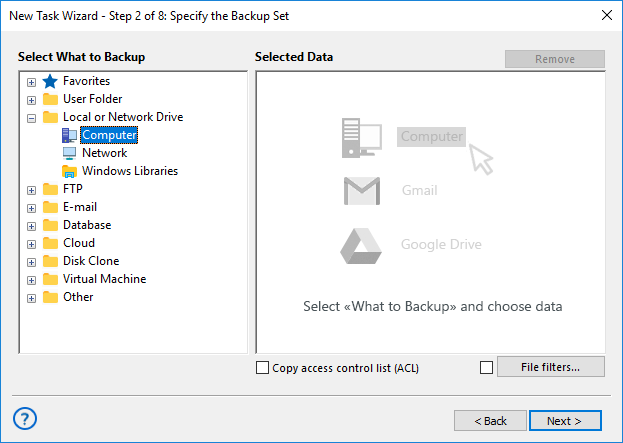 In a new data selection window, select the Sage Payroll backup location.
The Sage Payroll default backup location is C:\Program Files (x86)\Sage\SCT\Client\Backups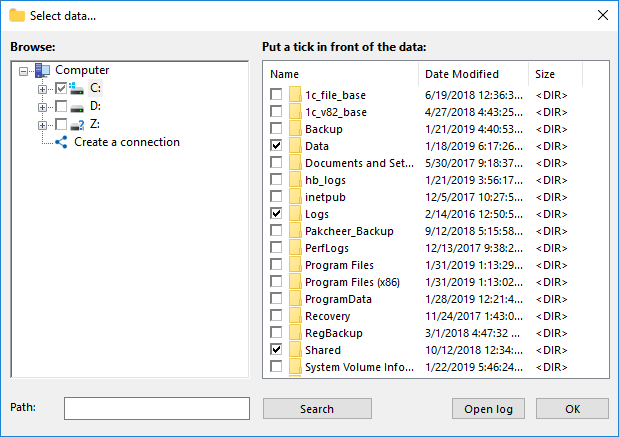 Finally, mark checkboxes against these Sage Payroll backup files that you plan to copy to another place. Click OK.
Continue creating a task as described in the User Manual. No other steps are specific for creating a payroll backup.
Some payroll backup software provide a bunch of options to save your payroll plans (e.g., Moneysoft Payroll Manager Backup utility). Still, you can copy this Payroll Manager backup file to some other place with Handy Backup, to ensure additional security, or just convenience.
Note: For example, you can select Payroll Manager restore backup to a completely different location, to create an operational copy of your wage plan for testing some new techs, teaching employees without risking to spoil a working scheme, or just for migration to another server.
Making a Database Payroll Backup
Always back up databases as databases, not as simple files or folders, to avoid losing current transactions! Handy Backup creates database snapshots in "hot" mode, where the Database plug-in can save actual transactions, too!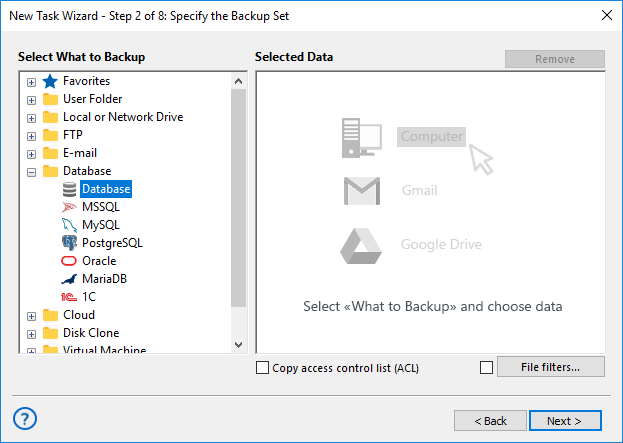 Make your payroll data backup with Handy Backup, serving as efficient and convenient payroll backup software solution!
To try Handy backup, download the latest version just now, to explain its possibilities and quality for a 30-day free trial!
See also:
Who uses our backup software?