Alibaba Cloud Backup Software
Alibaba cloud backup tool provided by Handy Backup is the standard S3 plug-in, allowing making connection with the famous Alibaba Cloud Object Storage, a reliable cloud service with big amount of options and features for data protection. Alicloud is a business-level protected cloud for unstructured data of any type.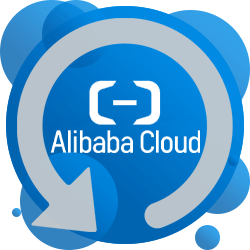 Alibaba Cloud Backup Software
Using Handy Backup for alibaba cloud service, you can store in safety any sensitive and complex information such as corporate SQL databases; website content; projects, including shared project files; documentation, texts, reports etc.; any other unstructured, generic data.
Backup capabilities include: advanced mode, backup scheduling, backup encryption, backup with zip compression, file filters (selective backup of photos, music), event logging, backup reports and etc.
Recommended Solution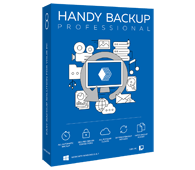 Version 8.4.6, built on April 25, 2023 . 116 MB
Backup Software from Novosoft LLC. 89 USD per license.
The choice of experts and IT pros, the Professional edition allows utilizing all Minio backup functions for any data type from a common PC or specialized workstation. Free 30-day trial!
Advantages of using Handy Backup are: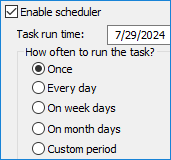 Scheduling Alibaba Cloud Managed Backup
You can use Handy Backup to make regular windows cloud backup at an exact time and with an exact repeating period, from months to minutes, according to your needs. In addition, you can trigger a backup task to some system event such as shutdown.
Additional Data Protection
For making Alibaba cloud private backup even more secure than with a simple S3 transferring protocol, you can use such built-in Handy Backup tools as internal data compression and encryption. With these tools, you can protect any sensitive or private data from theft or inconsistency.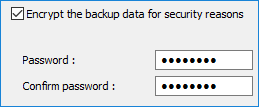 Fine-Tuning Alibaba Cloud Backup and Recovery Tasks
Compared with standard windows backup tools, Handy Backup allows much more flexibility for setup a backup operation, including incremental, differential or mixed backup, keeping versions with creation time stamps, calling for external software before or after a task, email notification etc.
Handy backup works not only with Alibaba but with other clouds as well:
Amazon s3, other s3 clouds, Google drive, OneDrive, Dropbox and other cloud storage from one interface. You don′t need to set up a program for every cloud. In addition to that you can simultaneously copy locally from the same program.
To run a Handy Backup task, you can use the ″S3 Cloud″ plug-in.
Let′s see how to make a new task that uses Alibaba Cloud as backup destination.
Create a new Handy Backup task by clicking the "New" button or by pressing Ctrl+N.
Select Backup on Step 1, then click "Next".
Select data that you want to back up on Step 2.
Click on the S3 Cloud plug-in on Step 3.

In the new window, click Create a connection option.

Then proceed with the instructions of the program.
Handy Backup utilizes a standard S3 Cloud backup plug-in to connect to Alibaba Cloud.
This plug-in is easy-to-use, fast and very reliable, due to using all internal features of the S3 protocol. You can create a connection to Aliyun only once and then use it as long as you want.
Alibaba Cloud provides Object Storage Service (OSS) to enable the basic cloud-based storage and backup for diversified data types to help you build out secure and compliant cloud-based data backup, data archiving, disaster recovery, with deduplication and compression for enhanced cost-efficiency, high reliability, high durability, and ease of maintenance.
Alicloud is secure and encrypted, unlimited, available from anywhere in the world via the Internet. Transferring data to and from Alibaba Cloud services takes place through the Express Connect network, making data easily accessible from any location. Alicloud drive is ideal for storing assets that are made accessible via your website, such as product manuals, photos, videos and so on. You can automatically back up the databases to aliyun cloud in order to provide disaster recovery functionality. Alicloud service is incredibly safe and available. It's guaranteed 99.999999999% reliable, and 99.99% available.
Who uses our backup software?